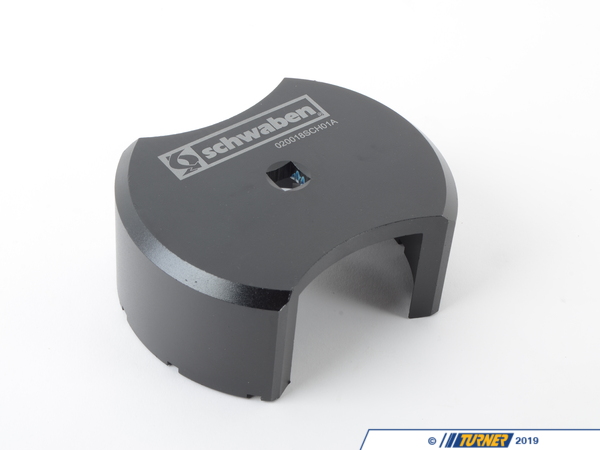 Schwaben BMW / MINI Fuel Sensor Lock Ring Tool
Mfg Part #

020018SCH01A

Turner Part #

T#

390074

Brand
In Stock

Free Shipping
on orders $199 and up
Does this fit my vehicle?
For accurate results, specify your model below.
Product Details
The fuel pump is held in to the tank with a retaining lock ring. Most people would take an extension or punch and tap out the ring with a hammer. But that's the wrong way to do it. You could damage the lock ring, or worse, the tank itself. This handy tool is toothed to match the lock ring and takes a standard 1/2 drive ratchet or small extension. Twist the ratchet and the lock ring comes un-done cleanly and smoothly. A hefty tool that pays for itself over and over. Fits most BMWs from 1988-2013.
This Part Fits the Following BMWs
| Make | Model | Submodel | Engine |
| --- | --- | --- | --- |
| BMW | E31 | 840Ci | M60 4.0L |
| BMW | E31 | 840Ci | M62 4.4L |
| BMW | E31 | 850Ci | M70 5.0L |
| BMW | E31 | 850Ci | M73 5.4L |
| BMW | E31 | 850CSi | S70 5.6L |
| BMW | E34 | 525i | M20 2.5L |
| BMW | E34 | 525i | M50 2.5L |
| BMW | E34 | 530i | M60 3.0L |
| BMW | E34 | 535i | M30 3.4L |
| BMW | E34 | 540i | M60 4.0L |
| BMW | E34 | M5 | S38 3.5L |
| BMW | E36 | 318i | M42 1.8L |
| BMW | E36 | 318i | M44 1.9L |
| BMW | E36 | 318ic | M42 1.8L |
| BMW | E36 | 318ic | M44 1.9L |
| BMW | E36 | 318is | M42 1.8L |
| BMW | E36 | 318is | M44 1.9L |
| BMW | E36 | 318ti | M42 1.8L |
| BMW | E36 | 318ti | M44 1.9L |
| BMW | E36 | 320i | M50 2.0L |
| BMW | E36 | 323i | M52 2.5L |
| BMW | E36 | 323ic | M52 2.5L |
| BMW | E36 | 323is | M52 2.5L |
| BMW | E36 | 325i | M50 2.5L |
| BMW | E36 | 325ic | M50 2.5L |
| BMW | E36 | 325is | M50 2.5L |
| BMW | E36 | 328i | M52 2.8L |
| BMW | E36 | 328ic | M52 2.8L |
| BMW | E36 | 328is | M52 2.8L |
| BMW | E36 | M3 | S50 3.0L |
| BMW | E36 | M3 | S52 3.2L |
| BMW | E38 | 740i | M60 4.0L |
| BMW | E38 | 740i | M62 4.4L |
| BMW | E38 | 740iL | M60 4.0L |
| BMW | E38 | 740iL | M62 4.4L |
| BMW | E38 | 750i | M73 5.4L |
| BMW | E38 | 750iL | M73 5.4L |
| BMW | E39 | 525i | M54 2.5L |
| BMW | E39 | 528i | M52 2.8L |
| BMW | E39 | 530i | M54 3.0L |
| BMW | E39 | 540i | M62 4.4L |
| BMW | E39 | M5 | S62 5.0L |
| BMW | E46 | 323Ci | M52 2.5L |
| BMW | E46 | 323i | M52 2.5L |
| BMW | E46 | 325Ci | M54 2.5L |
| BMW | E46 | 325i | M54 2.5L |
| BMW | E46 | 325xi | M54 2.5L |
| BMW | E46 | 328Ci | M52 2.8L |
| BMW | E46 | 328i | M52 2.8L |
| BMW | E46 | 330Ci | M54 3.0L |
| BMW | E46 | 330i | M54 3.0L |
| BMW | E46 | 330xi | M54 3.0L |
| BMW | E46 | M3 | S54 3.2L |
| BMW | E52 | Z8 | S62 5.0L |
| BMW | E52 | Z8 Alpina | M62 4.8L |
| BMW | E53 | X5 | M54 3.0L |
| BMW | E53 | X5 | M62 4.4L |
| BMW | E53 | X5 | M62 4.6L |
| BMW | E53 | X5 | N62 4.4L |
| BMW | E53 | X5 | N62 4.8L |
| BMW | E60 | 525i | M54 2.5L |
| BMW | E60 | 525i | N52 3.0L |
| BMW | E60 | 525xi | N52 3.0L |
| BMW | E60 | 528i | N52 3.0L |
| BMW | E60 | 528xi | N52 3.0L |
| BMW | E60 | 530i | M54 3.0L |
| BMW | E60 | 530i | N52 3.0L |
| BMW | E60 | 530xi | N52 3.0L |
| BMW | E60 | 535i | N54 3.0L |
| BMW | E60 | 535i | N55 3.0L |
| BMW | E60 | 535xi | N54 3.0L |
| BMW | E60 | 545i | N62 4.4L |
| BMW | E60 | 550i | N62 4.8L |
| BMW | E60 | M5 | S85 5.0L |
| BMW | E61 | 525i | M54 2.5L |
| BMW | E61 | 530xi | N52 3.0L |
| BMW | E61 | 535xi | N54 3.0L |
| BMW | E63 | 645Ci | N62 4.4L |
| BMW | E63 | 650i | N62 4.8L |
| BMW | E63 | M6 | S85 5.0L |
| BMW | E64 | 645Ci | N62 4.4L |
| BMW | E64 | 650i | N62 4.8L |
| BMW | E64 | M6 | S85 5.0L |
| BMW | E65 | 745i | N62 4.4L |
| BMW | E65 | 750i | N62 4.8L |
| BMW | E65 | 760i | N73 6.0L |
| BMW | E65 | 760Li | N73 6.0L |
| BMW | E65 | B7 Alpina | N62 4.4L |
| BMW | E66 | 745Li | N62 4.4L |
| BMW | E66 | 750Li | N62 4.8L |
| BMW | E66 | 760Li | N73 6.0L |
| BMW | E82 | 1 M Coupe | N54 3.0L |
| BMW | E82 | 128i | N52 3.0L |
| BMW | E82 | 135i | N54 3.0L |
| BMW | E82 | 135i | N55 3.0L |
| BMW | E83 | X3 | M54 2.5L |
| BMW | E83 | X3 | M54 3.0L |
| BMW | E83 | X3 | N52 3.0L |
| BMW | E88 | 128i | N52 3.0L |
| BMW | E88 | 135i | N54 3.0L |
| BMW | E88 | 135i | N55 3.0L |
| BMW | E90 | 325i | N52 3.0L |
| BMW | E90 | 325xi | N52 3.0L |
| BMW | E90 | 328i | N52 3.0L |
| BMW | E90 | 328xi | N52 3.0L |
| BMW | E90 | 330i | N52 3.0L |
| BMW | E90 | 330xi | N52 3.0L |
| BMW | E90 | 335d | M57 3.0L |
| BMW | E90 | 335i | N54 3.0L |
| BMW | E90 | 335i | N55 3.0L |
| BMW | E90 | 335xi | N54 3.0L |
| BMW | E90 | 335xi | N55 3.0L |
| BMW | E90 | M3 | S65 4.0L |
| BMW | E91 | 325i | N52 3.0L |
| BMW | E91 | 325xi | N52 3.0L |
| BMW | E91 | 328i | N52 3.0L |
| BMW | E91 | 328xi | N52 3.0L |
| BMW | E92 | 328i | N52 3.0L |
| BMW | E92 | 328xi | N52 3.0L |
| BMW | E92 | 335i | N54 3.0L |
| BMW | E92 | 335i | N55 3.0L |
| BMW | E92 | 335is | N54 3.0L |
| BMW | E92 | 335xi | N54 3.0L |
| BMW | E92 | 335xi | N55 3.0L |
| BMW | E92 | M3 | S65 4.0L |
| BMW | E93 | 328i | N52 3.0L |
| BMW | E93 | 335i | N54 3.0L |
| BMW | E93 | 335i | N55 3.0L |
| BMW | E93 | 335is | N54 3.0L |
| BMW | E93 | M3 | S65 4.0L |
| BMW | Z3 | 1.9 | M44 1.9L |
| BMW | Z3 | 2.3 | M52 2.5L |
| BMW | Z3 | 2.5 | M52 2.5L |
| BMW | Z3 | 2.5i | M54 2.5L |
| BMW | Z3 | 2.8 | M52 2.8L |
| BMW | Z3 | 3.0i | M54 3.0L |
| BMW | Z3 | M Coupe | S52 3.2L |
| BMW | Z3 | M Coupe | S54 3.2L |
| BMW | Z3 | M Roadster | S52 3.2L |
| BMW | Z3 | M Roadster | S54 3.2L |
| BMW | Z4 | 2.5i | M54 2.5L |
| BMW | Z4 | 3.0i | M54 3.0L |
| BMW | Z4 | 3.0i | N52 3.0L |
| BMW | Z4 | 3.0Si | N52 3.0L |
| BMW | Z4 | M Coupe | S54 3.2L |
| BMW | Z4 | M Roadster | S54 3.2L |
| MINI | All | All | All |
*The above product applications have been written by Turner Motorsport. All warranties, product application, fitment, and performance are the responsibility of Turner Motorsport. For additional information see the terms of use.
others bought
recently viewed