BMW E30 M3 Brembo Big Brake Kits

Brembo Gran Turismo brakes are complete multi-piston caliper and larger disc upgrades that bolt on to your BMW for an instant performance improvement. BMW GT Big Brakes come with Brembo's renowned brake technology and quality. Brembo is well known for supplying brake systems to the world's top performance and super car manufacturers as well as GT, Prototype, and Formula race teams. That same expert brake developement is put into their aftermarket Big Brake Kits for your own street or track car. Brembo BBKs come complete with: larger 2-piece rotors, forged and monobloc calipers with car-specific piston sizes, sport brake pads, stainless brake lines, and brake hardware. Brembo kits are designed to work right out of the box with each car's original system to preserve brake bias. Discerning customers who insist on a rich heritage of superior engineering and quality choose Brembo GT kits.

For accurate results, specify your model below.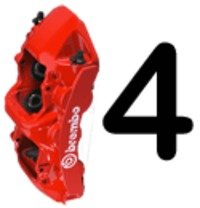 Caliper: 4-pistonLotus
Caliper color: black (standard), red, silver
Rotors: 330x28mm, 1-piece, cross-drilled or slotted
Brembo Big Brakes are available for the E30 M3! Featuring 4-piston calipersand 1-piece cross-drilled or slotted rotors, these brakes are the perfectcompliment to the racing character of the E30 M3. With Brembo's brakes you willget maximum braking force thanks to their rigid mounting and greater stoppingperformance thanks to the larger rotors and better heat dissipation. GranTurismo brake kits come with a high-performance brake pad as standard. 17"wheels are required to clear this kit (click here for wheel clearance diagram). Choose the caliper color and the rotor style that youwould like below.
We will meet or beat best price!

Part #: 1A4.6003A
Direct Ship