BMW E30 M3 Cup Holders and Storage

As much as BMWs are the Ultimate Driving Machine we still have to use them every day and that means have the convenience features of any other car. The center console between the front seats is the primary place for storage of phones, sunglasses, garage door openers, and just about anything you might need within quick reach but also tucked out of the way. We sell a variety of storage and convenience accessories for the center console and cupholder area.

For accurate results, specify your model below.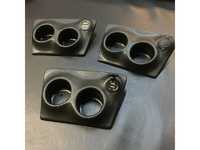 Have trouble the cup holders - or lack thereof - in your E30? CATuned has developed a 3/32 grain reinforced ABS plastic cup holder insert that directly replaces your factory ash tray and 12v outlet with a plug and play usb charger/outlet. The included outlet is plug and play with your factory harness.

Part #: E30cupholder
In Stock