BMW E30 M3 Brake Cooling Ducts & Backing Plates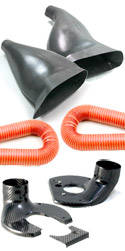 Plan on tracking your car? Going to be using real track/race pads? You're going to need brake cooling ducts and hose. Brakes create lots of heat and temps can rise to damaging levels. Excessive heat will burn up caliper seals and dust boots, boil brake fluid, lead to rapid pad wear, inconsistent pedal feel, damage rubber boots on suspension ball joints, and other problems. Racing brake pads are designed to work in very specific temperature ranges so to prevent them from exceeding those temps race teams rely on brake cooling ducts, silicone hose, and bumper ducts.
We have designed and produced advanced brake backing plates that fit behind the wheel bearing hub. The backing plates have an inlet duct that directs air to the center of the hub/rotor. From there, cooling vanes in the rotor draw the air through the rotor to cool it. By keeping the rotor cool it won't transfer as much heat through the pads, caliper, and rest of the braking system. Our kits are designed to fit to the hub without having to remove the hub/bearing.

For accurate results, specify your model below.
Whether it is installing new wider wheels, tires, brake ducts, shocks, or springs, there could be a rubbing issue on the inside of your fender well. Our rack stops will help protect your investment. Rack stops are spacers that install inside of the tie rod and limits the amount of steering travel. You can save the costs of replacing rubbing tires, worn out brake ducts, cut shock reservoir hoses, and broken underside plastic panels. There is also the added benefit of knowing you can turn the steering wheel to full lock and not be worried that the wheels will rub. Our rack stop length is the approximate length that will be removed from the outside tire wall's path. For example, if a 16mm rack stop is used, there will be 16mm more clearance for a brake duct between the fender well and the edge of the tire. Included with this kit: 2 Delrin rack stops, 1 black (driver's side), 1 white (passenger's side), 2 Locking plates (only needed on E36), 4 zip ties, detailed instructions.

Click Here for E30 M3 Installation Instructions.


Click Here for E36 Installation Instructions.

We have Steering Rack Stops to fit the following BMWs:
1987-1991 E30 BMW M3
1992-1998 E36 BMW 318i 318is 318ti 318ic 323is 323ic 325i 325is 325ic 328i 328is 328ic M3
1999-2005 E46 BMW 323i 323ci 325i 325ci 325xi 328i 328ci 330i 330ci 330xi M3


Part #: RACKSTOP
In Stock

Free Shipping
on orders $199 and up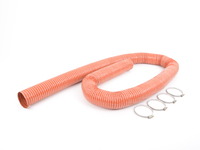 If you are adding fully functional brake ducts to your track or race car, this hose kit is a must. It includes two 4 foot lengths of high-temp duct hose and 4 appropriate sized hose clamps. This is the same duct hose we use in our reknowned racing brake duct kits & our championship winning BMW race cars. This is the best suited and highest quality hose for the job. We wouldn't use anything less -- would you?

Part #: TBR9962303
In Stock

Free Shipping
on orders $199 and up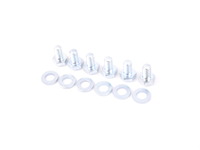 These allow you to duct fresh, cool air to the center of the rotor where it needs it most. The addition of these backing plates and appropriate ducting will increase brake pad life by as much as 50%! A cooler braking system will also dramatically reduce brake fade and decrease braking distances.
This item fits the following BMWs:
1987-1991
E30 BMW
M3

Part #: RE1547
Ships in 4 days
Free Shipping