E30 M3 Fuel System Tools
Service your BMW fuel system correctly with the recommended tools for the job. Our offered O-Ring tools and other specialty service equipment are gathered on this page for you to confidently tackle your fuel system maintenance or modification.

For accurate results, specify your model below.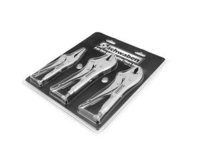 No more pinched fingers or dropping as they unlock. This style locking lever is all one hand operation. Can be unlocked with lower finger while still gripping plier. Others require a two hand operation.
Features:
7" Straight Jaw Locking Pliers
7" Curved Jaw Locking Pliers
6" Needle Nose Locking Pliers

Part #: 008917SCH01A
In Stock

Free Shipping
on orders $99 and up