BMW E36 Throttle Body Parts

We carry a variety of parts related to BMW throttle bodies and throttle body upgrades. Modern BMWs have electronic throttles that need replacement rather than repair. A malfunctioning unit can disable the car so it's important to pay attention to any fault codes related to the "EML" system. Older mechanical throttles are much more reliable and less prone to any issues. Replacement of any throttle housing is easy and straightforward.
Larger throttle bodies have been advertised for years as a performance upgrade. On their own they will not make any power difference. But combined with other upgrades, such as larger mass air sensors and intakes, they can contribute to power gains. However, we do not currently sell larger throttle bodies. We do offer adapter plates to mount different throttle housings onto your intake manifold. This is most commonly done along with a stand-alone engine management system with or without drive-by-wire control.

For accurate results, specify your model below.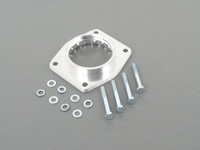 The Silver Bullet throttle body spacer creates turbulence in the air flow just prior to entry into the engine increasing horsepower, torque and improving throttle response. In recent dyno testing by aFe, this throttle body spacer produced
+4hp and +8lbs. x ft. torque (measured on E36 M3 with S52 engine)
. The Silver Bullet throttle body spacers are constructed out of durable T-6061 billet aluminum and using a unique serrated/helix entry to create turbulence at the manifold while eliminating the annoying whistle found in other helix only throttle spacers. Great power per dollar performance.
This item fits the following BMWs:
1995-1999
E36 BMW
M3

Part #: 46-31004
In Stock
Free Shipping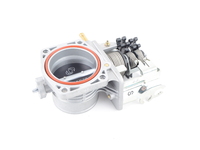 Dinan's high flow throttle body greatly improves airflow to the intakes to create more horsepower, torque, and throttle response.
This throttle body is worth 2 points towards your Dinan Badge.
For over 35 years, Dinan has been America's premier tuning company, pioneering advancements in BMW modification while retaining a focus on balanced performance that preserves the original character and driving feel that a BMW offers. When you install a Dinan part on your car, know that it's not only carefully developed and tested, but that Dinan stands behind it with a four year, 50,000-mile warranty. Dinan believes so fully in their "total package" approach that once your car has been fitted with enough of their parts, they celebrate your conversion from stock to Dinan with an exclusive trunk badge, displayed proudly by BMW enthusiasts everywhere.

Includes refundable core charge
This part fits the following BMWs:
1995 - 2002 Z3 M Roadster Z3 2.8
1996 - 2004 E39 Sedan 528i
1998 - 2004 E39 Touring 528i
1992-1999 E36 328i 328is

Part #: d760-3200KT
In Stock