Reduce parasitic loss of power on your BMW's engine by safely under driving the belt driven auxiliary systems. Reducing this drag on your engine results in MORE HORSEPOWER AND TORQUE to the wheels of your BMW. Our BMW underdrive power pulley kits are specifically designed for each BMW application to make the best power while maintaining stock driveability and reliability, eliminating potential downsides. Others may advertise "their" pulleys boasting more power, but we concluded that for street and track driven BMWs, ours are the best size and design to ensure both your engine and it's belt-driven systems (alternator, water pump, power steering etc) are well within safe operation. We run these under drive pulleys on our own BMWs, so we would not want them any other way.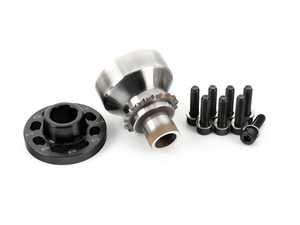 Inventory On Order, ETA Aug 26, 2021
Anyone with a modified N54, N55, or S55 knows the risks involved. Upping the performance of any engine can come with some inherent risk; if we add more boost but not fuel, detonation will occur (or worse). Furthermore, improper installation, maintenance or operation can turn a perfectly healthy engine into a paperweight.

If you are breaking crankshafts and oil pumps, the cause may be a mystery to you as it has been to many of our customers. We know that controlling the harmonic resonance of the BMW 6 is highly important as RPMs rise, but the ideal configuration of the inline-6 motor makes even experienced engine builders overlook some fundamental principals of engine harmonics that can be destructive. ATI Performance Products has partnered with VAC Motorsports to develop new dampers for BMW 2.5L, 2.8L, 3.0L and 3.2L straight-6 engines found in the E36 and E46 M3, E9X and E6X, as well as newer Z3s and Z4s. These dampers eliminate crankshaft harmonic vibration, which allows the engine to produce more horsepower and torque, while also reducing internal engine wear at the same time. Broken oil pumps and timing chains will be a thing of the past! When used with a VAC accessory pulley, these dampers are a direct replacement over the OEM balancer. They have a 7" outer diameter and include OEM style timing alignment tabs. BMW enthusiasts should know that all ATI Super Dampers exceed SFI 18.1 Safety Certification and are approved for competition. The advantages of the ATI SuperDamper include eliminating vibration issues with inline 6 engines equipped with lightweight clutch and flywheel assemblies, reduced bearing, engine accessories, oil pump wear, and compatibility with underdrive pulleys. Includes lightweight VAC Billet Crankshaft Pulley. Made in the USA.