Is your BMW blowing hot air when you want AC? Not getting enough hot air when it's cold out? Well we have the heater cores, heater valves, blower motors and related parts for your BMW. Tip: Is your air conditioning / heater fan going crazy? Does it only run at one speed or not work at all? Then a likely culprit is this blower resistor, often called the "final stage unit" in the BMW world. The function of this part is to regulate the voltage of the blower motor on BMWs which use the digital climate control. This blower resistor is a notorious weakness on the cars that use it. When it fails, your blower fan speed can fluctuate as if it has a mind of its own, or get stuck at one position. BMW has updated this item several times and we only carry the most current version.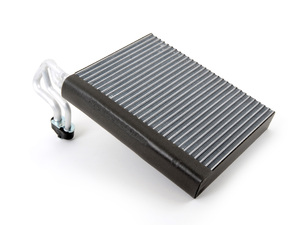 This is an OEM Behr Air conditioning evaporator core for BMW X5 series and X6's. This evaporator core is located inside the cabin under the dash. It helps to transfer the cool air from the compressor to the cabin. A leaking evaporator can cause for poor A/c performance and cooling. Replace your faulty evaporator today with this OEM part.

This item fits the following BMWs:
2007-2013 E70 BMW X5 3.0si X5 4.8i X5 xDrive30i X5 xDrive35d X5 xDrive35i X5 xDrive48i X5 xDrive50i X5M
2008-2013 E71 BMW X6 xDrive35i X6 xDrive50i X6M

Not for cars with Automatic Climate Control (option code S4NBA) or Automatic Air Conditioning (option code S534A)
2014+ F15 BMW X5 sDrive35i X5 xDrive35d X5 xDrive35i X5 xDrive50i
2015+ F16 BMW X6 sDrive35i X6 xDrive35i X6 xDrive50i
2015+ F85 BMW X5 M
2015+ F86 BMW X6 M Removing water from your A/C refrigerant, driers are an important part to ensure long life for all A/C components. OEM Hella driers will eliminate all water and contaminents to help extend the life of your A/C system.
Hella is a premium manufacturer that supplies automotive parts to numerous car brands across the world. Everything from electrical to mechanical genuine parts have been made and supplied directly to BMW before the vehicles ever leave the production floor. Their high quality, long lasting parts have made them a trusted brand chosen to help keep your BMW on the road for many years to come.
As a leading source of high performance BMW parts and accessories since 1993, we at Turner Motorsport are honored to be the go-to supplier for tens of thousands of enthusiasts the world over. With over two decades of parts, service, and racing experience under our belt, we provide only quality performance and replacement parts. All of our performance parts are those we would (and do!) install and run on our own cars, as well as replacement parts that are Genuine BMW or from OEM manufacturers. We only offer parts we know you can trust to perform!

Hella Part Number - 351192761 A/C Receiver Drier
Fits BMWs: 10-07 BMW X5