BMW F83 Gaskets, Gasket Sets, Seals, & O-Rings

Gaskets are key to a properly running and clean engine. They obviously prevent fluid leaks but they're also critical in keeping air either in or out... Air leaks after the air flow meter, also known as vaccum leaks, can induce lean running conditions, fault codes, and poor running conditions. Other seals and gaskets are designed to keep air in. With the sensitivity of OBD systems, leaks will lead to fault codes very quickly which can be tough to diagnose and prevent you from passing state inspections.
We insist on Original BMW or OEM gaskets whenever possible.

For accurate results, specify your model below.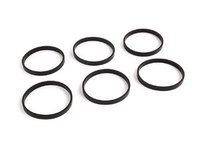 This set of 6 gaskets is to seal the intake manifold to the cylinder head. These are absolutely crucial to prevent vacuum and intake air leaks and lean running conditions. These are also usually replaced when adding the 330 manifold to a 325, 328. Price is for a set of 6 - one for each intake runner. On cars with V8 engines 2 sets are required.
Original Fitment List:
2008-2013
E82 BMW
128i 135i 135is 1M Coupe
2014+
F22 BMW
M235i M235i xDrive
2014+
F23 BMW
M235i
2006-2011
E90 BMW
325i 325xi 328i 328xi 328i xDrive 330i 330xi 335d 335i 335xi 335i xDrive - Sedan
2006-2012
E91 BMW
325xi 328i 328xi 328i xDrive - Wagon
2007-2013
E92 BMW
328i 328xi 328i xDrive 335i 335is 335xi 335i xDrive - Coupe
2007-2013
E93 BMW
328i 335i 335is - Convertible
2012+
F30 BMW
335i 335i xDrive - Sedan
2013+
F32 BMW
435i 435i xDrive - Coupe
2013+
F33 BMW
435i Convertible 435i xDrive Convertible- Convertible
2014+
F34 BMW
335i xDrive GT - Gran Tourismo
2014+
F36 BMW
435i Gran Coupe 435i xDrive Gran Coupe
2010+
F07 BMW
535i GT, 535i xDrive GT, 550i GT, 550i xDrive GT
2011+
F10 BMW
535i 535i xDrive 550i 550i xDrive M5
2013+
F06 BMW
640i Gran Coupe 640i xDrive Gran Coupe 650i Gran Coupe 650i xDrive Gran Coupe M6 Gran Coupe
2012+
F12 BMW
640i 640i xDrive 650i 650i xDrive M6
2009+
F01 BMW
740i 740li 740li xDrive 740ld xDrive 750i 750li 750i xDrive 750li xDrive
2006-2010
E83 BMW
X3 3.0i X3 3.0si
2011+
F25 BMW
X3 xDrive35i
2015+
F26 BMW
X4 xDrive35i
2007-2013
E70 BMW
X5 3.0si X5 xDrive30i X5 xDrive35i X5 xDrive50i X5M
2014+
F15 BMW
X5 sDrive35i X5 xDrive35i
2008-2013
E71 BMW
X6 xDrive35i X6 xDrive50i X6M
2015+
F16 BMW
X6 sDrive35i X6 xDrive35i
2003-2008
E85 BMW
Z4 2.5i Z4 3.0i Z4 3.0si
2009+
E89 BMW
Z4 sDrive30i Z4 sDrive35i Z4 sDrive35is
This is the o-ring used for most BMW camshaft sensors and crankshaft sensors. Although most sensors that we sell come with this o-ring at no charge, they may be the source of oil or fluid leaks. Simply replacing the o-ring, rather than replacing the whole sensor, is preferred. Fits with many BMW models and multiple cam, crank, and pulse generator sensors.
Sold per o-ring.