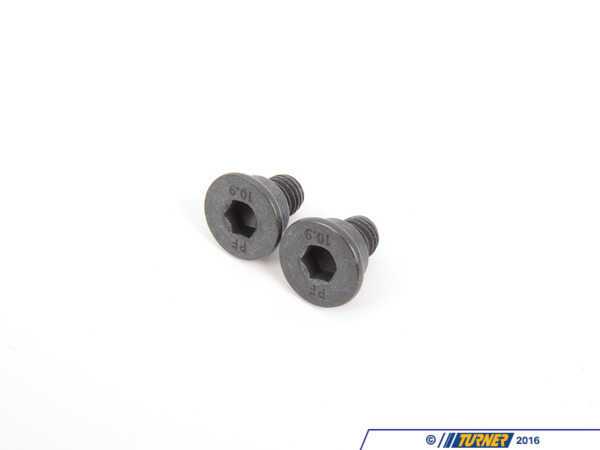 Brake Rotor Retaining Screw / Hold Down Bolts (pair) - M8x14
Mfg Part #

34211161806-2

Turner Part #

T#

12159

Brand
In Stock

Free Shipping
on orders $99 and up
Does this fit my vehicle?
For accurate results, specify your model below.
Product Details
Brake rotor retaining screws used for many BMW applications. M8x14. We recommend replacing the brake rotor hold down bolts each time the brake rotors are removed as they have a tendency to rust into place or to become stripped with multiple uses. This is for a pair of 2 bolts.
+
Applications
(click here to check your car)
Fits the following BMWs:
Front Brake Rotor Hold Down Bolt
E31 840Ci840i850Ci850CSi
E32 735i735iL740i740iL750iL
E34 525i530i535i540iM5 3.6
E36 318i318is318ti320i323i325i325is328iM3M3 3.2
E38 740i740iL740iLP750iL750iLP
E39 525i528i530i540i540iP
E46 320i323Ci323i325Ci325i325xi328Ci328i330Ci330i330xM3i
E52 ALPINA V8Z8
E53 X5 3.0iX5 4.4iX5 4.6isX5 4.8is
E60 525i525xi530i530xi545i550i528i528xi535i535xi550iE61 530xi535xi
E63 645Ci650i
E65 745i750i760iALPINA B7745Li750Li760Li
E70 X5 3.0siX5 3.5dX5 4.8iX5 MX5 35dXX5 35iXX5 50iX
E71 X6 35iXX6 50iXX6 M
E82 128iE82 135i
E83 X3 2.5iX3 3.0iX3 3.0iX3 3.0si
E84 X1 28iX1 28iXX1 35iX
E85 Z4 2.5iZ4 3.0iZ4 3.0si
E89 Z4 28iZ4 30iZ4 35iZ4 35is
E90 323i325i325xi328i328xi330i330xi335i335xi323i328i328xi335d335i335xi
E91 325xiE91 328i328xi
E92 328i328xi335i335xi328i328xi335i335is335xi
E93 328i335i328i335i335is
F01 740i750i750iXALPINA B7ALPINA B7X 740Li 750Li 750LiX 760Li ALPINA B7L ALPINA B7LX740LdX740LiX
F06 640i640iX650i650iXALPINA B6X
F07 535i535iX550i550iX535i535iX550i550iX
F10 528i528iX535i535iX550i550iX535d535dX528I
F12 640i640iX650i650iX
F15 X5 35dXX5 35iX5 35iXX5 50iX
F16 X6 35iX6 35iXX6 50iX
F22 228i228iXM235iM235iX
F25 X3 28dXX3 28iX3 28iXX3 35iX
F26 X4 28iXX4 35iX
F30 320i320iX328d328dX328i328iX335i335iX
F32 428i428iX435i435iX
F34 328i328iX335iX
F36 428i428iX435i435iX
F55 CooperCooper SF56 CooperCooper S
I01 i3i3 Rex
I12 i8
R60 Coop.SX JCWCooperCooper SCooper SX
R61 Coop.SX JCWCooperCooper SCooper SX
Z3 Z3 1.9Z3 2.5Z32.5iZ3 2.8Z3 3.0iZ3 M3.2

Rear Brake Rotor Hold Down Bolt
E31 840Ci840i850Ci850CSi
E36 318i318is320i323i325i325is328iM3M3 3.2
E38 740i740iL740iLP750iL750iLP
E39 525i528i530i540i540iPM5
E46 320i323Ci323i325Ci325i325xi328Ci328i330Ci330i330xiM3
E52 ALPINA V8Z8
E53 X5 3.0iX5 4.4iX5 4.6isX5 4.8is
E60 525i525xi530i530xi545i550iM5528i528xi535i535xi550i
E63 645Ci650iM6650i
E65 745i750i760iALPINA B7745Li750Li760Li
E70 X5 3.0siX5 3.5dX5 4.8iX5 MX5 35dXX5 35iXX5 50iX
E71 X6 35iXX6 50iXX6 M
E82 128i135iM Coupé
E83 X3 2.5iX3 3.0iX3 3.0iX3 3.0si
e84 X1 28iX1 28iXX1 35iX
E85 Z4 2.5iZ4 3.0iZ4 3.0siZ4 M3.2
E89 Z4 28iZ4 30iZ4 35iZ4 35is
E90 323i325i325xi328i328xi330i330xi335i335xiM3
E91 325xi328i328xi328i328xi
E92 328i328xi335i335xiM3328i328xi335i335is335xiM3
E93 328i335iM3
F01 740i750i750iXALPINA B7ALPINA B7X740Li750Li750LiX760LiALPINA B7LALPINA B7LX740LdX740Li740LiX
F06 640i640iX650i650iXALPINA B6XM6
F07 535i535iX550i550iX
F10 528i528iX535i535iX550i550iXM5528i535d535dX
F12 640i640iX650i650iXM6
F15 X5 35dXX5 35iX5 35iXX5 50iX
F16 X6 35iX6 35iXX6 50iX
F22 228i228iXM235iM235iX
F25 X3 28dXX3 28iX3 28iXX3 35iX
F26 X4 28iXX4 35iX
F30 320i320iX328d328dX328i328iX335i335iX
F32 428i428iX435i435iX
F34 328i328iX335iX
F36 428i428iX435i435iX
F55 CooperCooper S
F56 CooperCooper S
F80 M3
F82 M4
F83 M4
I01 i3i3 Rex
I12 i8
R60 Coop.SX JCWCooperCooper SCooper SX
R61 Coop.SX JCWCooperCooper SCooper SX
Z3 Z3 1.9Z3 2.5Z3 2.5iZ3 2.8Z3 3.0iZ3 M3.2

Kit Contents
| Description | | Qty | |
| --- | --- | --- | --- |
| Genuine BMW Inner Hex Bolt - 34211161806 | | 2 | |
This Part Fits the Following BMWs
| Make | Model | Submodel | Engine |
| --- | --- | --- | --- |
| BMW | E31 | 840Ci | M60 4.0L |
| BMW | E31 | 840Ci | M62 4.4L |
| BMW | E31 | 850Ci | M70 5.0L |
| BMW | E31 | 850Ci | M73 5.4L |
| BMW | E31 | 850CSi | S70 5.6L |
| BMW | E32 | 735i | M30 3.4L |
| BMW | E32 | 735iL | M30 3.4L |
| BMW | E32 | 740i | M60 4.0L |
| BMW | E32 | 740iL | M60 4.0L |
| BMW | E32 | 750iL | M70 5.0L |
| BMW | E34 | 525i | M20 2.5L |
| BMW | E34 | 525i | M50 2.5L |
| BMW | E34 | 530i | M60 3.0L |
| BMW | E34 | 535i | M30 3.4L |
| BMW | E34 | 540i | M60 4.0L |
| BMW | E34 | M5 | S38 3.5L |
| BMW | E36 | 318i | M42 1.8L |
| BMW | E36 | 318i | M44 1.9L |
| BMW | E36 | 318ic | M42 1.8L |
| BMW | E36 | 318ic | M44 1.9L |
| BMW | E36 | 318is | M42 1.8L |
| BMW | E36 | 318is | M44 1.9L |
| BMW | E36 | 318ti | M42 1.8L |
| BMW | E36 | 318ti | M44 1.9L |
| BMW | E36 | 323ic | M52 2.5L |
| BMW | E36 | 323is | M52 2.5L |
| BMW | E36 | 325i | M50 2.5L |
| BMW | E36 | 325ic | M50 2.5L |
| BMW | E36 | 325is | M50 2.5L |
| BMW | E36 | 328i | M52 2.8L |
| BMW | E36 | 328ic | M52 2.8L |
| BMW | E36 | 328is | M52 2.8L |
| BMW | E36 | M3 | S50 3.0L |
| BMW | E36 | M3 | S52 3.2L |
| BMW | E38 | 740i | M60 4.0L |
| BMW | E38 | 740i | M62 4.4L |
| BMW | E38 | 740iL | M60 4.0L |
| BMW | E38 | 740iL | M62 4.4L |
| BMW | E38 | 750iL | M73 5.4L |
| BMW | E39 | 525i | M54 2.5L |
| BMW | E39 | 528i | M52 2.8L |
| BMW | E39 | 530i | M54 3.0L |
| BMW | E39 | 540i | M62 4.4L |
| BMW | E39 | M5 | S62 5.0L |
| BMW | E46 | 323Ci | M52 2.5L |
| BMW | E46 | 323i | M52 2.5L |
| BMW | E46 | 325Ci | M54 2.5L |
| BMW | E46 | 325i | M54 2.5L |
| BMW | E46 | 325xi | M54 2.5L |
| BMW | E46 | 328Ci | M52 2.8L |
| BMW | E46 | 328i | M52 2.8L |
| BMW | E46 | 330Ci | M54 3.0L |
| BMW | E46 | 330i | M54 3.0L |
| BMW | E46 | 330xi | M54 3.0L |
| BMW | E46 | M3 | S54 3.2L |
| BMW | E52 | Z8 | S62 5.0L |
| BMW | E53 | X5 | M54 3.0L |
| BMW | E53 | X5 | M62 4.4L |
| BMW | E53 | X5 | M62 4.6L |
| BMW | E53 | X5 | N62 4.4L |
| BMW | E53 | X5 | N62 4.8L |
| BMW | E60 | 525i | M54 2.5L |
| BMW | E60 | 525i | N52 3.0L |
| BMW | E60 | 525xi | N52 3.0L |
| BMW | E60 | 528i | N52 3.0L |
| BMW | E60 | 528xi | N52 3.0L |
| BMW | E60 | 530i | M54 3.0L |
| BMW | E60 | 530i | N52 3.0L |
| BMW | E60 | 530xi | N52 3.0L |
| BMW | E60 | 535i | N54 3.0L |
| BMW | E60 | 535xi | N54 3.0L |
| BMW | E60 | 545i | N62 4.4L |
| BMW | E60 | 550i | N62 4.8L |
| BMW | E60 | M5 | S85 5.0L |
| BMW | E61 | 530xi | N52 3.0L |
| BMW | E61 | 535xi | N54 3.0L |
| BMW | E63 | 645Ci | N62 4.4L |
| BMW | E63 | 650i | N62 4.8L |
| BMW | E63 | M6 | S85 5.0L |
| BMW | E64 | 645Ci | N62 4.4L |
| BMW | E64 | 650i | N62 4.8L |
| BMW | E64 | M6 | S85 5.0L |
| BMW | E65 | 745i | N62 4.4L |
| BMW | E65 | 750i | N62 4.8L |
| BMW | E65 | 760i | N73 6.0L |
| BMW | E65 | B7 Alpina | N62 4.4L |
| BMW | E66 | 745Li | N62 4.4L |
| BMW | E66 | 750Li | N62 4.8L |
| BMW | E66 | 760Li | N73 6.0L |
| BMW | E70 | X5 M | S63 4.4L |
| BMW | E70 | X5 xDrive30i | N52 3.0L |
| BMW | E70 | X5 xDrive35d | M57 3.0L |
| BMW | E70 | X5 xDrive35i | N55 3.0L |
| BMW | E70 | X5 xDrive48i | N62 4.8L |
| BMW | E70 | X5 xDrive50i | N63 4.4L |
| BMW | E71 | X6 M | S63 4.4L |
| BMW | E71 | X6 xDrive35i | N54 3.0L |
| BMW | E71 | X6 xDrive35i | N55 3.0L |
| BMW | E71 | X6 xDrive50i | N63 4.4L |
| BMW | E82 | 1 M Coupe | N54 3.0L |
| BMW | E82 | 128i | N52 3.0L |
| BMW | E82 | 135i | N54 3.0L |
| BMW | E82 | 135i | N55 3.0L |
| BMW | E83 | X3 | M54 2.5L |
| BMW | E83 | X3 | M54 3.0L |
| BMW | E83 | X3 | N52 3.0L |
| BMW | E84 | X1 sDrive28i | N20 2.0L |
| BMW | E84 | X1 xDrive28i | N20 2.0L |
| BMW | E84 | X1 xDrive35i | N55 3.0L |
| BMW | E88 | 128i | N52 3.0L |
| BMW | E88 | 135i | N54 3.0L |
| BMW | E88 | 135i | N55 3.0L |
| BMW | E90 | 325i | N52 3.0L |
| BMW | E90 | 325xi | N52 3.0L |
| BMW | E90 | 328i | N52 3.0L |
| BMW | E90 | 328xi | N52 3.0L |
| BMW | E90 | 330i | N52 3.0L |
| BMW | E90 | 330xi | N52 3.0L |
| BMW | E90 | 335d | M57 3.0L |
| BMW | E90 | 335i | N54 3.0L |
| BMW | E90 | 335i | N55 3.0L |
| BMW | E90 | 335xi | N54 3.0L |
| BMW | E90 | 335xi | N55 3.0L |
| BMW | E91 | 325xi | N52 3.0L |
| BMW | E91 | 328i | N52 3.0L |
| BMW | E91 | 328xi | N52 3.0L |
| BMW | E92 | 328i | N52 3.0L |
| BMW | E92 | 328xi | N52 3.0L |
| BMW | E92 | 335i | N54 3.0L |
| BMW | E92 | 335i | N55 3.0L |
| BMW | E92 | 335is | N54 3.0L |
| BMW | E92 | 335xi | N54 3.0L |
| BMW | E92 | 335xi | N55 3.0L |
| BMW | E93 | 328i | N52 3.0L |
| BMW | E93 | 335i | N54 3.0L |
| BMW | E93 | 335i | N55 3.0L |
| BMW | E93 | 335is | N54 3.0L |
| BMW | F01 | 740i | N54 3.0L |
| BMW | F01 | 750i | N63 4.4L |
| BMW | F01 | 750i xDrive | N63 4.4L |
| BMW | F02 | 740Ld xDrive | N57 3.0L |
| BMW | F02 | 740Li | N54 3.0L |
| BMW | F02 | 740Li xDrive | N55 3.0L |
| BMW | F02 | 750Li | N63 4.4L |
| BMW | F02 | 750Li xDrive | N63 4.4L |
| BMW | F02 | 760Li | N74 6.0L |
| BMW | F06 | 640i | N55 3.0L |
| BMW | F06 | 640i xDrive | N55 3.0L |
| BMW | F06 | 650i | N63 4.4L |
| BMW | F06 | 650i xDrive | N63 4.4L |
| BMW | F06 | M6 Gran Coupe | S63 4.4L |
| BMW | F07 | 535i | N55 3.0L |
| BMW | F07 | 535i xDrive | N55 3.0L |
| BMW | F07 | 550i | N63 4.4L |
| BMW | F07 | 550i xDrive | N63 4.4L |
| BMW | F10 | 528i | N20 2.0L |
| BMW | F10 | 528i | N52 3.0L |
| BMW | F10 | 528i xDrive | N20 2.0L |
| BMW | F10 | 535d | N57 3.0L |
| BMW | F10 | 535d xDrive | N57 3.0L |
| BMW | F10 | 535i | N55 3.0L |
| BMW | F10 | 535i xDrive | N55 3.0L |
| BMW | F10 | 550i | N63 4.4L |
| BMW | F10 | 550i xDrive | N63 4.4L |
| BMW | F10 | M5 | S63 4.4L |
| BMW | F12 | 640i | N55 3.0L |
| BMW | F12 | 640i xDrive | N55 3.0L |
| BMW | F12 | 650i | N63 4.4L |
| BMW | F12 | 650iX | N63 4.4L |
| BMW | F12 | M6 | S63 4.4L |
| BMW | F13 | 640i | N55 3.0L |
| BMW | F13 | 640i xDrive | N55 3.0L |
| BMW | F13 | 650i | N63 4.4L |
| BMW | F13 | 650iX | N63 4.4L |
| BMW | F13 | M6 | S63 4.4L |
| BMW | F15 | X5 sDrive35i | N55 3.0L |
| BMW | F15 | X5 xDrive35d | N57 3.0L |
| BMW | F15 | X5 xDrive35i | N55 3.0L |
| BMW | F15 | X5 xDrive50i | N63 4.4L |
| BMW | F16 | X6 sDrive35i | N55 3.0L |
| BMW | F16 | X6 xDrive35i | N55 3.0L |
| BMW | F16 | X6 xDrive50i | N63 4.4L |
| BMW | F22 | 228i | N20 2.0L |
| BMW | F22 | 228i xDrive | N20 2.0L |
| BMW | F22 | M235i | N55 3.0L |
| BMW | F22 | M235i xDrive | N55 3.0L |
| BMW | F23 | 228i | N20 2.0L |
| BMW | F23 | 228i xDrive | N20 2.0L |
| BMW | F23 | M235i | N55 3.0L |
| BMW | F25 | X3 sDrive28i | N20 2.0L |
| BMW | F25 | X3 xDrive28d | N47 2.0L |
| BMW | F25 | xDrive2.8i | N52 3.0L |
| BMW | F25 | xDrive3.5i | N55 3.0L |
| BMW | F26 | X4 xDrive28i | N20 2.0L |
| BMW | F26 | X4 xDrive35i | N55 3.0L |
| BMW | F30 | 320i | N20 2.0L |
| BMW | F30 | 320i xDrive | N20 2.0L |
| BMW | F30 | 328d | N47 2.0L |
| BMW | F30 | 328d xDrive | N47 2.0L |
| BMW | F30 | 328i | N20 2.0L |
| BMW | F30 | 328i xDrive | N20 2.0L |
| BMW | F30 | 335i | N55 3.0L |
| BMW | F30 | 335i xDrive | N55 3.0L |
| BMW | F31 | 328d xDrive | N47 2.0L |
| BMW | F31 | 328i xDrive | N20 2.0L |
| BMW | F32 | 428i | N20 2.0L |
| BMW | F32 | 428i xDrive | N20 2.0L |
| BMW | F32 | 435i | N55 3.0L |
| BMW | F32 | 435i xDrive | N55 3.0L |
| BMW | F33 | 428i | N20 2.0L |
| BMW | F33 | 428i xDrive | N20 2.0L |
| BMW | F33 | 435i | N55 3.0L |
| BMW | F33 | 435i xDrive | N55 3.0L |
| BMW | F34 | 328i xDrive | N20 2.0L |
| BMW | F34 | 335i xDrive | N55 3.0L |
| BMW | F36 | 428i | N20 2.0L |
| BMW | F36 | 428i xDrive | N20 2.0L |
| BMW | F36 | 435i | N55 3.0L |
| BMW | F36 | 435i xDrive | N55 3.0L |
| BMW | I01 | i3 | IB3 |
| BMW | I12 | i8 | B38 1.5L |
| BMW | Z3 | 1.9 | M44 1.9L |
| BMW | Z3 | 2.3 | M52 2.5L |
| BMW | Z3 | 2.5i | M54 2.5L |
| BMW | Z3 | 2.8 | M52 2.8L |
| BMW | Z3 | 3.0i | M54 3.0L |
| BMW | Z3 | M Coupe | S52 3.2L |
| BMW | Z3 | M Coupe | S54 3.2L |
| BMW | Z3 | M Roadster | S52 3.2L |
| BMW | Z3 | M Roadster | S54 3.2L |
| BMW | Z4 | 2.5i | M54 2.5L |
| BMW | Z4 | 3.0i | M54 3.0L |
| BMW | Z4 | 3.0i | N52 3.0L |
| BMW | Z4 | 3.0Si | N52 3.0L |
| BMW | Z4 | M Coupe | S54 3.2L |
| BMW | Z4 | M Roadster | S54 3.2L |
| BMW | Z4 | sDrive28i | N20 2.0L |
| BMW | Z4 | sDrive30i | N52 3.0L |
| BMW | Z4 | sDrive35i | N54 3.0L |
| BMW | Z4 | sDrive35is | N54 3.0L |
| MINI | Cooper Countryman | Base | L4 1.6L N16B16A |
| MINI | Cooper Countryman | S | L4 1.6L N18B16A |
| MINI | Cooper Countryman | S ALL4 | L4 1.6L N18B16A |
*The above product applications have been written by Turner Motorsport. All warranties, product application, fitment, and performance are the responsibility of Turner Motorsport. For additional information see the terms of use.
others bought
recently viewed