Genuine BMW Valve Cover Kit - E82 135i/1M, E9X 335i, E60 535i, E71 X6 35iX, E89 Z4 N54
All-in-one valve cover overhaul
Preventative replacement saves time and trouble later on
Includes new oil separator and check valve systems
Replace valve cover gaskets before a leak becomes worse
Replace valve cover before it cracks
BMW equipped the twin-turbo N54 engine with a plastic, not metal, valve cover (like with its N51 and N52 cousins). As we have seen over time the plastic can crack which leads to oil leaks, excessive oil blow-by, vacuum leaks, poor running, and other issues. Unfortunately, it's not just the gasket that needs periodic replacement but the entire valve cover itself. This kit includes a new valve cover, gaskets, and hardware. The valve cover also incorporates the oil separator and check valves which are not a replaceable item on its own. So a complete valve cover replacement will tackle multiple problem areas at once.
Cracked Valve Cover. The plastic used for the N54 valve cover is thin and weak in certain spots. This makes it prone to hairline or larger cracks that will leak oil and cause vacuum leaks. You might also notice rough running especially at idle and fault codes for fuel trim. Often a technician will go looking for a failed ignition coil, spark plug, or failed vacuum hose on the engine. But without a fault code to assist in diagnosis this can often mean wasted time and money. A cracked valve cover is a new problem area that many techs don't think to check. And the problems are more prevalent on modifed engines running more boost.
Oil Separator/Crankcase Vent. BMW integrated the oil separator system into the valve cover on these later engines. An internal manifold creates a cyclone effect and centrifugal force separates vapor from the liquid oil. The liquid oil is supposed to drain through the valve cover and back to the oil pan while the remaining vapor is burned up during combustion. It's a very efficient and environmentally-friendly design with very few moving parts. Unfortuntely it's not perfect and eventually the internal passageways will become clogged. This problem is made worse in cars that have short drive cycles, sit for long periods of time, do not have frequent oil changes, do not see regular runs to redline, and cars in freezing climates. If the engine never reaches optimal operating temp the oil remains in liquid form or becomes sludge. This is bad news for the entire engine, leading to excessive oil blow-by, fouled spark plugs, rough running and misfires and even premature failure of catalytic converters and oxygen sensors. Since the oil separator system in the valve cover is not available on its own, and cleaning it is nearly impossible, the complete replacement of the valve cover is the only option. Other oil vent tubes and vacuum hoses are also recommended to get replaced at the same time.
Valve Cover Gaskets. As with any rubber part, failures occur when the rubber becomes dry and brittle. The pliable rubber no longer forms a seal between the cylinder head and valve cover where it will develop an oil leak. Valve cover gaskets that leak can allow oil to seep into the spark plug holes and contaminate ignition coil boots and plugs. That can lead to rough running and misfires. A new valve cover includes new gaskets.
All new hardware is included to avoid re-using and over-tightening the original bolts (they have a very low torque rating).
Replacement requires accessing the rear of the engine with a lot of the upper plastic shrouding removed. The metal fuel line must also be removed and disconnected from the fuel injectors. Professional installation is encouraged if you have never done this kind of work before. Serious DIY types should have a Bentley Service Manual to use which greatly explains the process. You may also want to combine this work with the oil filter housing gasket replacement.
There is no maintenance or replacement interval for the N54 valve cover. However, we have seen cracks and other failures in the 50,000-90,000 mile range. Our best advice is to plan on a major top end overhaul around the 70-80,000 mile mark. There's no mechanical downside to replacing it as prevention and it will make the engine run better and last longer.
This item fits the following BMWs (with twin turbo N54 engine):
2008-2010 E82 BMW 135i
2011 E82 BMW 1M Coupe
2007-2010 E90 BMW 335i 335xi 335i xDrive - Sedan
2007-2010 E92 BMW 335i 335is 335xi 335i xDrive - Coupe
2007-2010 E93 BMW 335i - Convertible
2007-2010 E60 BMW 535i 535xi 535i xDrive
2008-2010 E71 BMW X6 xDrive35i
2009-2010 Z4 BMW Z4 sDrive35i Z4 sDrive35is

Genuine BMW
T#:
12891
|
Part#:
11127565284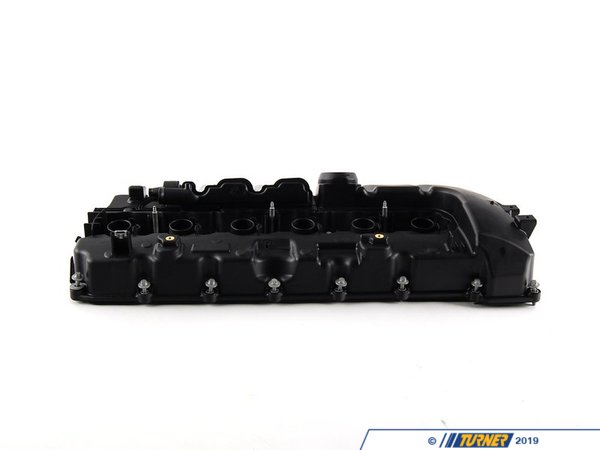 1 of
2 of
3 of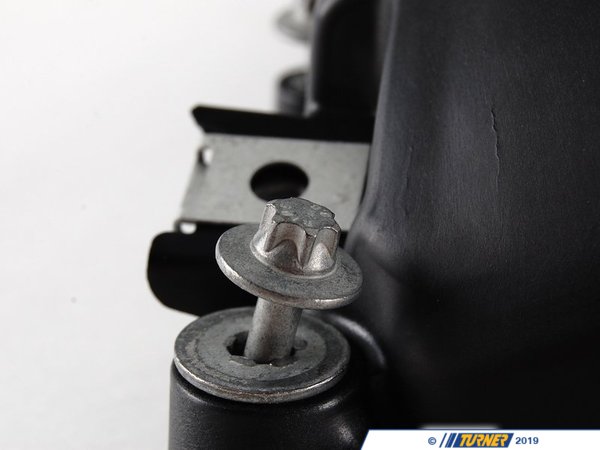 4 of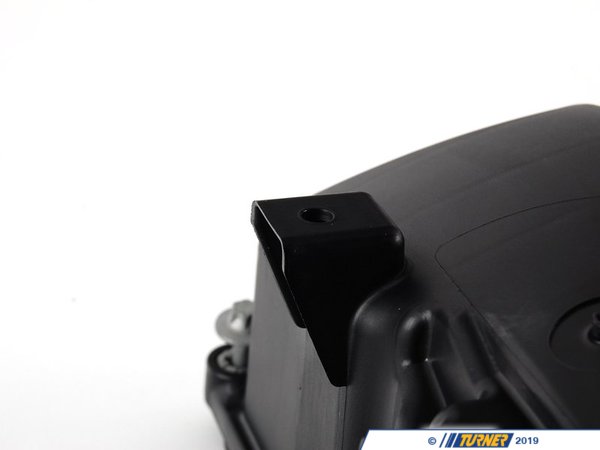 5 of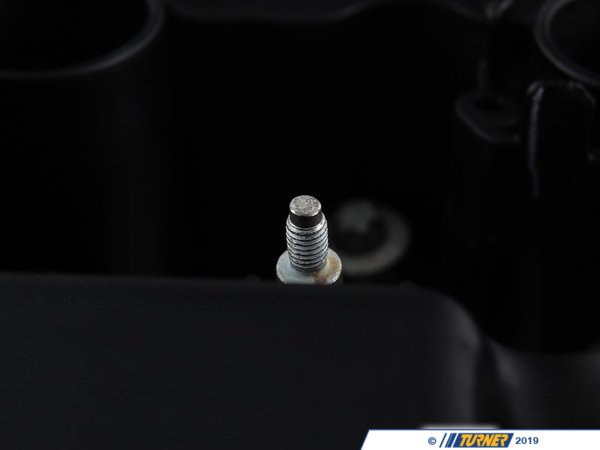 6 of
7 of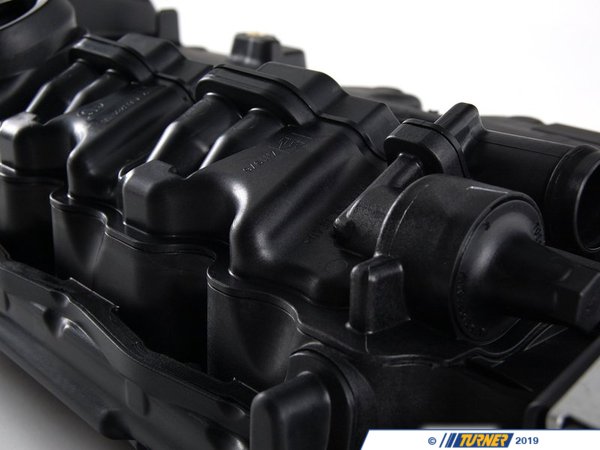 8 of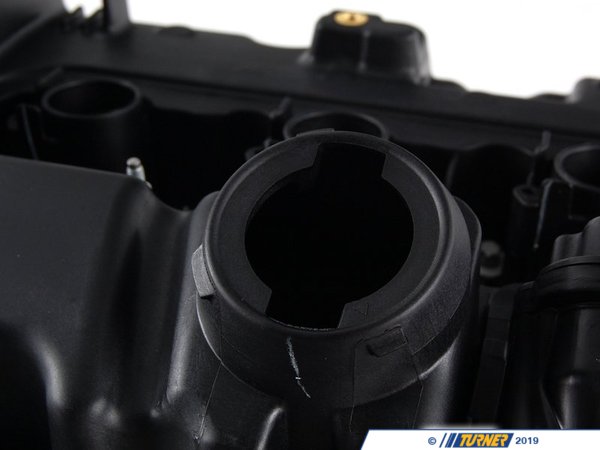 9 of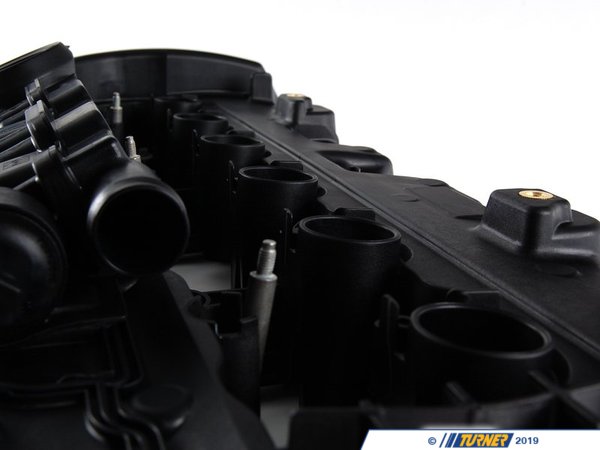 10 of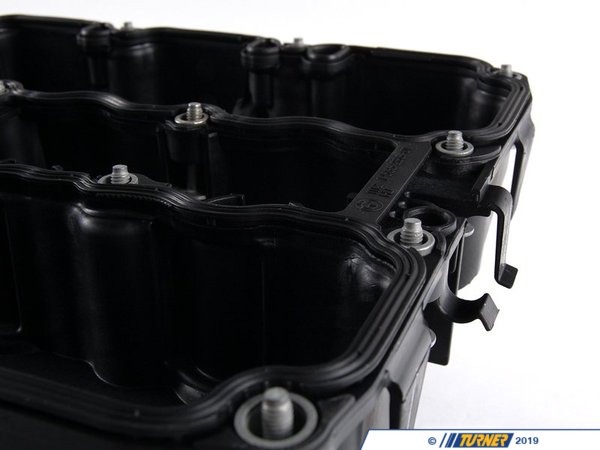 11 of
12 of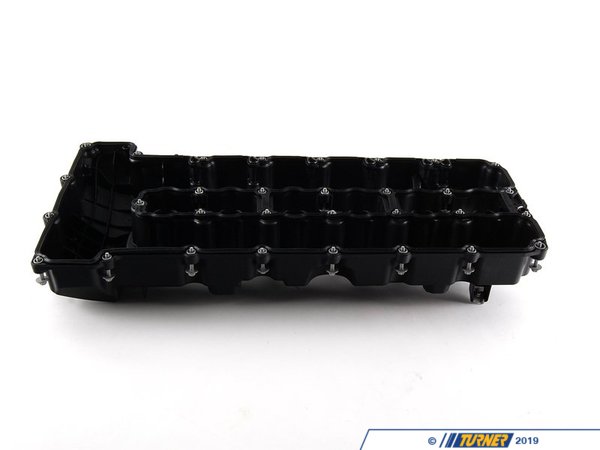 13 of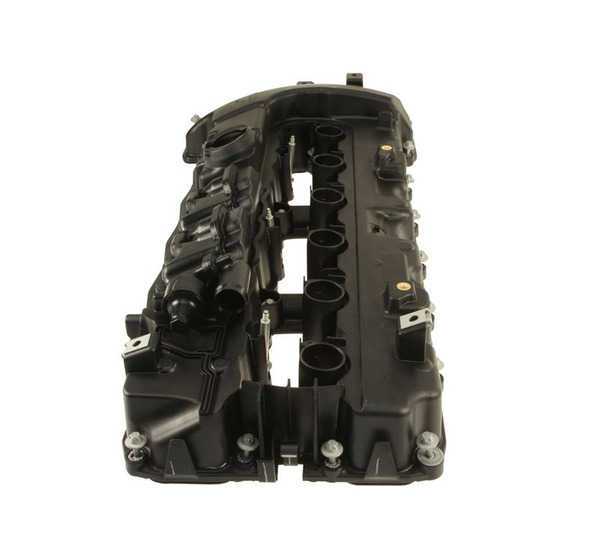 14 of