E46 M3 Power Package - Shark Injector, Power Pulleys, & IAT Relocation Kit
Shark Injector Performance Software
The enthusiast's choice for over a decade, the Shark Injector's performance is only equaled by its own ease of install! Tune your ECU at the press of a button simply by plugging into the under-dash OBDII diagnostic port, there is no removal of your car's computer; no laptop or cables required. What does the Shark offer?
Excellent horsepower and torque gains - peak: 18whp/11wtq, max: 22whp/16wtq
Faster and smoother throttle response
Top speed limiter removed
Extremely easy to install/uninstall
Reversible and reusable
Elevated 8,250 RPM rev limiter
Compatible with 91 octane; 93 recommended
​Turner Motorsport Power Pulleys 
Underdrive Power Pulleys work to 'free up' horsepower. Any accessory that spins from the main drive belt is using up power. That's power that could otherwise be used to move the car. By giving some of that power back to the engine, you can make the car faster! We measured 10.7 whp at 6960 rpm and 8.1 lb-ft of torque at 5550 on a 1995 M3. Race pulleys deliver even more power. 
Another "no-downside" upgrade, we even include a new belt. Total install time for a 3-piece pulley set should be around 1.5 hours. We offer three options in pulleys:
1.) No alternator pulley included - for cars with big amps and powerful stereo systems that need the extra juice.
2.) Street Power Pulleys - our most popular option with no downside!
3.) Race Power Pulleys - delivering 15 "free" horsepower, this set underdrives the water pump, power steering pulley, and alternator for lower temps, less wear, and more power. Not for street use. 
Intake Air Temperature Relocation Kit
Looking to maximize your power gains? Add a Turner IAT Relocation to combat power-robbing heat soak - the only true plug-and-play solution available. Heat soak is a real plague on consistent power for a stock or tuned vehicle. Click here to read more about our IAT relocation kit.
This item fits the following BMWs:
2001-2006 E46 BMW M3
T#:
393209
|
Part#:
E46S54SIPULLEY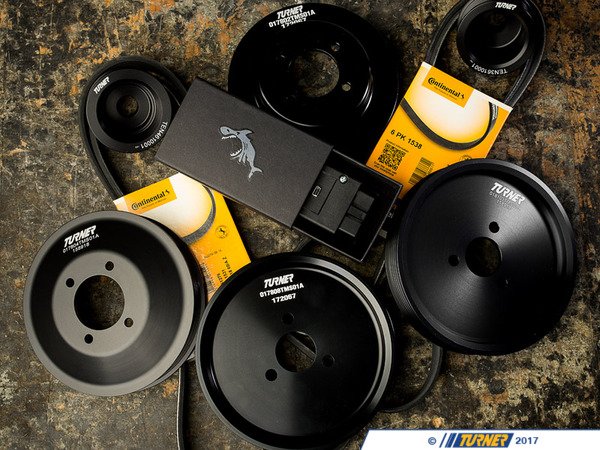 1 of
2 of
Select Options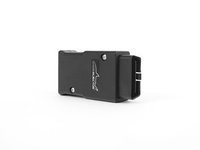 Shark Injector V2.0 Performance Software

In Stock Turner Motorsport S54 Street Power Pulley Kit (no alternator pulley)

In Stock Turner Motorsport S54 Street Power Pulley Kit

In Stock Turner Motorsport S54 Racing Pulley Set

In Stock Turner Intake Air Temperature Relocation Kit

In Stock