Head Gasket Set - E30 325e, E28 528e
E30 325e E28 528e with M20 engine Head Gasket Set. Includes all the gaskets needed when rebuilding the cylinder head. Includes head gasket, valve cover gasket, valve seals, timing cover seals/gaskets, throttle body gasket, intake manifold gaskets. Note: exhaust manifold heat shields sold separately and recommended.

This set of gaskets is a both a time and money saver. It includes all of the commonly replaced gaskets, seals, and o-rings when performing this overhaul. Having these on hand instead of chasing them down at the last minute will save you time, money, and frustration. With this area of the engine apart you're going to want or need to replace these items anyway to ensure it's free of fluid and vacuum leaks. This is especially important because some states have very strict emissions regulations and vacuum and oil leaks can lead to failed inspections tests. On newer cars this can also create issues in the on-board diagnostics system. Even if you're not pulling the head this set includes so many valuable parts you'll want to keep this on hand to use for spares.
Contents:
07119903045 cold start valve o-ring
07119963073 coolant passage o-ring
07119963130 coolant passage oring
07119963200 gasket ring (4)
11121265087 camshaft cover o-ring
11121285609 camshaft cover seal
11121722734 head gasket
11121726721 rear camshaft cover profile gasket
11121730229 valve cover gasket
11151714390 dipstick tube o-ring (2)
11331264519 rocker arm shaft plug (4)
11349059172 valve stem seal set (set of 12)
11531265084 thermostat o-ring
11531722692 thermostat housing profile gasket
11611717286 cold start valve pipe profile gasket
11611730743 intake manifold port gasket (cyl 3-4)
11611730787 intake manifold port gasket (cyl 1, 2, 5, & 6)
11621723877 exhaust manifold port gasket, E28 528e only (6)
11761711717 exhaust manifold flange gasket (2)
12111363190 bearing cover o-ring
13541271457 throttle body gasket
We recommend also including exhaust manifold gaskets - available as 11621728489-2.

This item fits the following BMWs:
1984-1988 E30 BMW 325e 325es
1982-1988 E28 BMW 528e

Victor Reinz
T#:
4406
|
Part#:
11129059249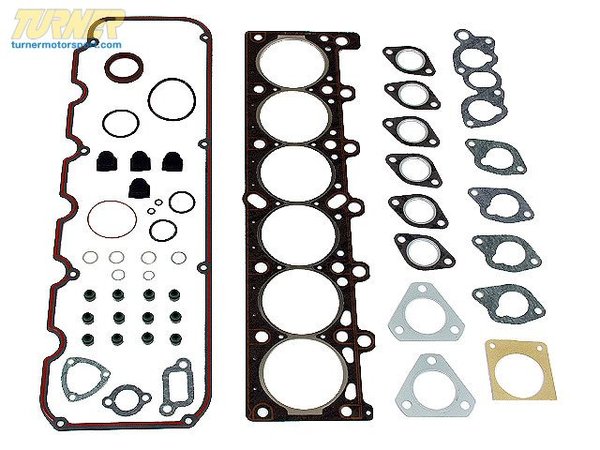 1 of