Every new BMW, and all BMW cars made from 1980 on, have an oxygen sensor, often called an "O2 sensor". The oxygen sensor is part of your BMW's emissions control system and feeds data to BMW engine management computer. The oxygen sensor is positioned in the exhaust pipe and can detect rich and lean mixtures. The goal of the oxygen sensor is to help the engine run as efficiently as possible and also to produce as few emissions as possible. When your BMW oxygen sensor fails, the computer can no longer sense the air/fuel ratio, so it ends up guessing -- resulting in poor performance, poor gas mileage, and increased pollution. Make sure your BMW engine performs as it should, and doesn't use more fuel than it needs to by simply changing your oxygen sensor today. We carry Bosch oxygen sensors, and in some cases Genuine BMW oxygen sensors or OEM oxygen sensors.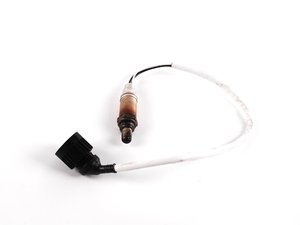 A new oxygen sensor can improve driveability and lengthen engine life. Ultimately, you achieve a smoother running engine that is more fuel efficient. Feedback from the oxygen sensor provides closed-loop control of the injected quantity of fuel for optimum air-fuel mixture, enabling virtually complete combustion to take place. Contaminants in gas and certain atmospheric conditions can drastically shorten the life of any oxygen sensor, therefore they should be checked with every periodic maintenance and changed if necessary. Bosch Part # 13 231. Replacement for BMW part # 11781735499 and 11781738282.
Bosch is one of the largest OEM producers of Genuine BMW and aftermarket parts in the world, providing parts for almost every major automotive manufacturer. Bosch has likely supplied many of the original electrical (and mechanical) parts for your BMW. Thanks to their quality, high durability, and reliability, you should expect a long service life from Bosch products.
As a leading source of high performance BMW parts and accessories since 1993, we at Turner Motorsport are honored to be the go-to supplier for tens of thousands of enthusiasts the world over. With over two decades of parts, service, and racing experience under our belt, we provide only quality performance and replacement parts. All of our performance parts are those we would (and do!) install and run on our own cars, as well as replacement parts that are Genuine BMW or from OEM manufacturers. We only offer parts we know you can trust to perform!

This item fits the following BMWs:
1988-1991 E30 BMW 325i 325is 325ix 325ic
1992-1995 E36 BMW 318i 318is 318ic 318ti
1992-1995 E36 BMW 325i 325is 325ic M3
1993-1995 E34 BMW 530i
1993-3/1994 E34 BMW 540i
1993-1994 E32 BMW 740i 740il
1988-1994 E32 BMW 750il
1990-1994 E31 BMW 850i 850ci