Performing certain maintenance and adjustments on your BMW is often a hassle or impossible without the proper tools. The difference between an enthusiast and an owner is the determination to get the job done on our own cars for pure satisfaction and to strengthen the bonds we share. All the specific tools you need to get the job done right, from fan clutch tools, cam alignment tools, and steering rack alignment tools, to coilover adjustment spanners, diagnostic equipment, and more have all been selected by our experts to help maintain your BMW.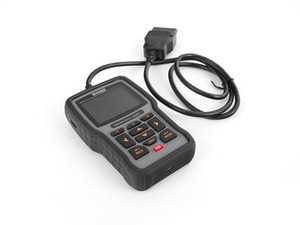 The BMW Service Engine Soon (aka Check Engine Light) has thousands of different meanings. Everything from low coolant messages, engine misfires, transmission temperatures, light bulb failures, brake pad replacement, and so much more. The sophisticated electronics are throughout the car. Isn't it time for a BMW scan tool that can keep up with all of your DIY needs? We think we've found the one - the DIY BMW diagnostic tool that trumps them all. The Schwaben BMW scan tool.
Not all diagnostic scan tools are the same. The cheap ones you find at catalog outlet stores are generic and give you generic information (sometimes not even that). BMW actually has very specialized diagnostic systems that they only share with dealers. The factory diagnostic tools require specialized programs on dedicated laptops that are a pain for the average DIYer to set up and use. The Schwaben BMW diagnostic tool is designed specifically for BMW and MINI. It's not generic and packs some serious features in its small case. We've used this in our service department and were very impressed with the depth of its capabilities. It has features that only the factory ISTA/INPA programs have. Below is a partial list of its prime features -
Works on BMW models from 1987-current*; Works on MINI models from 2002-current*
Compatible with global OBDII / EOBD standards
Reads and clears codes and turns off SES/CEL/MIL/DTC (BMW Powertrain codes, Chassis codes, Body codes, and CAN codes)
Special troubleshooting functions to walk you through codes (like the BMW Test Plan)
Check and activate electronic components like switches, relays, and actuators
Records live sensor data
Provides live data graphing
Merges graphs for easy and intuitive diagnosis
Displays freeze frame data
Create a custom data stream
Reads and resets most adaptations
Reads OBD Readiness
Does active tests on systems and components*
Performs special functions, coding, security access*
Code and program replacement control units
Supports all 10 OBDII test modes
Resets oil service light
Sets inspection 1, 2 service intervals (manual or automatic)
Sets inspection mileage
Deactivates and reactivates brake control system
Retracts calipers for brake pad replacement on newer models
Initializes the wear indicator if new pads installed
Diagnoses Electronic Parking Brake caliper functionality
Multilingual menu options and code definitions
Memory card for data backup and software update
Print feature
Large TFT color screen and menu-driven operations
Free life time updates
*Certain functions may be limited due to the requirement of a special factory access code or tools. While versatile, this scan tool covers a wide range of BMW models and platforms and it cannot be a catch-all tool for every job. Some functions may not be available but will be reviewed in future updates.
Note: Microsoft PC required for updates. You will need to register your scan tool in order to receive update notices via e-mail.
Vehicles with 20 pin under hood connector will require the separate adapter for use. Click here for link.