Your BMW's steering feel is likely one of the many reasons you chose to drive a BMW. Despite them switching to electronic power steering after E9x, we love the connection to the road every BMW provides. We have everything you need to service your BMW's steering system, from quicker ratio steering racks for the trackday warrior to upgraded factory steering wheels for your daily driver.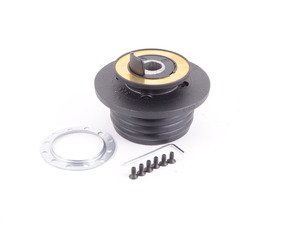 On Order, ETA Jun 21, 2019
Attach your OMP Steering wheel with this steering column adapter hub. Includes the needed fitment hardware. Made of aluminum for light weight and painted black to blend in with most steering wheels and columns.
Works with steering wheel disconnects and spacers.
Also works with Momo and Sparco steering wheels with a 6 bolt, 70 mm PCD bolt hole pattern.
Today OMP Racing is one of the world's leading manufacturers of racing safety equipment and tuning accessories with a catalog of over 3,000 different items. Operating from a technologically advanced 80,000 sqft facility in Italy, OMP products are renowned for its quality, the meticulous attention to details that is constantly challenged by setting higher standards.
Fits the following vehicles:
1991-1993 3 Series (no airbag sensor connection)
1991-1996 8 Series(no airbag sensor connection)