We sell OEM air mass sensors, air flow meters, and HFMs (Hot Film Meter) for many BMWs. When the mass air sensor is bad you will notice your engine running out of tune. Your fuel mileage will suffer, throttle response will be poor, and you will notice a lack of power.There should be a Check Engine Light to alert you that the air sensor is having problems. However, there may not be a fault code for the air meter itself. Often times the code comes up as fuel trim or lean condition. In these cases the air sensor could be just one of a number of potential problems.We only sell air sensors from Original Equipment Manufacturers like, Bosch, VDO, and Siemens. Please note that HFMs are an electrical part and cannot be returned for refund.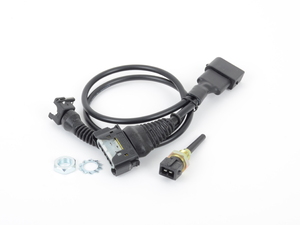 All vehicles will lose some degree of performance due to ...

All vehicles will lose some degree of performance due to heat soak under the right operating conditions. Engine management systems constantly monitor operating conditions and modifying parameters based on sensor inputs. BMW integrated the intake air temp sensor in the MAF housing on models such as the E39 M5, and, being sandwiched behind a hot radiator and in some applications next to an even hotter valve cover, this is less than ideal for performance applications. Absorbing excess heat from its surroundings, the MAF canaEURtmt shed it fast enough, and the ECU reads an inaccurately high intake air temperature. Compensating for this false hot air measurement, the ECU pulls timing and runs a richer fuel mixture, resulting in a significant loss of torque.
What can you do? Locate an intake air temp sensor in a location where it can properly measure incoming air temps and where it's less prone to heat soak. Mounting the sensor further away from the heat source and isolating it from the MAF housing, it can both resist the effects of heat soak longer and respond to temperature changes more quickly. The result is youaEURtmll experience reduced torque loss and more consistent power output when youaEURtmre pushing your engine hard.
The Turner engineering team was initially skeptical of the claimed performance benefits of this modification. They first set out validate the functionality and performance benefit of a temp sensor relocation. Replicating stop-and-go traffic heat soak in a 2001 540i was a simple task in a controlled environment - their dynometer. First the car was heat soaked to simulate being stuck in traffic or moving at low speeds by running the car four times on the dyno with the dyno's cooling fans disabled. The fans were then turned on for three more runs to observe the recovery rate once air flow was reintroduced. The test: following this procedure once with a stock IAT, and once with their relocation kit in place.
The result? Turner recovered 11lb-ft torque at 2500rpm through use of their relocation kit, with even greater recovery to be found for M5 owners. Here are the heat soak-related torque losses Turner experienced:
Stock IAT location:
18rwtq at 2500rpm
10rwtq at 3000rpm
9rwtq at 3700rpm
Turner IAT Relocation:
7rwtq at 2500rpm
5rwtq at 3000rpm
5rwtq at 3700rpm
**Click here for installation instructions**
The Turner engineering team designed a complete plug and play kit (unlike all other options on the market) that makes for quick, easy, and reversible installation. Weather-sealed connectors keep out the elements, while sheathed wiring offers a clean appearance underhood. With a harness nearly 3 feet long - the Turner IAT relocation kit offers flexibility in positioning, but not too long that you're left with unsightly excess wiring. Turner recommends positioning the sensor in a location away from engine heat, but still within the intake ducting to achieve accurate intake temp readings - such as the far side of the base of the airbox. Vehicles with cold air intakes with cone-style filters can even position the sensor in the end of the filter. Simply drill a hole in your (cool) location of choice and plug in the harness. More information including installation instructions and some good examples of sensor mounting locations can be found in our DIY PDF.
We include everything you need to relocate your IAT, just select your desired sensor brand below - Genuine BMW or original equipment Beru.
Also the perfect plug-n-play option for anyone looking to upgrade their intake to utilize an Alpha-N tune!
Note for vehicles with M62 engine: applicable to 1999 and up