BMW E93 M3 Floor Mats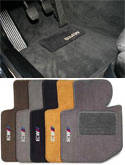 There is no better fit or match to your BMW's interior than a set of original BMW floor mats. These high quality mats fit perfectly and look great. Replacing your dirty, worn out mats is perhaps the easiest way to makeover your BMW's interior appearance. Why pay dealer price on BMW floor mats when you can buy factory BMW mats for less, shipped to your door?
Each BMW floor mat set includes 4 mats, front and rear (only 2 on Z3) and a set of Velcro fasteners which screw into the receptacles in your BMW's carpet. For most applications, we offer them in several color options to match your BMW's interior.
You're currently viewing parts for your
(E93) M3 Convertible 2008-2013
.
Reset your chassis

For accurate results, specify your model below.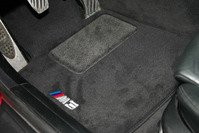 This is a set of 4 factory BMW anthracite/black floor mats with the iconic "M3" logo embroidered on the front mats. Set consists of 2 front floor mats, and 2 rear floor mats, all matching BMW's anthracite/black carpeting perfectly. As these are Genuine BMW mats, they of course fit your BMW's interior precisely, unlike those "other" non-BMW floor mats. These are made for the new E90/E92/E93 M3 but can be used for any 2006, 2007, 2008 or newer BMW 3 series (**except xi coupes). Available in anthracite (black) color only. (left hand drive ONLY). Please choose your BMW's body style below. 82112293533
The E90/E92/E93 M3 Floor Mats fit the following BMWs:
:
2006+
E90 3-Series Sedan
including 325i, 330i, 328i 328xi, 335i & 335xi
2007+
E92 3-Series Coupe
including 328i, 335i (**no xi!!)
2007+
E93 3-Series Convertible
including 328i & 335i
2008+
E90/E92/E93 M3
including E90 M3 sedan, E92 M3 coupe & E93 M3 convertible/cabrio.
Please select your body style below (mats come in black only).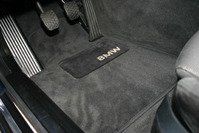 This is a set of 4 original BMW factory floor mats, front and rear. These will fit all 2007 and newer 3 series cabrios, including 328i and 335i (left hand drive only). Available in 3 color options (choose below). These include the factory velcro fasteners, to help keep mats from moving or sliding.
These BMW floor mats fit the following cars:
2007+
E93 Series Convertible
- 328i & 335i
2008+
E93 M3 Convertible