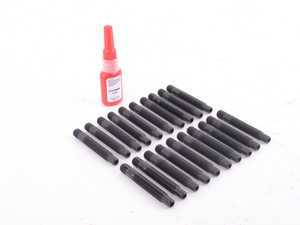 Wheel studs are among the safest and most beneficial upgrades you can make on a track car. Not only are wheel studs safer than wheel bolts but they make changing wheels/tires much easier. One of the frustrating things about installing your wheels on the hub is that it's difficult to line up the wheel on the bolt holes. As wheels get larger but also heavier it's even more trouble. Add in a wheel spacer and the task is twice as hard. BMW does produce a wheel alignment pin for this purpose but if you're changing wheels often a stud conversion is the better way to go. Our original bullet nose studs are available in 78mm and 90mm overall lengths. The 78mm works great for cars that do not use a spacer (or a spacer smaller than 15mm). We recommend the 90mm length for cars that have a spacer larger than 15mm. These studs come with a black magnesium phosphate coating for excellent corrosion resistance. These studs are perfect for dual-purpose street/track cars. The studs are stronger and safer than wheel bolts and have a barrier against corrosion which makes them suitable for street use. For a dedicated race or track car, where wheel changes or pit stops are more frequent, check out our racing dry lube studs. Our studs are also designed and manufactured with the properly sized shank to work with a wider range of BMW wheel, nut, and brake rotor combinations. We intentionally avoid the extra large shoulders you see on other studs because they can interfere with some brake rotor hats. The extra-large shoulder can be too large to allow the rotor to pass through and drilling out the holes is required (not cool!) Our studs have the sufficient shank for the brake rotor without interfering.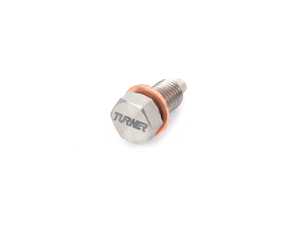 This is a must-have for ALL BMWs, and simply installs in place of your existing drain plug. With every oil change you perform on your BMW, you'll be able to inspect for metal shavings and debris. Many times, if something is going wrong on your BMW's engine, the magnetic drain plug can give you an early warning. Our championship race team uses this info all the time (Ever find a piece of a valve spring in your oil? We have!) Be sure to get one now, and make the swap next oil change!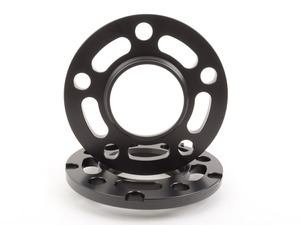 10MM (.39 inch) Wheel Spacer for BMW E24, E28, E30 M3, E31, E32, E34, E36, E38, E46, E60, E63, E82, E83, E87, E90, E91, E92, E93 (E9X), Z3, Z4
---

Inventory On Order, ETA Aug 18, 2021
Our polyester tow strap is far and above the best tow strap available for the modern BMW chassis. We use a heavy-duty, chemical-resistant polyester strap webbed around a stainless steel stud. There is plenty of length available for tow hooks to grab onto without hitting your bumper and damaging paint or causing cracks. The precision-cut stud is fits E30 (89+), E36, E46, E82, E90, E92, Z3, and Z4. We have further refined the shape and size of the bolt so that spoiler modifications are kept to a minimum. Note that on some models you may need to modify the bumper slightly for the best fit.

A tow strap is a better pickup point than a fixed steel ring, which will add weight and protrude past the bumper. Some racing series have banned the steel rings because they increase the likelihood of contact during close racing. Our straps are sold in bright red, bright blue, or black (red suggested for racing use as it makes it easy for tow truck operators and safety crews to spot). On some models, the strap may be tucked behind the bumper panel when not on track, which makes this perfect for dual-use track/street cars and full racecars alike. Priced per strap so order two for the front and rear.

This item fits the following BMWs:
1989-1991 E30 BMW 318i 318is 325i 325is
2008-2012 E82 BMW 128i 135i 1M Coupe
1992-1999 E36 BMW 318i 318is 318ti 318ic 323is 323ic 325i 325is 325ic 328i 328is 328ic M3
1999-2006 E46 BMW 323i 323ci 325i 325ci 325xi 328i 328ci 330i 330ci 330xi M3
2006-2011 E90 BMW 325i 325xi 328i 328xi 328i xDrive 330i 330xi 335d 335i 335xi 335i xDrive M3 - Sedan
2006-2012 E91 BMW 325xi 328i 328xi 328i xDrive - Wagon
2007-2013 E92 BMW 328i 328xi 328i xDrive 335i 335is 335xi 335i xDrive M3 - Coupe
1997-2002 Z3 BMW Z3 1.9 Z3 2.3 Z3 2.5i Z3 2.8 Z3 3.0i M Roadster M Coupe
2003-2008 E85 BMW Z4 2.5i Z4 3.0i Z4 3.0si Z4 M Roadster M Coupe
2009+ Z4 BMW Z4 sDrive28i Z4 sDrive30i Z4 sDrive35i Z4 sDrive35is
---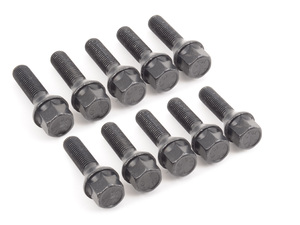 Whether you are looking to replace your old stock wheel lug bolts, or need longer bolts to accommodate wheel spacers or for other special considerations, our black wheel bolts are probably what you need. They are high grade (10.9) and feature a durable black finish. These are 12 x 1.5mm bolts with a 17mm head -- as used on most BMWs. Replaces BMW part numbers 36136781150 and 36131095390.
The standard length wheel bolts are for stock BMWs, and the longer length bolts are listed below (select your length with the drop down box) with the size / thickness wheel spacers they are suitable for. Longer wheel bolts are only 20 cents more than standard, and are available in lengths to work with spacers up to 20mm thick. Please select your desired length below (default is the standard/stock BMW length bolt).
Price is for a set of 10 bolts.
These black wheel bolts fit the following BMWs:
2008-2012 E82 BMW 128i 135i 1M Coupe
1977-1983 E21 BMW 320i 320/5 323i
1984-1991 E30 BMW 318i 318is 318ic 325e 325es 325i 325ic 325is 325ix M3
1992-1998 E36 BMW 318i 318is 318ti 318ic 323is 323ic 325i 325is 325ic 328i 328is 328ic M3
1999-2005 E46 BMW 323i 323ci 325i 325ci 325xi 328i 328ci 330i 330ci 330xi M3
2006-2011 E90 BMW 325i 325xi 328i 328xi 328i xDrive 330i 330xi 335d 335i 335xi 335i xDrive M3 - Sedan
2006-2012 E91 BMW 325xi 328i 328xi 328i xDrive - Wagon
2007-2013 E92 BMW 328i 328xi 328i xDrive 335i 335is 335xi 335i xDrive M3 - Coupe
2007-2013 E93 BMW 328i 335i M3 - Convertible
1982-1988 E28 BMW 524td 528e 533i 535i 535is M5
1989-1995 E34 BMW 525i 530i 535i 540i M5
1997-2003 E39 BMW 525i 528i 530i 540i M5
2004-2010 E60 BMW 525i 525xi 530i 530xi 528i 528xi 528i xDrive 535i 535xi 535i xDrive 545i 550i M5
1982-1989 E24 BMW 633csi 635csi L6 M6
2004-2011 E63 E64 BMW 645ci 650i M6
1977-1987 E23 BMW 728i 733i 735i 745i L7
1988-1994 E32 BMW 735i 735il 740i 740il 750il
1995-2001 E38 BMW 740i 740il 750il
1990-1999 E31 BMW 840i 840ci 850i 850ci 850csi
1997-2002 Z3 BMW Z3 1.9 Z3 2.3 Z3 2.5i Z3 2.8 Z3 3.0i M Roadster M Coupe
2003-2008 E85 BMW Z4 2.5i Z4 3.0i Z4 3.0si Z4 M Roadster M Coupe
2009-2015 E89 BMW Z4 sDrive28i sDrive30i sDrive35i sDrive35is
2000-2003 E52 BMW Z8 Roadster
2002-6/2006 R50 MINI MINI Cooper
2005-6/2006 R52 MINI MINI Cooper Convertible, MINI Cooper S Convertible.
2002-6/2006 R53 MINI MINI Cooper S