BMW F12 Control Arm Replacements & Upgrades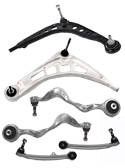 Control arms, and their integrated ball joints, are some of the most crucial components on a BMW suspension. The control arms literally control the wheel and suspension as they go through their range of motions. They do more than just keep the alignment in a constant spec - they are a vital locating component for the suspension itself. A faulty or worn control arm or ball joint is a very dangerous and potentially life-threatening problem so make sure they are inspected and replaced at regular intervals.
Most control arms for BMWs consist of an inner and outer ball joint made of plastic, rubber, Delrin, or metal and covered in grease with a rubber boot to seal it from the outside. The ball joint rotates and spins as the control arm goes through its movements and that will wear the ball joint and make it loose. The grease inside the housing can also get used up, evaporate, or become contaminated from moisture and foreign particles. As the ball joint becomes worn it can result in excess movement within the housing. Your steering and handling will become less precise and there is usually a light clunking or clicking sound. In rare and extreme cases the ball joint can separate from the control arm completely, leading to a total loss of suspension and steering control. You should have the ball joint play checked annually and replace them every 3-4 years. Most track organizations will not allow a car if they are older than three years.
Control arms also take abuse from impacts and handling forces. Aluminum control arms will generally bend and prevent an accurate alignment. Steel control arms will crack and fracture and require close inspection annually and replacement every 3-4 years.
We sell OE BMW, OEM, and performance upgrade control arms from proven manufacturers. The control arm is so important to a BMW suspension that we insist on only top quality brands and designs and will never sell a control arm based on price alone. We also have upgrade packages with superior designs and better bushing options and we have bundled these together with valuable package savings.

For accurate results, specify your model below.

These upper A-arms are an upgrade over the stock arms thanks to the extra negative camber they give. Bolt these in for an immediate 0.5 degree increase in negative camber. This is a factory part that BMW offers to correct for alignment issues. They just happen to increase negative camber which is what every BMW needs. Adding more negative camber helps with handling and steering response by reducing understeer. You don't have to be on the racetrack or autocross to feel the improvement. The extra camber is useful in spirited driving on secondary roads and even on/off ramps. Negative camber can also help with tire-fender clearance.This is a direct replacement for the original arm. Rubber bushings and isolated ball joints maintain the factory feel and comfort.
Price is for the Left and Right pair (fits either side).
This item fits the following BMWs:
2010+
F07 BMW
535i GT, 535i xDrive GT, 550i GT, 550i xDrive GT
2011+
F10 BMW
528i 535i 535i xDrive 550i 550i xDrive
2012+
F06 BMW
640i Gran Coupe 650i Gran Coupe
2012+
F12 F13 BMW
640i 650i
2009+
F01 F02 BMW
740i 740li 750i 750li 750i xDrive 750li xDrive 760li
2014+
I12 BMW
i8
Part #: 31126779908K
Free Shipping
Control arms begin to wear over time, leading to sloppy control of your vehicle. Anything from knocking, steering vibration, or even loss of vehicle control. An OEM replacement from Lemförder is the perfect option to restore control and suspension quality.
OEM Lemförder is an engineering company that focuses on high-quality, precision manufacturing of critical suspension and steering components. Providing exceptionally high quality parts directly to BMW, as well as 50+ other big name automotive companies, such as Mercedes and Audi, their history of reliability and variety of offered parts makes them one of the biggest names for a go-to OEM parts provider. Lemförder parts place an important emphasis on design, production, and assembly, ensuring maximum reliability. They even coat all parts possible with corrosion protection for extended longevity.
As a leading source of high performance BMW parts and accessories since 1993, we at Turner Motorsport are honored to be the go-to supplier for tens of thousands of enthusiasts the world over. With over two decades of parts, service, and racing experience under our belt, we provide only quality performance and replacement parts. All of our performance parts are those we would (and do!) install and run on our own cars, as well as replacement parts that are Genuine BMW or from OEM manufacturers. We only offer parts we know you can trust to perform!

These upper A-arms are an adjustable version of the stock upper control arms. They feature an adjustable outer ball joint that changes the camber spec. These are great for dialing in up to half a degree of camber quickly and easily. An alignment pin conveniently sets it in the stock location. The inner bushing is a heavier-duty version of the stock rubber design. The stiffer rubber means less flex and deflection which helps in steering response and handling. Adjusting camber can help with handling and steering response. Adding negative camber is useful in spirited driving on secondary roads and even on/off ramps and can help with tire-fender clearance. This is a direct replacement for the original arm.
Replaces factory BMW part numbers 31126775967, 31126779871, and 31126779908.
Price is for the Left and Right pair (fits either side).
This item fits the following BMWs:
2010+
F07 BMW
535i GT, 535i xDrive GT, 550i GT, 550i xDrive GT
2011+
F10 BMW
528i 535i 535i xDrive 550i 550i xDrive
2012+
F06 BMW
640i Gran Coupe 650i Gran Coupe
2012+
F12 F13 BMW
640i 650i
2009+
F01 F02 BMW
740i 740li 750i 750li 750i xDrive 750li xDrive 760li
2014+
I12 BMW
i8
Part #: 31126779908KT
Free Shipping