We sell complete brake packages that include everything you would need in a typical brake overhaul. These are the typical wear items that need to be replaced - front and rear brake pads, rotors, brake wear sensors, brake fluid, and the rotor retaining screws. This is one of our best-selling products - unbeatable value in a convenient and discounted package! We also offer the factory BMW Performance, M Sport, and 'CSL' brake upgrade kits using larger rotors and Brembo calipers. These are a great factory upgrade to stock brakes in performance and looks. We also recommend installing stainless steel brake lines for improved stopping performance during aggressive driving.
With our packages you don't need to bring your car to the dealer for expensive brake replacements. Our kit uses high quality components that meet or exceed the factory parts. We use OEM suppliers and performance alternatives to offer the same parts that the dealer does but at a substantial discount. And we've improved on the factory parts in many areas, such as braking performance, reducing dust residue, and braking feel.
Included in most of our brake packages:
Pads:
our equal or surpass the factory pads in performance, dust output, feel, and longevity
Rotors:
choose from OEM replacement rotors or Turner or StopTech performance upgrade rotors
Rotor Hardware:
small screws that hold the rotor in place when the wheel is off the car
Pad Wear Sensors:
these sensors warn you when pads are due for replacement. If your brake light is on in the dash, these sensors need to be replaced.
Brake Fluid:
choose from DOT4 performance brake fluid that surpasses OE standards - Ate DOT4, low-viscosity, or Motul high-performance fluid.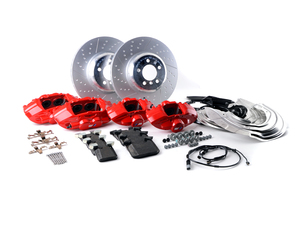 Looking to upgrade your brakes to the M Performance brake option that came straight from the factory? This Genuine BMW M Performance Brake Kit has everything you need to increase your stopping power and add a bit of flair behind your wheels that looks amazing!
Included in this kit:
Front
Oversized four piston calipers with pads, wear sensors, and hardware
Dimpled, slotted, vented oversized rotors (370x30)
Rotor shield protection plates
Rear
Oversized two piston calipers with pads, wear sensors, and hardware
Rotor shield protection plates