BMW F22 Fuel System Parts
Looking for a BMW fuel pump, BMW gas cap or other BMW fuel system related items? You've found the right place. Your BMW fuel delivery system is a critical system, and any failure can rended your BMW dead in the water. Whether your fuel pump has stopped pumping, a fuel injector is clogged or not spraying, or your gas cap is either lost or not properly sealing, we likely have what you are looking for. We stock thousands of BMW fuel system parts so if you don't see what you are looking for, just give us a call.

For accurate results, specify your model below.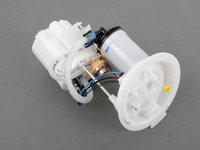 This is the latest Genuine BMW high pressure fuel pump (HPFP) for the N20/N26 and N55 engines found in the F22 2-series and F3X 3/4-series. BMW has made several revisions to the HPFP to fix 'Drivetrain Malfunction' faults, stalling, stumbling, and other drivability issues. When these pumps fail the car immediately goes into limp mode. The failure has little to no warning and can happen even while driving. The car may not restart or if it does the engine will run extremely rough. The previous BMW part numbers for this pump were 16117297778 and 16117414482. Those have been discontinued for this latest version which is supposed to be a better design.
This item fits the following BMWs:
2014+
F22 BMW
228i 228iX M235i M235iX
2012+
F30 BMW
320i 320iX 328i 328iX 335i 335iX - Sedan
2012+
F31 BMW
328i 328iX - Wagon
2014+
F34 BMW
328i 328iX 335iX - Gran Turismo
2014+
F32 BMW
428i 428iX 435i 435iX - Coupe
2014+
F33 BMW
428i 428iX 435i 435iX - Convertible
2014+
F36 BMW
428i 428iX 435i 435iX - Gran Coupe
This is the updated high pressure fuel pump for BMW's with the N55 turbo engine.
This item fits the following BMWs:
3/2012-2013
E82 BMW
135i 135is
2014+
F22 BMW
M235i M235i xDrive
2014+
F23 BMW
M235i
3/2012-2013
E92 BMW
335i 335xi 335i xDrive - Coupe
3/2012-2013
E93 BMW
335i - Convertible
2012+
F30 BMW
335i 335i xDrive - Sedan
2013+
F32 BMW
435i 435i xDrive - Coupe
2013+
F33 BMW
435i Convertible 435i xDrive Convertible- Convertible
2014+
F34 BMW
335i xDrive GT - Gran Tourismo
2014+
F36 BMW
435i Gran Coupe 435i xDrive Gran Coupe
3/2012-+
F07 BMW
535i GT, 535i xDrive GT
3/2012-3/2012+
F10 BMW
535i 535i xDrive
3/2012+
F12 BMW
640i 640i xDrive
2013+
F06 BMW
640i Gran Coupe 640i xDrive Gran Coupe
3/2012-+
F01 BMW
740i 740li 740li xDrive
2013+
E84 BMW
X1 xDrive35i
4/2012-2013
E70 BMW
X5 xDrive35i
4/2012-2013
E71 BMW
X6 xDrive35i br>2014+
F15 BMW
X5 sDrive35i X5 xDrive35d X5 xDrive35i X5 xDrive50i
2015+
F16 BMW
X6 sDrive35i X6 xDrive35i X6 xDrive50i
4/2012+
F25 BMW
X3 xDrive28i X3 xDrive28d X3 xDrive35i
2015+
F26 BMW
X4 xDrive28i X4 xDrive35i