Your BMW's steering feel is likely one of the many reasons you chose to drive a BMW. Despite them switching to electronic power steering after E9x, we love the connection to the road every BMW provides. We have everything you need to service your BMW's steering system, from quicker ratio steering racks for the trackday warrior to upgraded factory steering wheels for your daily driver.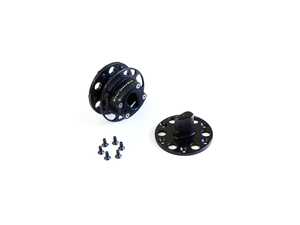 Looking for the highest quality steering wheel quick release on the market? Well this is it. This hub has a tapered asymmetrical socket that eliminates chances of looseness as the hub breaks in, a feature not normally found on competitor's quick disconnects. Also, Rennline Quick Releases are equipped with spring loaded roll pins that allow for seamless one hand removal, which is essential for emergency situations.
All components are machined from anodized 7075 aircraft grade aluminum. The mounting plates are designed to work with all standard 6-bolt mounting patterns used by steering wheel manufacturers such as OMP, Momo, Sparco, and Renown.
This unit measures 2.3" tall.
Installation instruction HERE