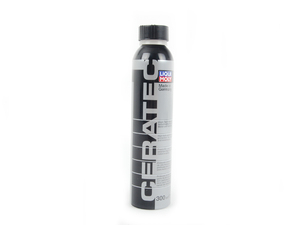 Using a combination of ceramic compounds, this oil additive reduces friction and wear by forming a protective film that cuts down on direct metal to metal contact. This both extends the engines service life and reduces fuel consumption in both gasoline and diesel engines. Specially formulated to adhere to the internal engine's metal surfaces, which makes this great for vehicles with high pressure, cam-driven fuel pumps and engines that make excessive noise on start up.
This even works with standard, non-limited slip differentials, transmissions, pumps, and compressors. This is not suitable for wet-clutch applications.
This bottle will treat up to 5 liters and has a long-term effect of 30,000 miles.
Liqui-Moly is a German chemical company that offers top of the line engine oils, additives, and car care products that are designed to extend the life of your engine and ensure the best lubrication and cleanliness off engine and transmission components possible. With more than 50 years of experience and reviews across the world from magazines and race teams, Liqui-Moly proves time and time again why they are one of the most innovative lead forces of performance automotive chemicals in the world.