Find Parts That Fit Your Vehicle
BMW Sway Bar Kits
The next step in tuning your car's handling - after shocks/springs and camber plates - should be a set of swaybars. Using larger front and rear sway bars will give your car better/quicker turn-in and less bodyroll in corners. These bars replace the existing sway bars on the car for a clean and simple upgrade with very little downside. Sway bars should be matched with your springs/shocks to maintain a proper handling balance. In some cases only a front or rear bar is needed to positively change the balance and make the car more neutral. We sell sway bar kits from H&R, Racing Dynamics, OE BMW upgrades, and even some of our own designs. Swaybars are sold with new bushings. New links and other hardware are strongly recommended.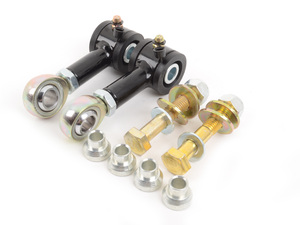 These adjustable rear links are only required when using sway bar / swaybars with a suspension with a very low ride height, where it may be necessary to adjust the length of the end links for proper sway bar clearance from the drive axles or other suspension components. These suspensions are usually found only on race cars but this may also apply to street cars with sport springs/sport coil overs that are lowered a lot. On most street cars lowered 1.5" or less, the stock links will be fine.

These end links feature a Heim joint, which allows enough lateral movement when disconnected to adjust the length of the link without removing the entire link from the car. This is particularly helpful when eliminating or adjusting preload while tuning the suspension. Similar links without this joint, can't be adjusted without totally removing the link from the car.

Built-in grease fittings allow for occasional lube, and a packet of grease is included. These links are sold as a set, and include two end links and hardware for H&R and TMS sway bars (other brands may not need the hardware).

At their shortest setting they are 2.875" hole to hole and on their longest setting they are 3.5" hole to hole.
*Note: these links will not work with factory or non-adjustable Eibach sway bars.

Our renowned TMS adjustable front sway bar / swaybar links for BMWs are now available in custom lengths, making them easy to order for any aftermarket or custom suspension setups. Simply measure for your ideal link length, and order the links with the best length range (below). Each sway bar link has a 10mm diameter mounting pin/stud, which is the typical factory/stock size for a universal fitment. These are sold by the pair, and each set includes two matching sway bar end links.

These end links offer the quiet operation and long life of "stock" BMW end links, but with the strength and adjustability of rod-end style sway bar links. These sway bar links can be used on a wide variety of BMWs and aftermarket BMW suspensions. When measuring, please consider that the length ranges of our Custom Adjustable end links are measured from the center to center on the end link mounting stud / pin, as shown in our diagram.

Note for E9X M3: the unique mounting on the M3 strut requires a set of our adapter seats (#TSU9912AF9). You can add them with your links from the menu below.

TMS Part#Center to Center (mm)Center to Center (inch)
TSU9912A35155.00mm - 170.00mm6.10" - 6.69"
TSU9912A40170.00mm - 185.00mm6.69" - 7.28"
TSU9912A45180.00mm - 195.00mm7.08" - 7.67"
TSU9912A50190.00mm - 205.00mm7.48" - 8.07"
TSU9912A55207.00mm - 222.00mm8.15" - 8.74"
TSU9912AF1220.00mm - 235.00mm8.66" - 9.25"
TSU9912A70240.00mm - 255.00mm9.45" - 10.04"
TSU4612AF3250.00mm - 265.00mm9.84" - 10.43"
TSU9912A80261.00mm - 276.00mm10.28" - 10.87"
TSU5012AF8280.00mm - 295.00mm11.02" - 11.61"
TSU9912A95290.00mm - 305.00mm11.42" - 12.00"
TSU9912110320.00mm - 335.00mm12.59" - 13.19"
TSU9912115330.00mm - 345.00mm12.99" - 13.58"
TSU9912130362.00mm - 377.00mm14.25" - 14.84"
TSU9912135370.00mm - 385.00mm14.57" - 15.16"
TSU9912140381.00mm - 396.00mm15.00" - 15.60"
TSU9912145389.00mm - 404.00mm15.31" - 15.91"

Please select your length below.