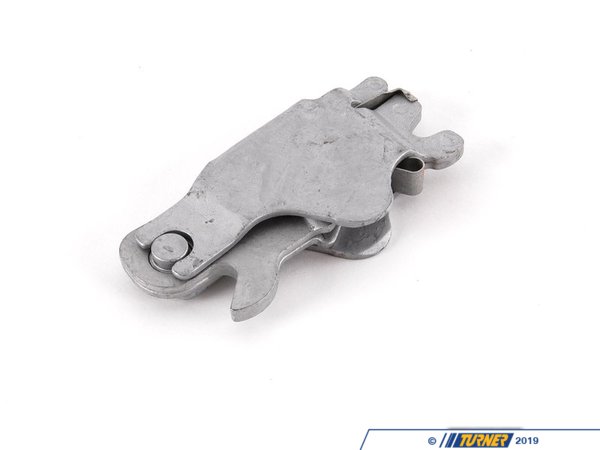 Parking Brake Expanding Lock / Actuator - E46 E39 E90 E92 + More
Mfg Part #

34416851439

Turner Part #

T#

21846

Previous Revisions

34416750198
Price:
Qty
13.82

Free Shipping
on orders $200 and up
Does this fit my vehicle?
For accurate results, specify your model below.
Product Details
This Genuine BMW parking brake actuator that expands the parking brake shoes when the cable is pulled. This mounts at the bottom of the rear parking brake shoes, also referred to as emergency brake shoes.
This Part Fits the Following BMWs
| Make | Model | Submodel | Engine |
| --- | --- | --- | --- |
| BMW | E39 | 525i | M54 2.5L |
| BMW | E39 | 528i | M52 2.8L |
| BMW | E39 | 530i | M54 3.0L |
| BMW | E39 | 540i | M62 4.4L |
| BMW | E39 | M5 | S62 5.0L |
| BMW | E46 | 323Ci | M52 2.5L |
| BMW | E46 | 323i | M52 2.5L |
| BMW | E46 | 325Ci | M54 2.5L |
| BMW | E46 | 325i | M54 2.5L |
| BMW | E46 | 325xi | M54 2.5L |
| BMW | E46 | 328Ci | M52 2.8L |
| BMW | E46 | 328i | M52 2.8L |
| BMW | E46 | 330Ci | M54 3.0L |
| BMW | E46 | 330i | M54 3.0L |
| BMW | E46 | 330xi | M54 3.0L |
| BMW | E46 | M3 | S54 3.2L |
| BMW | E53 | X5 | M54 3.0L |
| BMW | E53 | X5 | M62 4.4L |
| BMW | E53 | X5 | M62 4.6L |
| BMW | E53 | X5 | N62 4.4L |
| BMW | E53 | X5 | N62 4.8L |
| BMW | E60 | 525i | M54 2.5L |
| BMW | E60 | 525i | N52 3.0L |
| BMW | E60 | 525xi | N52 3.0L |
| BMW | E60 | 528i | N52 3.0L |
| BMW | E60 | 528xi | N52 3.0L |
| BMW | E60 | 530i | M54 3.0L |
| BMW | E60 | 530i | N52 3.0L |
| BMW | E60 | 530xi | N52 3.0L |
| BMW | E60 | 535i | N54 3.0L |
| BMW | E60 | 535xi | N54 3.0L |
| BMW | E60 | 545i | N62 4.4L |
| BMW | E60 | 550i | N62 4.8L |
| BMW | E60 | M5 | S85 5.0L |
| BMW | E61 | 530xi | N52 3.0L |
| BMW | E61 | 535xi | N54 3.0L |
| BMW | E63 | 645Ci | N62 4.4L |
| BMW | E63 | 650i | N62 4.8L |
| BMW | E63 | M6 | S85 5.0L |
| BMW | E64 | 645Ci | N62 4.4L |
| BMW | E64 | 650i | N62 4.8L |
| BMW | E64 | M6 | S85 5.0L |
| BMW | E65 | 745i | N62 4.4L |
| BMW | E65 | 750i | N62 4.8L |
| BMW | E65 | 760i | N73 6.0L |
| BMW | E66 | 745Li | N62 4.4L |
| BMW | E66 | 750Li | N62 4.8L |
| BMW | E66 | 760Li | N73 6.0L |
| BMW | E70 | X5 M | S63 4.4L |
| BMW | E70 | X5 xDrive30i | N52 3.0L |
| BMW | E70 | X5 xDrive35d | M57 3.0L |
| BMW | E70 | X5 xDrive35i | N55 3.0L |
| BMW | E70 | X5 xDrive48i | N62 4.8L |
| BMW | E70 | X5 xDrive50i | N63 4.4L |
| BMW | E71 | X6 M | S63 4.4L |
| BMW | E71 | X6 xDrive35i | N54 3.0L |
| BMW | E71 | X6 xDrive35i | N55 3.0L |
| BMW | E71 | X6 xDrive50i | N63 4.4L |
| BMW | E82 | 1 M Coupe | N54 3.0L |
| BMW | E82 | 128i | N52 3.0L |
| BMW | E82 | 135i | N54 3.0L |
| BMW | E82 | 135i | N55 3.0L |
| BMW | E83 | X3 | M54 2.5L |
| BMW | E83 | X3 | M54 3.0L |
| BMW | E83 | X3 | N52 3.0L |
| BMW | E84 | X1 sDrive28i | N20 2.0L |
| BMW | E84 | X1 xDrive28i | N20 2.0L |
| BMW | E84 | X1 xDrive35i | N55 3.0L |
| BMW | E88 | 128i | N52 3.0L |
| BMW | E88 | 135i | N54 3.0L |
| BMW | E88 | 135i | N55 3.0L |
| BMW | E90 | 325i | N52 3.0L |
| BMW | E90 | 325xi | N52 3.0L |
| BMW | E90 | 328i | N52 3.0L |
| BMW | E90 | 328xi | N52 3.0L |
| BMW | E90 | 330i | N52 3.0L |
| BMW | E90 | 330xi | N52 3.0L |
| BMW | E90 | 335d | M57 3.0L |
| BMW | E90 | 335i | N54 3.0L |
| BMW | E90 | 335i | N55 3.0L |
| BMW | E90 | 335xi | N54 3.0L |
| BMW | E90 | 335xi | N55 3.0L |
| BMW | E90 | M3 | S65 4.0L |
| BMW | E91 | 325xi | N52 3.0L |
| BMW | E91 | 328i | N52 3.0L |
| BMW | E91 | 328xi | N52 3.0L |
| BMW | E92 | 328i | N52 3.0L |
| BMW | E92 | 328xi | N52 3.0L |
| BMW | E92 | 335i | N54 3.0L |
| BMW | E92 | 335i | N55 3.0L |
| BMW | E92 | 335is | N54 3.0L |
| BMW | E92 | 335xi | N54 3.0L |
| BMW | E92 | 335xi | N55 3.0L |
| BMW | E92 | M3 | S65 4.0L |
| BMW | E93 | 328i | N52 3.0L |
| BMW | E93 | 335i | N54 3.0L |
| BMW | E93 | 335i | N55 3.0L |
| BMW | E93 | 335is | N54 3.0L |
| BMW | E93 | M3 | S65 4.0L |
| BMW | F01 | 740i | N54 3.0L |
| BMW | F01 | 750i | N63 4.4L |
| BMW | F01 | 750i xDrive | N63 4.4L |
| BMW | F02 | 740Li | N54 3.0L |
| BMW | F02 | 740Li xDrive | N55 3.0L |
| BMW | F02 | 750Li | N63 4.4L |
| BMW | F02 | 750Li xDrive | N63 4.4L |
| BMW | F02 | 760Li | N74 6.0L |
| BMW | F07 | 535i | N55 3.0L |
| BMW | F07 | 535i xDrive | N55 3.0L |
| BMW | F07 | 550i | N63 4.4L |
| BMW | F07 | 550i xDrive | N63 4.4L |
| BMW | F30 | 320i | N20 2.0L |
| BMW | F30 | 320i xDrive | N20 2.0L |
| BMW | F30 | 328i | N20 2.0L |
| BMW | F30 | 328i xDrive | N20 2.0L |
| BMW | F30 | 335i | N55 3.0L |
| BMW | F30 | 335i xDrive | N55 3.0L |
| BMW | F30 | ActiveHybrid 3 | N55 3.0L |
| BMW | Z4 | 2.5i | M54 2.5L |
| BMW | Z4 | 3.0i | M54 3.0L |
| BMW | Z4 | 3.0i | N52 3.0L |
| BMW | Z4 | 3.0Si | N52 3.0L |
| BMW | Z4 | M Coupe | S54 3.2L |
| BMW | Z4 | M Roadster | S54 3.2L |
*The above product applications have been written by Turner Motorsport. All warranties, product application, fitment, and performance are the responsibility of Turner Motorsport. For additional information see the terms of use.
others bought
recently viewed