Measuring for Wheel Spacers
This page has information on how to measure your wheels and car to get the right spacer. All you need is a ruler or tape measure!
For a lot more information on wheel spacers, fitments, bolts, studs and more, see our
Full Wheel Spacer Info Page
.
What Size Should I Use?
This is one of our most commonly asked questions. Unfortunately, it has no easy answer. Picking a spacer that meets your needs is not as easy as it sounds. If it were easy, we'd all be using the same size. There are a few different reasons why people need spacers so every situation ends up being different. But selecting your ideal size is easy by first determining how much available space you have to work with. That means measuring the tire-fender clearance. This empty space will likely be your spacer size. You don't want to exceed the empty space because that will lead to the tire rubbing on the fender. And you don't want to get too thin of a spacer because that may not meet your needs.
Turner Motorsport may be the biggest BMW wheel spacer dealer
in the world
. As such we have learned not to make assumptions on spacer size. Every situation is different and the best advice we can give is to
measure your car
. It's tempting to listen to what everyone else is running but unless they have your exact wheel, exact tire, exact brake rotor, exact suspension, and exact suspension settings, no one can tell you what spacer size to use. They can only guess... Please keep in mind that spacers that have been installed and tested cannot be returned. This is to be fair to the next customer who expects new, top quality parts from us. Which is all the more reason to be precise about what size you can install.
Here are some easy ways to measure your wheel gap -
The outside of the tire sidewall is usually the widest point of your wheel and tire (unless the tires are 'stretched' across the rim. With the tire/wheel on the car and the car on the ground at its desired ride height, place a straight edge or ruler between the outermost tire spot and the inside of the fender lip. The distance is your wheel gap and your spacer size. This is the max spacer size so it would be a good idea to choose a spacer one size lower to account for suspension travel.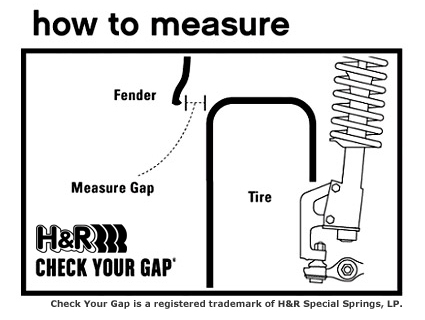 Old-Fashioned Tape Measure
With the car on the ground, hang a piece of masking tape from your fender. Stick a quarter or a nickel on the end so that it hangs straight down. Next measure in from the masking tape to the outside edge of your tire. This will tell you how much space you have until the tire would contact the lip of the fender. Pick a spacer that is slightly less than this measurement. This will ensure the tire does not rub on the fender lip
Even More Old-Fashioned Rulers
Same as the method above but if you don't have masking tape to hang from the fender, you can use a straight-edge or ruler and another ruler or tape measure. Gently hold the straight-edge from the bottom of the fender lip. Measure in to the outiside of the tire. The gap between the straight-edge and the tire is your available clearance. Choose a spacer size slightly less than this dimension

Whe