Looking to enhance the appearance of your exhaust but don't want to buy a full system or change the sound? Exhaust tailpipe tips replace or cover the existing tips and give your muffler the sporty appearance of full performance exhausts. The muffler tips we sell are designed to blend with the bodywork and styling of your BMW and not look out of place or garrish. Many of the tip sets we sell are factory BMW accessory parts.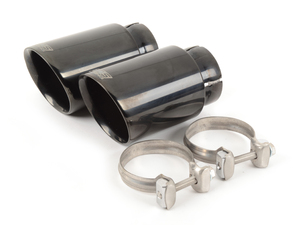 Looking for the most attractive and adjustable tip on the market? Look no further than our ECS Swivel Exhaust Tips!
Featuring a unique swivel collar design that allows the tip to be adjusted in any direction to achieve that perfect fitment. Simply adjust the tip to your desired position, tighten the hex bolt to 14 ft-lbs (19 Nm), and the tip will stay where positioned.
Every ECS Exhaust Tip comes with a precision laser etched ECS Tuning logo and features a slant cut, double wall, rolled edge for a stunning appearance! These are engineered to last, featuring chrome plated nuts, 304 SS cap screw, clamp, insert ring and exhaust tip.
Available in 3.5" or 4.0" outlet and chrome or black chrome finish. Tip is designed to fit over a 2.50" OD pipe.
Dimensions (Per Tip):
Inlet Size: 2.50"
Overall Length: 7.0" (6.0" Tip + 1.25" Clamping Surface)
Outlet Size: 3.50"
Outlet Style: Double Wall, Rolled Edge, Slant Cut
**Modification may be required for proper fitment.**