BMW E53 Camber / Caster Kits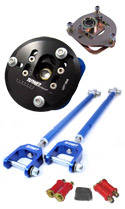 The camber setting in your alignment is one of the most crucial aspects of your suspension and the overall driving experience. Unfortunately, most BMWs do not have a camber adjustment in the front and a limited adjustment in the rear. This can be frustrating because camber comes into play whenever you make changes to the suspension or when you want more negative camber for more grip and better handling. There are multiple reasons to adjust camber -
•  You want more front end grip to reduce understeer and create a more balanced handling scenario,
•  You have lowered the car and need to reduce negative camber due to inside tire wear
•  You added wider tires or wheels and need extra clearance to bodywork,
•  Your car was in an accident or collision and the camber setting is now wrong. Note: there may be other factors to this situation and we recommend finding the root cause rather than a quick-fix.
We offer front fixed or adjustable camber plates or camber/caster plates, rear adjustable camber arms, and rear adjustable camber bushings from KMAC, Vorshlag, and also our own designs to fit your specific needs. In most cases, these adjustable camber kits are a direct replacement for the stock BMW part, enabling a seamless upgrade. Adjustable camber can be dialed-in using ordinary hand tools and most kits have reference marks for consistent and repeatable adjustments. No drilling, slotting, or welding required! Some kits perform specific functions and fit with specific types of suspensions (stock, stock-type, coil-over, etc). Give us a call if you need guidance in selecting the best camber plate option for your particular suspension or situation.

For accurate results, specify your model below.
Perfect for lowered cars that need to dial out negative camber to preserve tires. Also perfect for track cars - easily dial in toe and camber for the track for better handling. Priced per set. Fits BMW E60 E63 E65.
This item fits the following BMWs:
2004-2010
E60 BMW
525i 525xi 528i 528xi 530i 530xi 535i 535xi 545i 550i M5
2004+
E63 BMW
645ci 650i M6
2002-2008
E65 BMW
745i 745li 750i 750li 760i 760li
2000-2006
E53 BMW
X5 3.0i, X5 4.4i, X5 4.6is, X5 4.8is

Part #: 193726J
Ships on Mar 12, 2018
Free Shipping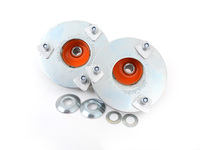 Location: Front
Type: Street, Stage 1
Bearing: captive-ball fully encased in polyurethane
These front adjustable camber/caster plates will replace your stock front upper strut bearing on the X5 coil spring suspension (not air ride). The KMAC plates are a 'floating' design so camber and caster are adjusted together. This design allows maximum range of adjustment since no other hardware interferes with the adjustments. Since these replace your stock strut bearings they are designed to work with a stock-type spring only. And when installed correctly will not significantly alter ride height. Adjustment is easily done by loosening the three nuts on top of the tower and sliding the camber plate into the position you want, then re-tighten the nuts. These mounts can be installed two ways - for camber correction or swapped side-side for increasing negative camber. Detailed instructions included.
Note: suspensions vary from manufacturer to manufacturer. Turner Motorsport cannot be responsible for fitment issues caused by non-stock or specialized coil-over suspensions. As with any race-derived component, additonal fabrication may be required.
This item fits the following BMWs:
2000-2006
E53 BMW
X5 3.0i X5 4.4i X5 4.6is (with coil springs, not air suspension)

Part #: 194116-1J
In Stock
Free Shipping