The wheels and stance often make the look of the car complete. If your factory alloys are missing center caps, curb-rashed beyond recognition, or have been damaged, we have your replacements all picked out. For a performance-oriented driver, aftermarket alloys shed weight and offer improved aesthetics over the factory options. Space out your stance with our selection of wheel spacers, completely change the look and feel of your BMW with forged or flow-formed aftermarket alloys, or replace old wheels with factory options.

Help your BMW stand out from the crowd with our colored Roundel emblem covers. Whether you are looking to match your paint color, hightlight your interest in motorsports, or freshen the look of your car, Roundel decals offer a great way to personalize your BMW. These easy to install vinyl decals adhere over the existing Roundel emblems. The kit includes colored quadrants to cover the hood emblem, trunk emblem, steering wheel and 4 wheel emblems - and fender emblems for Z3 and Z4. These are made to withstand all weather conditions and are removed with ease if required.

Currently we offer the following carbon fibre style roundel stickers: Printed Carbon Fiber - Black, Dynamic Carbon Fiber - Silver. Sorry, Dynamic Carbon Red, Dynamic Carbon Black, and Dynamic Black/Silver are no longer available.

Note: These are vinyl overlays for the existing roundels. Actual roundel emblems are not included. We have BMW Roundel emblems available here.

This item fits the following BMWs:
These emblem covers fit all BMW years and models including:
E30, E36, E46, E90, E92, E34, E39, E60, F10, E63, E38, E65, F01, X3, X5, X6, Z3, Z4 and more.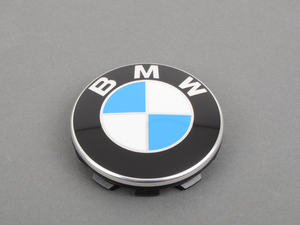 Set of four Genuine BMW wheel center cap with roundel emblem (Part number 36136783536). These snap into the opening in the center of the wheel.

This item fits the following BMWs:
2008+ E82 BMW 128i 135i
1992-1998 E36 BMW 318i 318is 318ti 318ic 323is 323ic 325i 325is 325ic 328i 328is 328ic M3
1999-2005 E46 BMW 323i 323ci 325i 325ci 325xi 328i 328ci 330i 330ci 330xi M3
2006+ E90 BMW 325i 325xi 328i 328xi 328i xDrive 330i 330xi 335i 335xi 335i xDrive M3
2007+ E92 BMW 328i 328xi 328i xDrive 335i 335is 335xi 335i xDrive M3
2007+ E93 BMW 328i 335i M3
1989-1995 E34 BMW 525i 530i 535i 540i M5
1997-2003 E39 BMW 525i 528i 530i 540i M5
2004-2010 E60 BMW 525i 525xi 530i 530xi 528i 528xi 528i xDrive 535i 535xi 535i xDrive 545i 550i M5
2010+ F07 BMw 535i GT, 535i xDrive GT, 550i GT, 550i xDrive GT
2011+ F10 BMw 528i 535i 535i xDrive 550i 550i xDrive
2004+ E63 BMW 645ci 650i M6
1988-1994 E32 BMW 735i 735il 740i 740il 750il
1995-2001 E38 BMW 740i 740il 750il
2002-2008 E65 BMW 745i 745li 750i 750li 760i 760li
2009+ F01 BMW 750i 750li 750i xDrive 750li xDrive 760li
2004-2010 E83 BMW X3 2.5i X3 3.0i X3 3.0si
2000-2006 E53 BMW X5 3.0i X5 4.4i X5 4.6is X5 4.8is
2007-2013 E70 BMW X5 3.0si X5 4.8i X5 xDrive30i X5 xDrive48i X5M
2007-2014 E71 BMW X6 xDrive35i X6 xDrive50i X6M
1997-2002 Z3 BMW Z3 1.9 Z3 2.3 Z3 2.5i Z3 2.8 Z3 3.0i M Roadster M Coupe
2003-2008 Z4 BMW Z4 2.5i Z4 3.0i Z4 3.0si Z4 M Roadster M Coupe
2009+ Z4 BMW Z4 sDrive30i Z4 sDrive35i Z4 sDrive35is