BMW F26 Service Reset Tools & Fault Code Readers

Fault Code Readers and Diagnostic Scanners put the power of the dealership in your hands. The Check Engine or Service Engine Soon light means something! It's alerting you to a potential problem and a fault code has been stored in the car's internal diagnostic system. You can take the car to the dealer and have the code pulled for you (for a one-time fee) or you can buy one of these code readers and check the trouble code yourself (and any other code that may come up in the future). These diagnostic tools pay for themselves. They are a must for the DIYer or any mechanic. These tools can read and reset trouble codes and reset your maintenance interval settings. A separate tool can also be used to reset the SRS system (separate from the engine diagnostic system). Peake Reset Tools come with a booklet containing instructions and a list of codes.
For newer cars we also sell multi-function scan tools, gauges, and programmers. Reading and resetting Diagnostic Trouble Codes (DTC) are some of the many functions that these handheld and dash-mounted accessories perform. These are the next generation of 'smart' programmers capable of loading new versions of engine software, recording and playback of data, and timing meters.

For accurate results, specify your model below.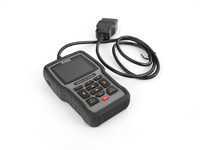 The BMW Service Engine Soon (aka Check Engine Light) has thousands of different meanings. Everything from low coolant messages, engine misfires, transmission temperatures, light bulb failures, brake pad replacement, and so much more. The sophisticated electronics are throughout the car. Isn't it time for a BMW scan tool that can keep up with all of your DIY needs? We think we've found the one - the DIY BMW diagnostic tool that trumps them all. The Schwaben BMW scan tool.
Not all diagnostic scan tools are the same. The cheap ones you find at catalog outlet stores are generic and give you generic information (sometimes not even that). BMW actually has very specialized diagnostic systems that they only share with dealers. The factory diagnostic tools require specialized programs on dedicated laptops that are a pain for the average DIYer to set up and use. The Schwaben BMW diagnostic tool is designed specifically for BMW and MINI. It's not generic and packs some serious features in its small case. We've used this in our service department and were very impressed with the depth of its capabilities. It has features that only the factory ISTA/INPA programs have. Below is a partial list of its prime features -
Works on BMW models from 1987-current*; Works on MINI models from 2002-current*
Compatible with global OBDII / EOBD standards
Reads and clears codes and turns off SES/CEL/MIL/DTC (BMW Powertrain codes, Chassis codes, Body codes, and CAN codes)
Special troubleshooting functions to walk you through codes (like the BMW Test Plan)
Check and activate electronic components like switches, relays, and actuators
Records live sensor data
Provides live data graphing
Merges graphs for easy and intuitive diagnosis
Displays freeze frame data
Create a custom data stream
Reads and resets most adaptations
Reads OBD Readiness
Does active tests on systems and components*
Performs special functions, coding, security access*
Code and program replacement control units
Supports all 10 OBDII test modes
Resets oil service light
Sets inspection 1, 2 service intervals (manual or automatic)
Sets inspection mileage
Deactivates and reactivates brake control system
Retracts calipers for brake pad replacement on newer models
Initializes the wear indicator if new pads installed
Diagnoses Electronic Parking Brake caliper functionality
Multilingual menu options and code definitions
Memory card for data backup and software update
Print feature
Large TFT color screen and menu-driven operations
Free life time updates
*Certain functions may be limited due to the requirement of a special factory access code or tools. While versatile, this scan tool covers a wide range of BMW models and platforms and it cannot be a catch-all tool for every job. Some functions may not be available but will be reviewed in future updates.
Note: Microsoft PC required for updates. You will need to register your scan tool in order to receive update notices via e-mail.
Vehicles with 20 pin under hood connector will require the separate adapter for use. Click here for link.

Part #: 014020SCH01A
In Stock
Free Shipping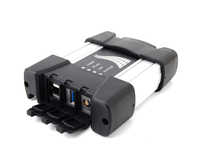 This ICOM unit is designed to work with BMWs using an OBDII connection, and works with ISTA and ISTA/P. It's compatible with ISPI Next and BMW OSS (Online Service System). This unit will connect to your computer, ISSS, or ISID with the included network connector or over WiFi. For vehicles that use the MOST connector, an ICOM Next B unit will be needes, and ICOM Next C is used for vehicles with the 20-pin connector.

Part #: 81312360883
In Stock
Free Shipping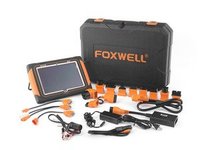 The GT80 PLUS by Schwaben is extremely easy to set up and even easier to use. It features a genuine Windows 8.1 operating system, Intel quad-core processor and a 10.1" LED capacitive touch display – making it your fastest, easiest solution to attaining valuable data.
This scan tool offers an amazing UI experience, giving users the ability to update with one touch, and easily navigate through menus. With the diagnostic tool connected to the vehicle's OBD port, it automatically retrieves the VIN code. Additionally, you can manually enter the VIN to identify the model you are working on.
GT80 PLUS automatically checks and recognizes all available electronic control units on a vehicle in a matter of seconds. In addition, it instantly displays all the errors detected on the vehicle, and allows errors to be viewed and cleared with just a single click.
What is the GT80 Plus capable of?
● Compatible with current model vehicles
● Compatible with both OBDI and OBDII cars, SUVs, minivans, light-duty trucks sold worldwide
● Get access to powertrain, chassis and body systems
● Quick Test function to test most vehicle systems
● Read and clear diagnostic trouble codes and resets MIL
● View live vehicle sensors data in a text, graph and gauge format
● Merge interactive live sensor graphs for easy and intuitive diagnosis
● Live data self-learning and alarm when live data over range
● Record and playback your data logs for offline analysis
● Read and clear freeze frame data
● Run component/system bi-directional tests
● Support adaptations and control module coding
● Key coding for several vehicles
● Support the most commonly required service features like brake deactivation, service resets, and transmission adaptations
● Multi-language menus and code definitions for an international marketplace
● Code troubleshooters provide you faster and easier diagnosis
GT80 PLUS Features Actuations, Adaptations and Control Module Coding
GT80 PLUS cannot only read your codes, but it can also actuate components, run system tests, program control modules. Reading the trouble codes from your vehicle is easy. But without live data, bi-directional controls and other special functions, you may not have enough information to get the problem fixed right. It allows you to use the scan tool temporarily activate or control a vehicle system or component. With GT80 PLUS, the check of electronic components such as switches, sensors, relays, & actuators is made a simple task, saving your time and labor costs. It gives you the ability to 'flash' a control unit with new program data. Provided that a module can be re-coded, GT80 PLUS allows for the coding and programing of a replacement control module or changing previously stored incorrect coding as expensive factory tools do. In addition, it lets you recode the transponder in a mechanical key or key FOB. When a key for a modern vehicle is replaced, the new unit will often turn the mechanical switch but fail to initialize the system or start the vehicle. If this occurs, it is typically because the transponder inside the key has not been coded to that particular system.
With these factory tool like functions, GT80 PLUS is an invaluable tool that allows you to perform complicated repairs faster and easier, boosting your bottom line and customer satisfaction.
GT80 PLUS shows live vehicle sensors data in text, graph and gauge format and allows you to focus on any suspicious or symptom-specific data parameters. It's powerful graphing capability gives you the 'real picture' of what's going on in the vehicle. You can view up to 4 parameter graphs simultaneously. Still you can merge multiple PID plots into one coordinate, so you can easily see how they affect each other, providing you with the most comprehensive and functional look at live data possible.
ã¢â'¬â¢ USA Coverage
Chrysler,Ford,GM,Brazilian GM(For Brazilian Market Only)
ã¢â'¬â¢ ASIA Pacific coverage
Au Ford (For Australian Market Only), Acura, Brilliance, BYD, Chery, Daewoo, Geely, Great Wall, Honda, Holden (For Australian Market Only), Hyundai, Infiniti, Isuzu, JAC, Kia, Lexus, Mazda, Mitsubishi, Nissan, Perodua, Proton, Scion, Subaru, Suzuki, Toyota
ã¢â'¬â¢ European Coverage
Audi, Bentley, BMW, Bugatti, EU Ford, Jaguar, Land Rover, Maybach, Mercedes Benz, Mini, Opel, Porsche, Rolls-Royce, Saab, Seat, Skoda, Smart, Sprinter, Vauxhall, Volvo, VW
ã¢â'¬â¢ French & Italian Coverage
Abarth, Alfa-Romeo, Citroen, Dacia, Fiat, Lancia, Maserati, Peugeot, Renault
Note: GT80plus has 18 months free updates after registration.
Tool must be registered to receive update notices.
This scan tool works with all OBD I and OBD II BMW vehicles.

Part #: gt80plusKT
Available
Free Shipping