Keep your BMW looking fit and trim with our replacement factory or aftermarket exterior pieces. The appearance of your BMW can be a statement; with our OEM replacements, you can maintain your caraEURtms looks and the function of exterior components like mirrors, window regulators, and hood dampers. To upgrade your car with aero components, updated bumpers, or full body kits, visual upgrades from M-Tech, ZHP, CSL, and more are ready to give your BMW the perfect look.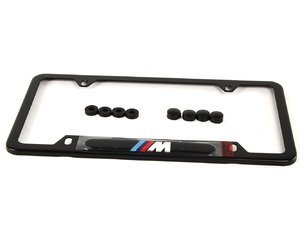 This is a Black license plate frame with the BMW motorsport "M" logo. This Genuine Original BMW part is a great way to improve the looks of any BMW. The "///M" emblem is domed for a classy look. These are sold individually, so be sure to order two -- one for the front license plate, and one for the rear.

This Polyester tow strap is far and above the best tow strap available for the modern BMW chassis. We use a heavy-duty, chemical-resistant polyester strap webbed around a stainless steel stud. There is plenty of length available for tow hooks to grab onto without hitting your bumper and damaging paint or causing cracks. The precision-cut stud is fits all F- Chassis vehicles. We have further refined the shape and size of the bolt so that spoiler modifications are kept to a minimum. Note that on some models you may need to modify the bumper slightly for the best fit.

A tow strap is a better pickup point than a fixed steel ring, which will add weight and protrude past the bumper. Some racing series have banned the steel rings because they increase the likelihood of contact during close racing. Our straps are sold in bright red, bright blue, or black (red suggested for racing use as it makes it easy for tow truck operators and safety crews to spot). On some models, the strap may be tucked behind the bumper panel when not on track, which makes this perfect for dual-use track/street cars and full racecars alike. Priced per strap so order two for the front and rear.
The 75mm bolt is commonly used with the M bumper designs and the 55mm bolt commonly used for the standard bumper due to the tow hook mounting thread distance behind the cover. The best practice is to measure the distance from the tow hook mounting threads to the outside of the bumper cover.
This item fits the following BMW Chassis:
E89 Z4,F01,F02,F06,F10,F12,F13,F22,F25,X1,X3,F26 X4,F30,F31,F32,F33,F34,F36,F80,F82,F83,F87*,G30,G31,G11,G12,I01,i3
*F87 M2 is for front location only