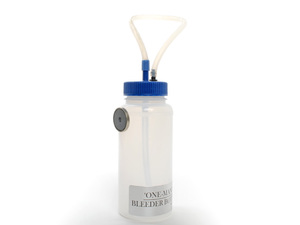 This is the new evolution of our popular Brake Bleeder Bottle. The latest design features a one-way check valve inside the bottle that is operated when you pump the brakes. This is a more economical and simpler system than other "1 man bleeding" kits - no modification to your brake system and you only have to buy the one bottle. The newest bottles also include upgraded caps and fittings for a tighter seal.

The one-way check valve is extremely simple to use - attach the bottle and hose, open your bleed screw, and pump your brakes from the pedal. The check valve opens with each pump to let fluid and air out of the system and then seals tight when the pedal is released. The bottle uses a large magnet to conveniently stick to your brake disc while you run the hose to the caliper.

Works on just about all brake systems so no need to have specialized adapters or bleed screws.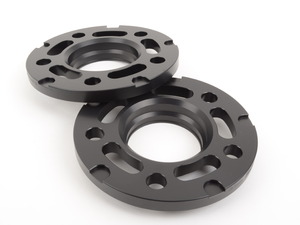 12.5MM (.49 inch) Big Pad Wheel Spacers for BMW E70 X5M, E71 X6/X6M, F02, F10, F13, F22, F25, F3X, F8X M3/M4 These are our Big Pad wheel spacers designed for the latest generation of factory BMW wheels. The "wheel pad" is the back of the wheel that mounts to the hub on the car. Since the early 2000s the factory BMW wheel pad diameter has grown - 150mm, 152mm, 154mm, and now 156mm. Most of the wheel spacers on the market are 152mm. The difference from using the smaller spacer on a large pad will leave an unsightly step down between the back of the wheel and the brake rotor hat (see image). To fix this visual defect we use a larger diameter spacer - the Big Pad. This will have less of a step, or no step at all, when used with the larger pad size. Note that nearly all aftermarket wheel manufacturers use the smaller pad size (mainly to reduce unsprung weight). For more information on wheel pad sizes and their effects on fitment and strength, click to our spacers FAQ page. Wheel spacers are the ideal solution to resolve a number of fitment and aesthetic problems. A spacer fits between the wheel and the hub assembly. The wheel will be pushed further outboard by the thickness of the spacer. Spacers allow you to correct wheel offset issues when the wheel is too 'tucked in' to the bodywork, clear the wheel from contact with the suspension or inner bodywork, clear larger brakes, improve handling and stability by increasing track width, or simply to get the right look and stance. Our wheel spacers are compatible with almost any type of BMW wheel and are a direct fit to the wheel hub (see below for any fitment notes). Longer wheel bolts or wheel studs are required. This latest generation of the Turner Motorsport Wheel Spacers represents a total redesign of the wheel spacer concept - a ground-up, clean sheet design based on our years of BMW service and motorsports. We took everything we have learned from our service technicians, customers, and race team crew and built the spacer to beat all spacers. We've been in the BMW wheel spacer business probably longer than anybody and when it came time to make our own spacers, a basic spacer design just wouldn't do. We had to make a spacer that is lightweight (for lower unsprung mass), has a tough and durable coating to last through our New England winters, is easily removed (your mechanic will thank you), and is precisely engineered and manufactured for a proper fit on the hub and in the wheel. You won't find a better engineered wheel spacer on the market! Turner Wheel Spacer Features hub-centric design with hub-centric lip precise tolerance fitment thanks to CAD process and CNC mill machine large pad surface area - 156mm vs standard 150mm aerospace grade aluminum lightweight but very strong with high resistance to corrosion additional military-spec hardcoat for further corrosion resistance innovative Quick Release pockets for easy removal (better than a chamfered back edge) laser engraved size and part number for easy identification stealthy anthracite or black color Turner Motorsport track and street tested! Made in the USA Wheel Spacer Tech & FAQ Important Note: It is vital that you measure the depth of your hub lip. The depth of the lip must not exceed the thickness of the spacer. This is critical on newer chassis cars that have deeper hubs than older models. For examples and tips on measuring, check out our How To Measure for Spacers page. Spacer Specs bolt pattern: 5 x 120 center bore: 72.6mm hubcentric: yes wheel pad size: large Extended Wheel Bolts Required for all BMW wheel spacers is a set of longer wheel bolts or wheel studs. Spacers cannot be used with stock bolts. Our extended lug bolts are very high quality and high grade steel lug bolt (grade 10.9). A black zinc coating will maintain a factory BMW appearance and provide long-lasting corrosion protection. Zinc finishes are designed to withstand 700 hours of salt spray testing.