The interior of your BMW is where you will hopefully spend most of your time, so it should be ergonomic, comfortable, and safe. All interior components, from OEM replacement switches, trim, or steering wheels, to aftermarket upgrades like racing wheels, safety equipment, and racing seats, are available at Turner Motorsport.
Genuine BMW Music Adapter for Apple iPhone 5, iPhone 5s, iPhone 6, iPhone 6S, iPhone 7, iPhone 7+, iPhone 8, 8+, iPhone X -Lightning

Genuine BMW Music Adapter - Lightning. Simply plug one end of the cable into your iPhone and the other end into the USB/Audio input and you can listen to music right through your BMW's speakers, and control it through the radio.- For BMW's without an in dash navigation system/screen.

This item fits the following BMW Chassis:
E60 M5,E63 M6,E70 X5M,E71 X6M,E82 1M Coupe,E63,E65,E70 X5,E71 X6,E82,E89 Z4,E90,E92,E93,F01,F02,F06,F10,F12,F13,F22,F25 X3,
Thru 6/2013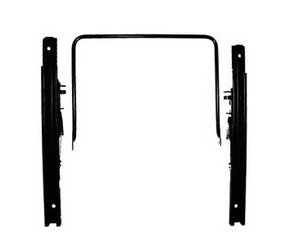 If you want fore-aft adjustment on your Recaro seat you will need a set of sliders. These are the genuine Recaro sliders that are some of the finest quality that we have seen. The sliders fit between the vehicle adapter and the seat brackets. There are two types depending on how your floor adapters work - without tabs and with tabs.

Recaro Seat Slider types -
Without Tabs - offers the lowest possible seating position - the total height of the sliders is 22mm (7/8"); the sliders are sandwiched between the floor mount and seat; the bolts install to the floor mount perpendicular to the ground; works with flat Macht Schnell or VAC style floor mounts only.
With Tabs - the sliders have tabs on each end with three height positions; the positions allow height and rake adjustments but means it's taller than the version without tabs - total height with the tabs is 58mm (2.25"); the tabs mean the mounting bolts install parallel to the ground; some floor mounts require the tab style (Wedge Engineering for example).

The Recaro sliders are all steel - pulling the handle moves teeth on two tracks which is more secure and stable than a single track. This set of sliders has the bar on the inside of the track (the most common for BMW fitments).

Sold per seat.