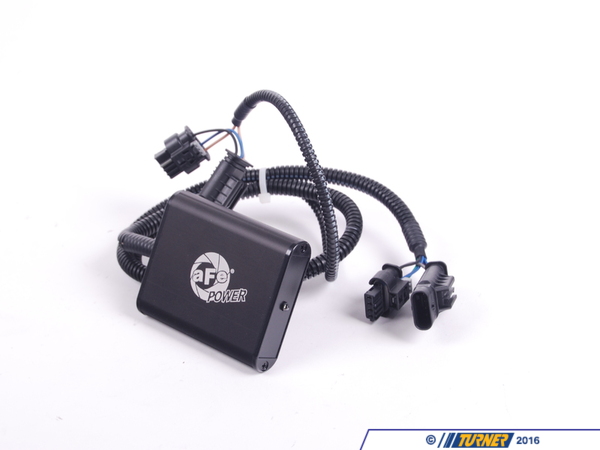 aFe Scorcher Programmer Upgrade - N20/N26 - F30 320i, 328i, F32 428i, F22 228i, E84 X1, F10 528i
Mfg Part #

77-46303

Turner Part #

T#

25780
Price:
Qty
449.00
Free Shipping
Product Details
THE EASIEST WAY TO MORE POWER
HP gain = up to 38 hp
Trq gain = up to 49 ft-lbs
Plug And Play Engine Harness!
Power Without Worry!

There's no secret to getting additional power from a turbo engine - turn up the boost! But it's easy to take things too far and become "boost drunk". If what you're after is a generous bump in power without worrying about reliability, compromises, or additional modifications the aFe Power Scorcher is perfect for you. We've tried the Scorcher in a number of different BMWs and can report back that it works flawlessly!

Our findings:

Incredibly simple installation - by the third car we tested with we had the install down to 5 minutes!
High build quality - it looks and feels like a real part - not homemade like others we have seen
Immediate power gains - right from our parking lot we could feel the substantial difference
Affordable power - great bang for the buck
The Scorcher is a plug-and-play tuning module that installs on the engine wiring harness and modifies the signals from the manifold pressure sensors. The new signals are then sent to the engine computer which increases boost based on the modified signal. The power gains are instantly noticeable and the module has been fully engineered to deliver a smooth and reliable power boost over all RPM. aFe developed this module upgrade on their in-house Mustang and Dynojet dynos as well as using them on their own BMW 328s. There are other products that give more power (for additional cost) but more boost also brings more complications. This is all of the power you need without additional drama and trickery. The Scorcher can be used on its own or combined with other aFe Power products for the total package.

The install is very easy with no cutting or modification to existing components. Unplug the harness from your MAP sensors and plug it into the Scorcher module. Then plug the Scorcher harness into the MAP sensors. Mount the module wherever you wish (Velcro and zip ties included). A blue LED lets you know the module is plugged in correctly and functioning. You can also revert back to stock just as easily! The Scorcher is built with a 0.1% tolerance on critical components. Each connector is an OE type for the best and most secure fitment and they use high quality wiring with excellent heat and chemical resistance. The module box is aluminum with a hardcoat anodize finish. This is way beyond the other 'resistor in a box' products on the market. aFe warranties the complete unit for two years.

This item fits the following BMWs:
2014+ F22 BMW 228i 228i xDrive
2012+ F30 BMW 320i 328i - Sedan
2014+ F34 BMW 328i xDrive GT - Gran Tourismo
2013+ F32 BMW 428i 428i xDrive - Coupe
2013+ F33 BMW 428i Convertible 428i xDrive Convertible - Convertible
2014+ F36 BMW 428i Gran Coupe 428i xDrive Gran Coupe
2011+ F10 BMW 528i
2012+ E84 BMW X1 28i
2011+ F25 BMW X3 xDrive28i
2015+ F26 BMW X4 xDrive28i
2009+ Z4 BMW Z4 sDrive28i

others bought
recently viewed