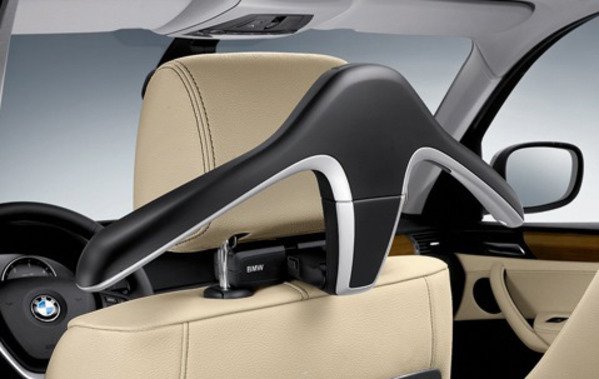 Genuine BMW Coat Hanger - 51952183854
Mfg Part #

51952183854

51-95-2-183-854

51 95 2 183 854

Turner Part #

T#

338197

Brand
Ships in 2 days

Free Shipping
on orders $199 and up
Does this fit my vehicle?
For accurate results, specify your model below.
Product Details
This Genuine BMW Travel & Comfort system easily attaches to the headrest support bars. The Coat Hanger and Universal Hook require the Base Carrier #
51952183852
for installation.
This item fits the following BMWs:
2008+
E82 BMW
128i 135i 135is 1M Coupe
2006-2011
E90 BMW
325i 325xi 328i 328xi 328i xDrive 330i 330xi 335d 335i 335xi 335i xDrive M3 - Sedan
2006-2012
E91 BMW
325xi 328i 328xi 328i xDrive - Wagon
2007-2013
E92 BMW
328i 328xi 328i xDrive 335i 335is 335xi 335i xDrive M3 - Coupe
2007-2013
E93 BMW
328i 335i M3 - Convertible
2012+
F30 BMW
320i 320i xDrive 328d 328d xDrive 328i 328i xDrive 335i 335i xDrive - Sedan
2013+
F31 BMW
328i xDrive 328d xDrive - wagon
2013+
F32 BMW
428i 428i xDrive 435i 435i xDrive - Coupe
2014+
F34 BMW
328i xDrive GT, 335i xDrive GT - Gran Tourismo
2004-2010
E60 BMW
525i 525xi 530i 530xi 528i 528xi 528i xDrive 535i 535xi 535i xDrive 545i 550i M5
2010+
F07 BMW
535i GT, 535i xDrive GT, 550i GT, 550i xDrive GT
2011+
F10 BMW
528i 528i xDrive 535i 535i xDrive 550i 550i xDrive M5
2004-2010
E63 BMW
645ci 650i M6
2012+
F12 BMW
640i 650i 650i xDrive M6
2013+
F06 BMW
640i Gran Coupe 650i Gran Coupe 650i xDrive Gran Coupe M6 Gran Coupe
2002-2008
E65 BMW
745i 745li 750i 750li 760i 760li
2009+
F01 BMW
740i 740li 750i 750li 750i xDrive 750li xDrive 760li
2013+
E84 BMW
X1 sDrive28i X1 xDrive28i X1 xDrive35i
2004-2010
E83 BMW
X3 2.5i X3 3.0i X3 3.0si
2011+
F25 BMW
X3 xDrive28i X3 xDrive35i
2000-2006
E53 BMW
X5 3.0i X5 4.4i X5 4.6is X5 4.8is
2007-2013
E70 BMW
X5 3.0si X5 4.8i X5 xDrive30i X5 xDrive35d X5 xDrive35i X5 xDrive48i X5 xDrive50i X5M
2008+
E71 BMW
X6 xDrive35i X6 xDrive50i X6M
Loading Kit Configurator
Kit Configurator
Add Base Carrier
Description
Qty
Travel & Comfort System Coat Hanger Kit ($113.90)

Ships in 2 days

1
Travel & Comfort System Coat Hanger ($69.32)

Ships in 2 days

1
Image may not match selected options.
This Part Fits the Following BMWs
| Make | Model | Submodel | Engine |
| --- | --- | --- | --- |
| BMW | E53 | X5 | M54 3.0L |
| BMW | E53 | X5 | M62 4.4L |
| BMW | E53 | X5 | M62 4.6L |
| BMW | E53 | X5 | N62 4.4L |
| BMW | E53 | X5 | N62 4.8L |
| BMW | E60 | 525i | M54 2.5L |
| BMW | E60 | 525i | N52 3.0L |
| BMW | E60 | 525xi | N52 3.0L |
| BMW | E60 | 528i | N52 3.0L |
| BMW | E60 | 528xi | N52 3.0L |
| BMW | E60 | 530i | M54 3.0L |
| BMW | E60 | 530i | N52 3.0L |
| BMW | E60 | 530xi | N52 3.0L |
| BMW | E60 | 535i | N54 3.0L |
| BMW | E60 | 535xi | N54 3.0L |
| BMW | E60 | 545i | N62 4.4L |
| BMW | E60 | 550i | N62 4.8L |
| BMW | E60 | M5 | S85 5.0L |
| BMW | E61 | 530xi | N52 3.0L |
| BMW | E61 | 535xi | N54 3.0L |
| BMW | E63 | 645Ci | N62 4.4L |
| BMW | E63 | 650i | N62 4.8L |
| BMW | E63 | M6 | S85 5.0L |
| BMW | E64 | 645Ci | N62 4.4L |
| BMW | E64 | 650i | N62 4.8L |
| BMW | E64 | M6 | S85 5.0L |
| BMW | E65 | 745i | N62 4.4L |
| BMW | E65 | 750i | N62 4.8L |
| BMW | E65 | 760i | N73 6.0L |
| BMW | E66 | 745Li | N62 4.4L |
| BMW | E66 | 750Li | N62 4.8L |
| BMW | E66 | 760Li | N73 6.0L |
| BMW | E70 | X5 M | S63 4.4L |
| BMW | E70 | X5 xDrive30i | N52 3.0L |
| BMW | E70 | X5 xDrive35d | M57 3.0L |
| BMW | E70 | X5 xDrive35i | N55 3.0L |
| BMW | E70 | X5 xDrive48i | N62 4.8L |
| BMW | E70 | X5 xDrive50i | N63 4.4L |
| BMW | E71 | X6 M | S63 4.4L |
| BMW | E71 | X6 xDrive35i | N54 3.0L |
| BMW | E71 | X6 xDrive35i | N55 3.0L |
| BMW | E71 | X6 xDrive50i | N63 4.4L |
| BMW | E82 | 1 M Coupe | N54 3.0L |
| BMW | E82 | 128i | N52 3.0L |
| BMW | E82 | 135i | N54 3.0L |
| BMW | E82 | 135i | N55 3.0L |
| BMW | E83 | X3 | M54 2.5L |
| BMW | E83 | X3 | M54 3.0L |
| BMW | E83 | X3 | N52 3.0L |
| BMW | E84 | X1 sDrive28i | N20 2.0L |
| BMW | E84 | X1 xDrive28i | N20 2.0L |
| BMW | E84 | X1 xDrive35i | N55 3.0L |
| BMW | E88 | 128i | N52 3.0L |
| BMW | E88 | 135i | N54 3.0L |
| BMW | E88 | 135i | N55 3.0L |
| BMW | E90 | 325i | N52 3.0L |
| BMW | E90 | 325xi | N52 3.0L |
| BMW | E90 | 328i | N52 3.0L |
| BMW | E90 | 328xi | N52 3.0L |
| BMW | E90 | 330i | N52 3.0L |
| BMW | E90 | 330xi | N52 3.0L |
| BMW | E90 | 335d | M57 3.0L |
| BMW | E90 | 335i | N54 3.0L |
| BMW | E90 | 335i | N55 3.0L |
| BMW | E90 | 335xi | N54 3.0L |
| BMW | E90 | 335xi | N55 3.0L |
| BMW | E90 | M3 | S65 4.0L |
| BMW | E91 | 325xi | N52 3.0L |
| BMW | E91 | 328i | N52 3.0L |
| BMW | E91 | 328xi | N52 3.0L |
| BMW | E92 | 328i | N52 3.0L |
| BMW | E92 | 328xi | N52 3.0L |
| BMW | E92 | 335i | N54 3.0L |
| BMW | E92 | 335i | N55 3.0L |
| BMW | E92 | 335is | N54 3.0L |
| BMW | E92 | 335xi | N54 3.0L |
| BMW | E92 | 335xi | N55 3.0L |
| BMW | E92 | M3 | S65 4.0L |
| BMW | F01 | 740i | N54 3.0L |
| BMW | F01 | 750i | N63 4.4L |
| BMW | F01 | 750i xDrive | N63 4.4L |
| BMW | F02 | 740Li | N54 3.0L |
| BMW | F02 | 740Li xDrive | N55 3.0L |
| BMW | F02 | 750Li | N63 4.4L |
| BMW | F02 | 750Li xDrive | N63 4.4L |
| BMW | F02 | 760Li | N74 6.0L |
| BMW | F06 | 640i | N55 3.0L |
| BMW | F06 | 640i xDrive | N55 3.0L |
| BMW | F06 | 650i | N63 4.4L |
| BMW | F06 | 650i xDrive | N63 4.4L |
| BMW | F06 | M6 Gran Coupe | S63 4.4L |
| BMW | F07 | 535i | N55 3.0L |
| BMW | F07 | 535i xDrive | N55 3.0L |
| BMW | F07 | 550i | N63 4.4L |
| BMW | F07 | 550i xDrive | N63 4.4L |
| BMW | F10 | 528i | N20 2.0L |
| BMW | F10 | 528i | N52 3.0L |
| BMW | F10 | 528i xDrive | N20 2.0L |
| BMW | F10 | 535i | N55 3.0L |
| BMW | F10 | 535i xDrive | N55 3.0L |
| BMW | F10 | 550i | N63 4.4L |
| BMW | F10 | 550i xDrive | N63 4.4L |
| BMW | F10 | M5 | S63 4.4L |
| BMW | F12 | 640i | N55 3.0L |
| BMW | F12 | 640i xDrive | N55 3.0L |
| BMW | F12 | 650i | N63 4.4L |
| BMW | F12 | 650iX | N63 4.4L |
| BMW | F12 | M6 | S63 4.4L |
| BMW | F13 | 640i | N55 3.0L |
| BMW | F13 | 640i xDrive | N55 3.0L |
| BMW | F13 | 650i | N63 4.4L |
| BMW | F13 | 650iX | N63 4.4L |
| BMW | F13 | M6 | S63 4.4L |
| BMW | F25 | X3 sDrive28i | N20 2.0L |
| BMW | F25 | xDrive2.8i | N52 3.0L |
| BMW | F25 | xDrive3.5i | N55 3.0L |
| BMW | F30 | 320i | N20 2.0L |
| BMW | F30 | 320i xDrive | N20 2.0L |
| BMW | F30 | 328d | N47 2.0L |
| BMW | F30 | 328d xDrive | N47 2.0L |
| BMW | F30 | 328i | N20 2.0L |
| BMW | F30 | 328i xDrive | N20 2.0L |
| BMW | F30 | 335i | N55 3.0L |
| BMW | F30 | 335i xDrive | N55 3.0L |
| BMW | F30 | ActiveHybrid 3 | N55 3.0L |
| BMW | F31 | 328d xDrive | N47 2.0L |
| BMW | F31 | 328i xDrive | N20 2.0L |
| BMW | F32 | 428i | N20 2.0L |
| BMW | F32 | 428i xDrive | N20 2.0L |
| BMW | F32 | 435i | N55 3.0L |
| BMW | F32 | 435i xDrive | N55 3.0L |
| BMW | F34 | 328i xDrive | N20 2.0L |
| BMW | F34 | 335i xDrive | N55 3.0L |
| BMW | Z4 | 2.5i | M54 2.5L |
| BMW | Z4 | 3.0i | M54 3.0L |
| BMW | Z4 | 3.0i | N52 3.0L |
| BMW | Z4 | 3.0Si | N52 3.0L |
| BMW | Z4 | M Coupe | S54 3.2L |
| BMW | Z4 | M Roadster | S54 3.2L |
*The above product applications have been written by Turner Motorsport. All warranties, product application, fitment, and performance are the responsibility of Turner Motorsport. For additional information see the terms of use.
others bought
recently viewed