 Complete Front & Rear Brake Package - E9X 335i
This brake package for the BMW E90/E92/E93 335i comes with everything you need to perform a major brake overhaul --

Rotor Options:
OEM rotors
Turner cross-drilled sport rotors
Turner slotted performance rotors
Turner drilled+slotted sport rotors
ECS 2-piece floating rotors
Pad Options:
OEM street pads
Street performance sport pads
Street dust-less pads
race pads
Additional items included:
Rotor retaining screws
Front and rear pad wear sensors
Brake fluid
Braided stainless steel brake lines are optional and recommended for track or aggressive street use.
Our brake package uses the same replacement parts from the same manufacturers as BMW dealers use to service your car. The big difference is that we're able to offer these parts for a substantial savings from the dealer markup price. As an independent company we're able to buy our parts from multiple OEM suppliers whereas BMW dealers must buy their parts from BMW. We're able to shop from different vendors which gets you a better price while still maintaining original quality. You don't have to pay high prices at the dealer to get the same quality and performance.

In some cases, we offer performance alternatives to the OEM items. For an enthusiastic BMW owner, the standard BMW part may be inadequate and we offer an upgraded part, based on our 20+ years of BMW tuning experience. We seek out high quality suppliers and designs that we would want on our own vehicles. Many times performance parts will fix a design flaw with the original BMW part, improving your performance at the same time.
Brake Package FAQ
Brake Pad Buying Guide
Brake Rotor Buying Guide
Applications:
2007-2011 E90 335i sedan
2007-2013 E92 335i coupe
2007-2013 E93 335i convertible
T#:
340259
|
Part#:
TMS2827 1 of
Select Options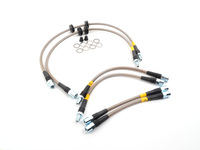 Yes, Add Stainless Brake Lines.(PLBE9X335i)

In Stock
Ate Type 200 (DOT4) High Performance Brake Fluid (#ATE200)

In Stock
Ate SL.6 (DOT4) Low Viscosity Brake Fluid (#BFSL61)

In Stock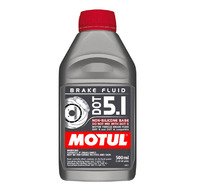 Motul (DOT5.1) Low Viscosity Brake Fluid (#8070HCx2)

In Stock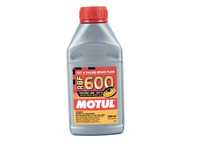 Motul RBF600 (DOT4) Racing Brake Fluid (#RBF600x2)

In Stock
OEM Street Pads (34116794917T)(34216791938 )

Ships in 4 Business Days Hawk HP Plus Track (HB551N.748)(HB624N.642)
Direct Ship Stoptech Street Performance (309.09180)(309.11700)

Direct Ship
Hawk HPS 5.0 Sport Pads (HB551B.748)(HB624B.642)
In Stock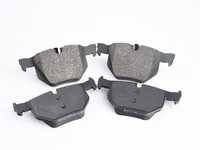 Posi Quiet (104.09180)(104.11700)

On Order, ETA Jun 22, 2020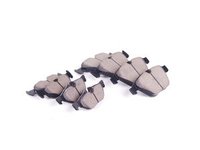 Akebono Front & Rear Euro Ceramic Brake Pad Kit

Ships in 3 Business Days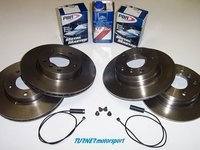 Stock OEM Type (E9X-335-BRAKE-PACK)

Direct Ship Turner Cross-Drilled (E9X-335-BRAKE-PACK-CD)

Direct Ship Turner Slotted (E9X-335-BRAKE-PACK-SL)

In Stock Turner Drilled+Slotted (E9X-335-BRAKE-PACK-CDSL)

Back Ordered, No ETA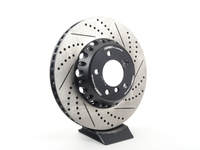 ECS 2-piece Drilled+Slotted (E9X335BRAKECS)

In Stock
Complete Front & Rear Brake Package - E9X 335i