Your BMW's handling is determined by the capabilities and age of your suspension components. Our selected aftermarket performance suspension like coilovers, lowering springs, cup kits, and dampers can improve the handling of your BMW dramatically. With those upgrades comes the needs for proper adjustment; our recommended supporting modifications comes stiffer sway bars, bushings, and adjustable camber/caster plates, to name a few found on this page. Completely build your suspension for the most competitive BMW driving experience, achieve your perfect look, or simply replace your worn suspension with our recommended parts.

This is a replacement power steering fluid reservoir. Why replace the reservoir? Because the connection between the reservoir tank and the hoses is one of the prime locations for power steering leaks on these cars. It's mostly due to the style of clamp that BMW used. But also any replacement clamps are usually over-tightened on these plastic reservoir nipples. There is also a filter inside the reservoir that cannot be changed or serviced. So it's a good idea to replace the tank and get a new filter at the same time. With fresh fluid and a clean filter you might be able to restore some steering smoothness and precision to your BMW! Alternate part number - 32416851217. Reservoir includes new cap with o-ring.

This item fits the following BMWs:
1984-1991 E30 3 Series BMW 318i 318is 318ic 325e 325es 325i 325is 325ix 325ic M3
1992-1998 E36 3 Series BMW 318i 318is 318ic 318ti 323i 323is 323ic 325i 325is 325ic 328i 328is 328ic M3
1999-2005 E46 3 Series BMW 323i 323ci 325i 325ci 325xi 328i 328ci 330i 330ci 330xi M3
1989-1995 E34 5 Series BMW 525i 530i 535i 540i
1997-2003 E39 5 Series BMW 525i 528i 530i 540i
2004-2010 E60 5 Series BMW 525i 525xi 528i 528xi 530i 530xi 545i 550i - not for cars with active steering or dynamic drive
2004+ E63 6 Series BMW 645ci 650i - not for cars with active steering or dynamic drive
1989-1994 E32 7 Series BMW 735i 740i - not for cars with self leveling suspension
1995-2001 E38 7 Series BMW 740i 740il - not for cars with self leveling suspension
2004-2006 E83 X3 BMW X3 2.5i X3 3.0i
2000-2006 E53 X5 BMW X5 3.0i X5 4.4i X5 4.6is X5 4.8is
1997-2001 Z3 BMW Z3 1.9 Z3 2.3 Z3 2.5i Z3 2.8 Z3 3.0i M Roadster M Coupe
1997-2001 E85 Z4 BMW Zi M Roadster Z4 M Coupe
2000-2003 E52 Z8 BMW Z8 Z8 Alpina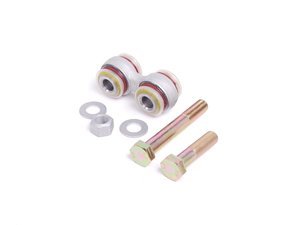 This is the rear pitman arm that mounts between the trailing arm and the rear axle. It is also referred to as the "dog bone" or the "drop arm". Over time this, wear and tear will necessitate its replacement. OEM Lemforder's replacement will replace everything back to new condition.
OEM Lemförder is an engineering company that focuses on high-quality, precision manufacturing of critical suspension and steering components. Providing exceptionally high quality parts directly to BMW, as well as 50+ other big name automotive companies, such as Mercedes and Audi, their history of reliability and variety of offered parts makes them one of the biggest names for a go-to OEM parts provider. Lemförder parts place an important emphasis on design, production, and assembly, ensuring maximum reliability. They even coat all parts possible with corrosion protection for extended longevity.
As a leading source of high performance BMW parts and accessories since 1993, we at Turner Motorsport are honored to be the go-to supplier for tens of thousands of enthusiasts the world over. With over two decades of parts, service, and racing experience under our belt, we provide only quality performance and replacement parts. All of our performance parts are those we would (and do!) install and run on our own cars, as well as replacement parts that are Genuine BMW or from OEM manufacturers. We only offer parts we know you can trust to perform!

This item fits the following BMWs:
1982-1988 E28 BMW 524td 528e 533i 535i 535is M5
1983-1989 E24 BMW 633csi 635csi M6
1983-1987 E23 BMW 733i 735i