BMW E32 Mass Air Sensor & Air Flow Meters

We sell OEM air mass sensors, air flow meters, and HFMs (Hot Film Meter) for many BMWs. When the mass air sensor is bad you will notice your engine running out of tune. Your fuel mileage will suffer, throttle response will be poor, and you will notice a lack of power.There should be a Check Engine Light to alert you that the air sensor is having problems. However, there may not be a fault code for the air meter itself. Often times the code comes up as fuel trim or lean condition. In these cases the air sensor could be just one of a number of potential problems.We only sell air sensors from Original Equipment Manufacturers like, Bosch, VDO, and Siemens. Please note that HFMs are an electrical part and cannot be returned for refund.

For accurate results, specify your model below.
Genuine BMW Replacement mass air sensor - air flow meter - (HFM) for M30 engine. The M30 engines have a notorious fault for hesitation and sluggish response. If this is your situation the MAF should be on your list to check. The HFM is easy to replace and could cure a variety of problems.
Price includes a $50.00 core charge.

This item fits the following BMWs:
1985-1988 E28 BMW 535i 535is
1989-1993 E34 BMW 535i
1985-1989 E24 BMW 635csi
1985-1987 E23 BMW 735i
1988-1994 E32 BMW 735i 735il

Also for E30 M3 EVO III


Part #: 13627547981COKT
Ships in 4 days
Free Shipping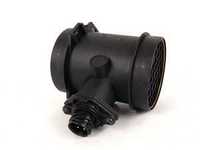 The mass air flow sensor measures the amount of air flow to tell the computer how much fuel to add to the mixture. If the MAF sensor malfunctions, there could be too much or too little fuel added to the mixture. Restore performance and fuel mileage with a high quality Bosch ( #0 280 217 800) replacement. OEM replacement for BMW part # 13621702078 and 13621468625. For vehicles with a production date up to 09/1998. This sensor is also known as the "540 HFM" that is used in a variety of OBD-1 E36 M3 upgrades.
Bosch is one of the largest OEM producers of Genuine BMW and aftermarket parts in the world, providing parts for almost every major automotive manufacturer. Bosch has likely supplied many of the original electrical (and mechanical) parts for your BMW. Thanks to their quality, high durability, and reliability, you should expect a long service life from Bosch products.
As a leading source of high performance BMW parts and accessories since 1993, we at Turner Motorsport are honored to be the go-to supplier for tens of thousands of enthusiasts the world over. With over two decades of parts, service, and racing experience under our belt, we provide only quality performance and replacement parts. All of our performance parts are those we would (and do!) install and run on our own cars, as well as replacement parts that are Genuine BMW or from OEM manufacturers. We only offer parts we know you can trust to perform!
Replacement mass air sensor for the M60/M62 engine. The M60 engines have a notorious fault for hesitation and sluggish response. If this is your situation the MAF should be on your list to check. The HFM is easy to replace and could cure a variety of problems.

This replacement HFM fits the following BMWs:
1993-1995 E34 BMW 540i
1997-1998 E39 BMW 540i
1988-1994 E32 BMW 740i 740il
1995-1998 E38 BMW 740i 740il
1990-1999 E31 BMW 840i 840ci

Part #: 13621702078
In Stock

Free Shipping
on orders $199 and up