BMW E32 Racing Tow Hooks and Tow Straps

Tow hooks and straps are required in all racing series and most major driver's clubs and driver education track days. And the tow ring in the factory BMW tool kit is frowned upon because it protrudes from the bumper. Most racing series require a folding tow ring to prevent yours from spearing another car during close racing. For our own racing cars we developed several solutions that make these the best tow hooks and straps on the market for your BMW. The current favorite style is a nylon strap but we also sell folding steel rings. Check with your racing series to see which type they prefer.

For accurate results, specify your model below.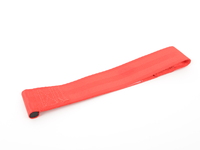 The lightest and simplest tow strap on the market! This is a factory BMW Motorsport part (BMW part number 51117749365), as used on many factory E46 racecars and our own E46 Touring Cars. This strap simply wraps around something solid on the chassis. A typical installation is to unbolt the bumper shock, slide the tow strap on, and then bolt the shock back on the frame rail. The strap then protrudes through an opening in the bumper. On most cars if you cut a slot in the bumper you can push this tow strap behind it for a very sleek appearance. When needed, simply pull it out from the bumper. The color is actually a bright red to stand out for tow truck operators and emergency workers. Since this is not a "bolt-in tow strap" there is no additional weight to carry and you don't have to worry about the bolt vibrating loose. It's simple and light which is perfect for a racecar. Sold per strap so order two if you want front and rear.

Part #: TOW
In Stock

Free Shipping
on orders $199 and up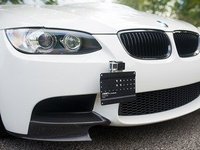 This multifunctional front mount is 3 products in one! This front mount can be set up as a -
No Holes license plate bracket
Camera mount
2" tow hook
Or almost any combination of the above*
Now your license plate bracket can double as a mount for your Go-Pro or similar camera system. Or a tow hook with the camera for track use. Running one or multiple combinations is easy since each piece is mounted to the existing tow hook receptacle behind the bumper. No modification is required! Each piece threads into the tow hook for easy install and removal. Metric Allen keys are included. ECS engineers were unimpressed wtih other plate and holder materials on the market so all pieces in their kit are made from stainless steel or 4140 alloy steel with a tough resilient coating (aluminum and plain sheetmetal were found to deform after repeated use). Simulations show this plate mount to withstand speeds of up to 150mph!
This kit was developed for the front but may also fit on some rear tow hook locations. A different extension may be required.
* - the only combination not possible is the tow hook with the license plate bracket.

Part #: 001912C0102A
Ships on Jan 23, 2018
Free Shipping