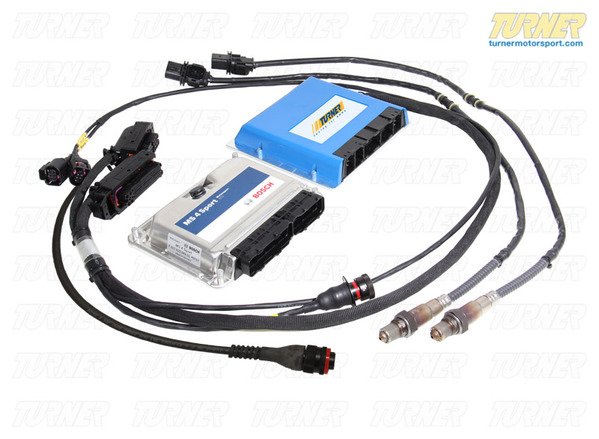 E46 M3, MZ3 S54 Bosch Motorsport Stand Alone ECU System
With FREE S54 Supersprint Headers for a limited time only! This is no joke! Up to a $2843.95 value!
Mfg Part #

TMS180919

Turner Part #

T#

350942

Brand
Does this fit my vehicle?
For accurate results, specify your model below.
Product Details
Stand Alone Control and Direct Plug-In with Effortless Power Gains!!!
Instant Power!
(max gains over stock)
Bosch ECU swap (no other changes)+24hp+16ft-lbs
Bosch ECU with headers+56hp+34ft-lbs
Bosch ECU with headers and cams+76hp+50ft-lbs
Bosch ECU with 3.5L stroker kit
(gains over existing stroker tune)+33hp+18ft-lbs
Bosch ECU with supercharger kit
(gains over existing s/c tune)+48hp+23ft-lbs
Everyone at the track will agree that stand alone ECUs give the most control and the best access for tuning. The obstacle with stand alones has traditionally been the cost and time. Bosch Motorsport and Turner Motorsport have teamed up to offer an affordable, plug-and-play, and fully tunable stand alone ECU system for the E46 M3. The Bosch Motorsport ECU opens the doors for unlimited tuning potential and instant power and reliability benefits over the stock BMW MSS54 ECU. The Bosch Motorsport plug-n-play ECU cuts through all of the hassle and additional work that normally comes with switching to a stand alone management system. It also leapfrogs the factory system in advanced tuning and reliability. This is a must-have system for owners of E46 M3 race and track cars. Pound for pound the factory ECU just doesn't stack up.
The advantages of the Bosch Motorsport system are ENORMOUS:
+ immediate power and torque gains
+ all-in-one system with direct plug-in to existing wiring and dash cluster
+ full access and control over engine mapping
+ low cost compared to other engine management systems
+ no interference or limp modes like the factory ECU
+ base map file included (the Bosch ECU holds 3)
+ access to upgrade-specific map files and updates
The factory MSS54 ECU is a compromise on multiple levels. It's purpose is NOT to make large amounts of horsepower or allow access to its internal code for changes. There have been great breakthroughs in reverse engineering the stock ECU but the fact remains it was never intended to be a true race ECU. The factory ECU and oxygen sensors are there for controlling emissions and fuel economy. The emphasis is on control - it is in BMW's best interest to lock out changes to the ECU so that the car conforms to emissions and fuel economy standards. While mild tuning for the street is not a problem (such as with our Shark Injector software), the factory ECU will fight major changes every step of the way.
Our partnership with Bosch Motorsport goes back a long time. When we switched from a full stand alone to the Bosch ECU on our E46 M3 racecars we instantly made more power. When we realized there was a need for a plug-and-play alternative to the stock E46 M3 ECU the Bosch MS4.0 ECU was the first to come to mind. Stand-alone race ECU systems are ideal for making large amounts of reliable power but until now they were too expensive and too complicated. A full stand lone system will cost tens of thousands of dollars and require hours of installation and fabrication work for the sensors, wiring harnesses, communications platforms, and more. Our Bosch Motorsport system gives you all of the control of a stand-alone but works with the existing wiring and sensors in the E46 M3, including the instrument cluster and dash! This is thanks to the special translator interface box that we developed and allows the Bosch ECU to communicate with the stock VAN0S, drive-by-wire, cooling and oil systems, ABS, and more. The Bosch ECU works with the more advanced Bosch LSU4.9 wideband oxygen sensors which replace the two stock pre-cat O2 sensors. We strongly recommend that you replace your spark plugs and ignition coils with the latest BMW part numbers before installing this system. You can be up and running with the complete Bosch system in about an hour! Yes, one hour! Plug in the ECU and translator box and swap the front O2 sensors and you're done. You can revert back to stock just as easily. To get reliable power means removing interference from emissions equipment or OBD oversight and eliminate the possibility of a race-ending limp mode or fault code. The Bosch ECU system eliminates layers of complexity to give you what you really want: power and control.
Our Bosch ECU system comes pre-installed with a base engine map that closely matches your existing engine spec. We developed multiple tuning maps on our Dynapack chassis dyno using popular bolt-on S54 power upgrades: headers, intakes, cams, superchargers, etc. Straight away our base tune gained 24hp. With headers and cat delete, over 50! Our base supercharger file gained almost 50hp more than the tune that came with the kit! A 3.5L stroker engine gained over 30hp from the best file supplied by the engine builder! We provide you with a base map closely matched with your existing modifications. You then have the ability, if needed, to make adjustments to optimize the output using the Bosch PC software. Unlike the factory ECU there is no limit to the number of flashes you can make on the Bosch ECU.
Have any questions or need additional info? Give us a call or drop an e-mail. Talk it over with your shop or tuner. Or have your shop or engine builder give us a call! If they are serious about tuning then they know the limitations of the stock ECU and the advantages of a stand-alone like our system. Many race shops around the US and Europe already have extensive experience with the Bosch Motorsport equipment but our's was the first time the system has been engineered to work with a stock E46 M3 harness. Dealer inquiries invited!
Bosch Motorsport E46 M3 ECU System includes:
- Bosch Motorsport MS4.0 ECU
- E46 M3-specific Translator Box
- Bosch Motorsport LSU4.9 wideband Lambda sensors (x 2)
- Turner Motorsport base software tuning file
Optional items:
Expansion Harness - for data logging and aux port
For a lot more in-depth information on our Bosch standalone ECU system, including dyno examples of our work, click to our detailed tech page.
This item fits the following BMWs:
2001-2006 E46 BMW M3 6MT manual transmission only
2001-2002 Z3 BMW Z3 M Roadster M Coupe (S54)
Loading Kit Configurator
Kit Configurator
Add Bosch Expansion Harness?
Description
Qty
Yes, build my system with the Expansion Harness (11H-0103) ($1699.00)

In Stock

1
No, build my system with the Standard Harness (HARNESSM3) ($1499.00)

In Stock

1
E46 M3 Bosch ECU:
Description
Qty
E46 M3, MZ3 S54 Bosch Motorsport Stand Alone ECU System ($3999.95)

Ships in 2 Days

1
Select your FREE S54 Supersprint Headers - up to a $2843.95 value! This is no joke!
Description
Qty
E46 M3, MZ3 S54, Z4 M Supersprint Tubolare V1 Performance Headers (OE diameter headers bolts directly to factory section 1) ($0.00)

Ships on Jun 8, 2018

1
E46 M3 Supersprint Tubolare Partial-Stepped V2 Headers (Expanded diameter at exhaust ports for increased flow, Bolts To US Section 1 Exhaust) ($0.00)

Ships on Jun 8, 2018

1
E46 M3, Z4 M Supersprint Tubolare Full-Stepped Header (Larger diameter pipe all the way through only for use with Super Sprint section 1) ($0.00)

Ships on May 18, 2018

1
Image may not match selected options.
This Part Fits the Following BMWs
| Make | Model | Submodel | Engine |
| --- | --- | --- | --- |
| BMW | E46 | M3 | S54 3.2L |
*The above product applications have been written by Turner Motorsport. All warranties, product application, fitment, and performance are the responsibility of Turner Motorsport. For additional information see the terms of use.
others bought
recently viewed