Since its first iteration, the M3 has been the benchmark in luxury performance coupes. At the turn of the new millennium, BMW once again proved their superiority in the car class they established by updating the name to the E46 platform and introduced the E46 M3 in 2001. The newly designed chassis proved to be one of the least preferred in its non-M form but is an icon in the motorsport world in its top-of-the-line M GmbH trim. For this article, we will cover everything you need to know in order to purchase an E46 M3 of your own.
The E46 M3 is widely regarded as one of the greatest pure driver's platforms of all time. It was featured in Need For Speed: Most Wanted as your original car and the one you worked to regain from a loss in the introductory race. The E46 M3 featured an aggressive widebody that harkened back to the E30 M3's pronounced haunches and hips, it sported an aggressive 333hp S54 straight-six, a limited slip differential, and was available in a 6-speed manual or SMG transmission. The E46 M3 lost its sedan variant that BMW gave us with the E36 but retained a convertible option that was offered with either transmission. Out of the options built by BMW, we will focus on the most desirable: the E46 M3 coupe with the manual transmission.
Before we walk you through a pre-purchase checklist, we should explain why we chose to restrict your search to the manual coupe. The manual transmission did come in second around a track to its SMG-equipped sister, but that is its only advantage. It struggles in stop-and-go traffic and the finicky gearbox has a pesky SMG pump that can only be counted on to fail. Not only that, but who wants to drive a sports car without a third pedal?
Besides the pesky
SMG pump
that will fail and result in a massive repair bill, the E46 M3 should really only be purchased in its coupe form, rather than the convertible. Unless you are absolutely dead-set on owning a convertible with the M-badge and flared fenders, we advise you to exclusively consider the coupe. The convertible is heavier than the coupe thanks to the extra reinforcement needed to counter the lack of a roof and it is still much less rigid anyways. If you have any intention of taking your E46 M3 to the track, it is much easier to use the coupe than it is to modify a convertible enough to just match what the coupe already has. Since this is Turner Motorsport and we are all about the track, we say to stick with the coupe and don't look back.
Now that we have narrowed down your choice to strictly a manual transmission E46 M3 coupe, you can familiarize yourself with some of the car's notorious faults and prepare to address them as necessary.
As with any performance car, the E46 M3 is not without its drawbacks; even as a manual transmission coupe. There are three major concerns with which you need to be intimately familiar:
The Connecting Rod Bearings
In the early version of the E46 M3, the connecting rod bearings were incorrectly spec'd out and the 12k mile oil service interval recommended by the manufacturer spells doom for the engine. There was a recall on the early model that most M3's will have had completed, but you still need to be aware of the problem so you can make sure it has been fixed. If not, and the recall is still open, you can have BMW take care of the issue or do the bearings yourself. With the bearing service complete, your engine will be in much better shape as a reliable platform.
The VANOS system
Speaking of engine reliability, the VANOS variable valve timing system is another weak point. The VANOS had a recall as well which addressed the improper seal around the cylinder and broken tabs. While this is not as immediately catastrophic to your engine, the only way to know if your VANOS is not damaged is to physically inspect it. Go ahead and assume you will need to take care of the repair service immediately upon purchase, even if the service history shows that it has been completed.
The Rear Subframe & Differential
Finally, the critical weak point of the E46 M3 was its subframe. The mounts are notorious for cracking and can be more costly than the car itself to repair. A pre-purchase inspection of the rear subframe mounts can spot extensive damage, but without dropping the subframe and thoroughly searching for minor cracks or weak points, you will not see a minor failure. This is another fix you will want to address soon after purchase as failed rear subframe mounting points on the body will make your car unsafe to drive. Additionally, the differential mounts are notoriously weak and should be inspected. Turner Motorsport has replacement diff mounts and a reinforcement kit for the rear subframe that we insist any new E46 M3 owner purchase along with the car if it has not already been reinforced.
Those issues aside, the E46 M3 is an excellent choice for anyone looking for proper peak performance from an 'affordable' BMW. Affordable is definitely a relative term, as our resident E46 M3 expert explained. Regardless of the car's condition, when it is all said and done, you will most likely want to budget around $20,000. His reasoning is as follows:
With a $10,000 M3, you will most likely find that it is mechanically a trainwreck and requires immediate service. All in, you will probably spend at least that initial $10k in repairing the car and addressing maintenance that was most likely neglected. Unless you are confident in your abilities and have exceptional patience, we advise swinging for a well-maintained car that might cost a few more grand.
A more expensive M3 with service records, few owners, and lower miles may seem steep to pay for a 15-year-old car, but we can assure you the price is well worth it. These cars are already seeing a rise in value as clean examples become harder to find, so we think a lower mile, clean, slightly pricer M3 will be your best bet.
As with any BMW, the mileage can be a major indicator to the other basic services the car will need. Now that you have an idea of what to look for specifically with E46 M3s, we can speak more generally. The mileage increment between 100,000 and 150,000 is when the M3 (as well as most cars) experience the most services and the largest jobs. A car being sold in that range will either have just had extensive service or will need it, so obtaining documentation on the car is critical. Consult the owner and the carfax, read the service history, and use that information to make a purchase decision.
A well-maintained E46 will feel incredible to drive and will be a much wiser purchase, even for a premium price, than one that needs a lot of services. On top of that, 'low mileage' M3s (with less than 100,000 miles) will set you back quite a lot: something to the tune of $20,000. These will be the ones you want to inspect meticulously, as owners may be selling them in order to avoid expensive service costs. You will end up paying more for the car because it is low mileage, and then need to do all the service that you may not have needed to do on a higher mileage car in equally good physical condition. We suggest looking for one above that mileage that has well-documented service history and a low number of owners for the best bang for your buck. While finding that 'holy grail' low cost, low need, high-value M3 may be difficult, those are the ones to place at the top of the list. An M3 that needs a lot of services should not scare anyone away, but just be prepared to fork over a large sum of money on one post-purchase if you do not have all the service records and the history shows a number of owners.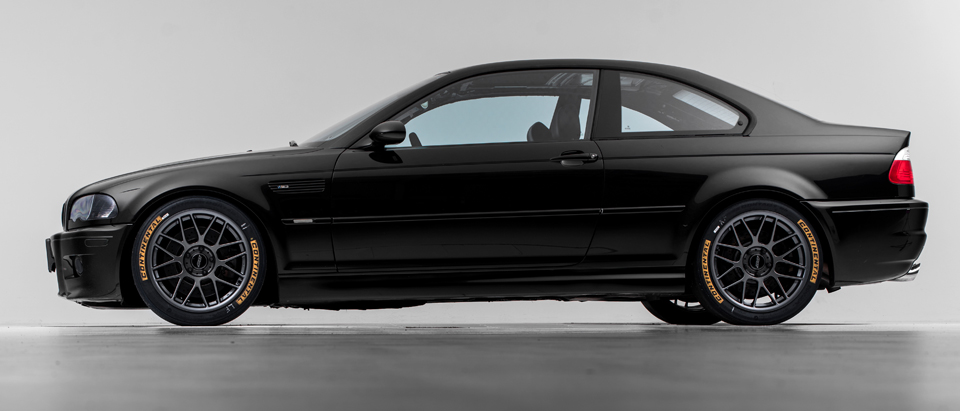 With the knowledge of what to inspect closely in order to make an educated purchase, you can easily find an M3 on which it is worth spending your hard-earned cash. You can't leave out the other generic inspections, however, as these cars are frequently driven to the ragged edge. The checklist is as follows:
Obtaining a Carfax or Autocheck
All service records/receipts
Ask the owner what services he has completed
Ask if the car has ever been on a track
Bring a jack and jack stands with you to the test drive
Check paint for blemishes and fading
Check for rust (especially on any non-M cars, as M3s had aluminum front components rather than steel)
Look at the front and rear bumper fitment and other panel gaps to investigate if the car has ever had body work.
Make sure all (or most) of the exterior trim pieces are on the car and in good shape.
Test the function of all lights: brake lights, tail lights, fog lamps, headlights, brights, and indicators.
Test windshield wipers
Open the hood and check fluid levels (oil, coolant, power steering)
Ask when the last brake fluid flush was performed if you can't find it on the service history
See if the owner has factory OEM wheels or aftermarket wheels on the car
Look at the tires and check for camber wear, toe wear, and excessive wear anywhere on the tire Check the ground for drips: pan gaskets, valve cover gaskets, rear main seals, cooling system components, and the power steering system are all prone to leaks if they have not been serviced.
Open both door handles, test the keyless entry, try the windows, and open the trunk.
Turn on the car and listen to the engine. Pay close attention to any excessive ticking, listen for knocks, and watch the temperature gauge. If all is normal, proceed with your test drive.
Get the car out on the highway and up to speed. Feel for any vibrations from the front or rear and take your hands off the wheel to see if the car pulls to one side. Do the same under hard braking as you exit the highway. If the car pulls under braking or just on the highway, you may have uneven brake pressure, suspension damage, or a sticking brake caliper.
Drive the car around at slow speeds. If you did decide an SMG is right for you, get used to the way it behaves in traffic before making up your mind. Remember, you want to do as much as you can to 'live' with the car for a bit. Take it on some errands, drive it through town and on the highway, and try to get caught in a stop-and-go traffic jam. These little drives will speak volumes about the car, as it should be fairly comfortable and not unpleasant to drive around. If it is, you may have worn out suspension bushings, drivetrain mounts, and/or mechanical problems.
After your test drive, should the car be to your liking, it is time to make an offer. If not, be prepared to walk away. Remember, the one you just drove is not the only M3 on the planet. Don't settle for one that is not worth the price or seems like a 'too good to be true' price for an M3. Plenty of times these cars have been wrecked and repaired under the table without a report ever surfacing on Carfax. Take the time to feel the car out in all the previously mentioned situations and rigorously inspect the body for signs of a respray, replaced panels, or evidence that it may have been on a frame rack. Stay educated with these tips from us here at Turner Motorsport and you can make the confident choice when you are ready to purchase an E46 M3 of your own.