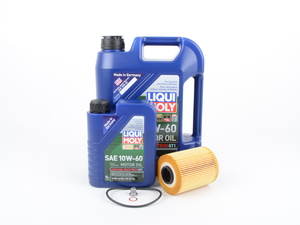 Liqui Moly is an official sponsor of Turner Motorsport. We work closely with Liqui Moly to ensure your BMW is receiving optimal lubrication! Select your vehicle to make sure you are viewing the best Liqui Moly options for your application.
Includes:
6 Liters of Synthoil Race Tech GT1 10w-60
Mann Oil Filter
Oil Drain Plug & Washer
Liqui Moly GmbH develops and tests all engine oils, additives, and car care products in-house, ensuring all Liqui Moly products extend the life of your engine via optimal lubrication. With more than 50 years of experience and reviews across the world from magazines and race teams, Liqui Moly proves time and time again why they are one of the most innovative lead forces of performance automotive chemicals in the world. Turner Motorsport trusts Liqui Moly to keep all of our race cars - including the M6 - running smooth from the first hotlap to the last.
Turner Motorsport recommends Synthoil Race Tech GT1 10w-60 for your S54 engine. Race Tech is a modern high performance engine oil formulated for engines that experience extreme load pressures. Fully synthetic, the oil combines base oils and additives to provide exceptional lubrication and engine wear protection. This oil provides immediate lubrication upon cold start, offering significantly improved protection compared to other oils. Liqui Moly Race Tech GT1 10w-60 will keep your S54 pulling hard and running smooth on your commute home from work, your touge run through the valley, and while you are trying to get your best times on the track.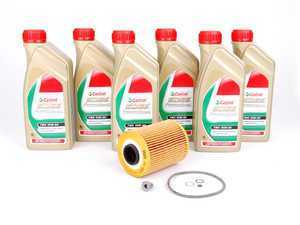 When changing your oil, you want to make sure you are using the best. Turner Motorsport now offers our premium Castrol TWS Oil service kits to ensure you are getting the best products available for your routine oil services. Everything included has been specifically picked to ensure high quality and outstanding wear protection.
One of the most popular engine oil choices on the market today, Castrol Edge Professional TWS 10-60 engine oil is premium engine oil approved by BMW for use in a wide variety of engines such as the M30, S54, S85, and many more. In fact, this oil is the same oil that BMW uses for their performance engines from the factory. Thanks to its premium blend of synthetic oil and additives, this oil continues to provide protection under even the harshest conditions and is perfect for both street cars and cars that see occasional track use.
Specifications:
SAE-10w60
ACEA A3/B4
API SN/CF
VW 501 01/505 00
Exclusive Approval for BMW M-Models
Included in this Kit:
Castrol TWS 10w-60 Premium Oil - 6 Liters
Engine Oil Drain Plug & Washer
Premium Oil Filter