Performing certain maintenance and adjustments on your BMW is often a hassle or impossible without the proper tools. The difference between an enthusiast and an owner is the determination to get the job done on our own cars for pure satisfaction and to strengthen the bonds we share. All the specific tools you need to get the job done right, from fan clutch tools, cam alignment tools, and steering rack alignment tools, to coilover adjustment spanners, diagnostic equipment, and more have all been selected by our experts to help maintain your BMW.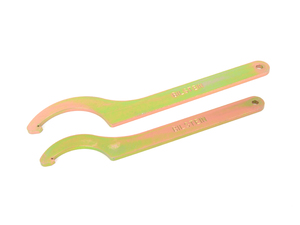 On Order, ETA Jun 17, 2019
Bilstein Coil Over wrench set for some PSS, PSS9 and PSS10 kits. Consists of a Large wrench and a Small wrench for adjusting the spring perch (76.25mm) and lock ring (75.75mm) on coil overs that require the rectangular notch style head (not round pin style adjuster). Can also be used with other coil over kits (H&R, Moton, JRZ, etc).