Angel Eyes or Halo Rings were first put into widespread use by BMW in the late 1990s and they were an instant hit. BMWs have always had a lot of character in the 'face' of the car and the headlights contributed a lot to that distinctive appearance. The effect was only enhanced with the introduction of Angel Eyes. Cars made before year 2000 can now be retrofitted with the Angel Eye look with conversion kits. The Angel Eye upgrades that we sell come complete with the housings and LED halo rings pre-installed. We only sell completed angel eye conversion kits - not the DIY rings themselves.

We also sell bulb upgrades for existing factory Angel Eye headlights. These bulbs glow a brigher white color instead of dulled yellow. The bright white matches factory xenon colors much better.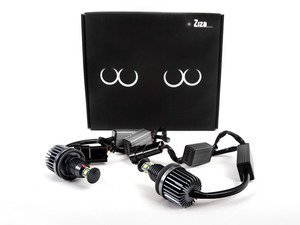 Angel eyes are an important aspect in the styling of your BMW, giving it a unique and aggressive appearance. Unfortunately, they halogen bulbs used to illuminate the angel eye rings tend to fade over time, making the rings look dull and yellow. Ziza Performance LED bulbs are the perfect upgrade to not only increase the brightness by 3 times, but also give the rings a more crisp, white light and a longer life span. In addition, these bulbs will not give you a bulb out warning, a common problem with poor quality alternatives.
LED angel eye features:
6000K light color
Up to 30,000 hour life span
OEM installation
Error code free
Up to 3 times brighter then OEM

Fits the following BMWs:
2007-2010 E60/1 BMW LCI vehicles with Xenon Headlights
2009-2012 E90/1 BMW LCI vehicles with Xenon Headlights and all M3's
2007-2010 E92/3 BMW Pre-LCI models with Xenon Headlights and all M3's
2007-2013 E70 BMW with Xenon Headlights
2008-2014 E71 BMW with Xenon Headlights
2007-2013 E82/88 BMW with Xenon Headlights
2009-2016 E89 BMW Z4 with Xenon Headlights
2008-2010 E63/4 BMW LCI vehicles with Xenon Headlights
2013-2015 E84 BMW with Xenon Headlights
**This non-DOT approved product is for Off-road/Track use only. Not approved for legal street use**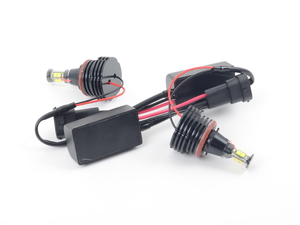 Pure white 7000K white light Equivalent to 189 watt halogen bulb Over 2x brighter than stock bulbs Guaranteed no dimming with all lighting modes No flickering on startup Self Check Sequence Fully Fused and No EMI LUX H8 189 angel eyes produce an incredible 3800 lumen of pure white 7000k light, the halogen equivalent of 189 watts! By comparison, the stock 35-watt halogen bulb receives only 80-90% power, and then drops to 50% power to reduce heat within the headlight housing when utilized with the headlights; thus causing stock the angel eyes to become even dimmer. The LUX H8 189 angel eyes have been designed to compensate for this dimming and always operate at full power, allowing them to be highly visible in virtually all the daytime conditions. When locking the car, the LUX will pulse off rather than fade. In addition, LUX LED bulbs use a fraction of the power of stocks, allowing them to run cooler and have a longer lifespan.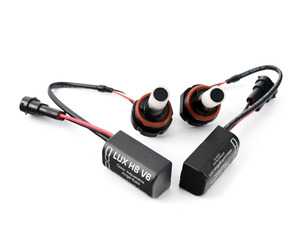 Inventory On Order, ETA Aug 4, 2021
---