Keep your BMW looking fit and trim with our replacement factory or aftermarket exterior pieces. The appearance of your BMW can be a statement; with our OEM replacements, you can maintain your caraEURtms looks and the function of exterior components like mirrors, window regulators, and hood dampers. To upgrade your car with aero components, updated bumpers, or full body kits, visual upgrades from M-Tech, ZHP, CSL, and more are ready to give your BMW the perfect look.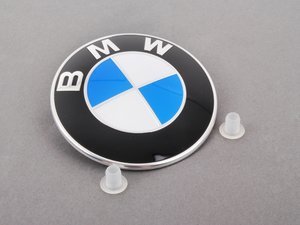 Is your BMW's emblem faded, chipped, peeling or even MISSING? A new Genuine BMW hood or trunk badge is an easy and inexpensive way to treat your BMW and spruce up its looks. Best of all, it takes only minutes to change! This is the current plastic replacement roundel emblem that BMW sells. An all metal version is also available for vintage BMWs at this link. Includes grommets.
Click here for installation instructions.
Read This - This emblem can fit the hood, or the trunk, or both - depending on your model. BMW used this emblem in both locations on some cars but on some other models they may have used a different emblem in that location. Refer to the list below, or the Fitments tab, for specifics on what this emblem fits. If the emblem you need is not listed, see the rest of emblems for sale on our site. If you have futher questions please give us a call - we'd love to help you get the right BMW emblem for your car.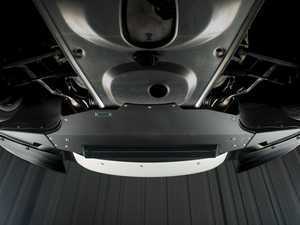 The E9x M3 belly pan is a constant point of impact for parking curbs, inclines, and road debris. Fortunately, there is usually little damage other than the brittle belly pan plastic and side covers which is still not a cheap expense. The Turner Motorsport skid plate is the ultimate upgrade for your belly pan replacement woes, simply being the final replacement for nearly the same cost as the plastic OE replacement.
Turner made a decision to move forward with a black powder coat finish so the skid plate blends in close to the OE look and stays looking good under normal wear. Even though things look similar there are a lot of features taken into consideration when this was designed. The plates mount slightly higher offering even more ground clearance