One thing drivers and cars have in common is the need for air. Induction systems provide a third of the critical necessities for engines to run, so giving your BMW the best way to breathe is paramount in engine performance. If you need to replace your filter, recharge your reusable pod filter, or upgrade your intake, turbos, or intercooler parts, everything can be found below. We have OEM replacements as well as aftermarket performance upgrades to keep your BMW pristine, powerful, and functioning at peak efficiency.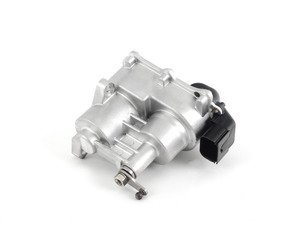 The E90/E92 M3 throttle valve actuators are one of the few problem areas on the S65 V8. They fail for a number of reasons and when they do, the car will revert to limp mode with poor engine performance and fault codes. In some cases you will have fault codes for the throttle actuators before they fail completely which is why it's important to check for codes regularly (even if your SES light is not on). Because the internal electronics are often at fault, the entire TVA must be replaced. The replacement is straightforward and is not invasive to the engine (if you can change spark plugs yourself you should be capable of replacing the TVAs).
This is a Genuine BMW throttle actuator with a two year warranty for the 2008-2013 E90/E92/E93 M3. There are two actuators in each S65 V8 (one for each bank) and we strongly advise replacing both to avoid duplicate repair costs.
This item fits the following BMWs:
2008-2011 E90 BMW M3 - Sedan
2008-2013 E92 BMW M3 - Coupe
2008-2013 E93 BMW M3 - Convertible

Direct more fresh cool air from your BMW's center/nose grills to your intake, with the aFe D.A.S. (Dynamic Air Scoops). These two "scoops" install behind your front grills to direct more airflow into the factory intake snorkel used on the 328i, 328xi, 335i & 335xi, and 2008+ E90/E92 M3. Scoops are a direct bolt-in install, and include installation instructions and required hardware for a simple install. When combined with a higher flowing filter, such as the aFe stock replacement filter or twin filter system (335i & 335xi), these scoops help get the maximum benefit of a higher efficiency filter by providing more cool, fresh outside air directly into the intake snorkel. Both the 3.0 twin turbo models and the 4.0 V8 models especially need this added air flow for best horsepower and torque.

These aFe Intake Scoops fit the following BMWs:
2007-2011 E90/E92/E93 BMW 328i & 328xi (coupe, sedan & convertible)
2007-2010 E90/E92/E93 BMW 335i & 335xi (coupe, sedan & convertible)(N54 engine only)
2008-2011 E90/E92/E93 BMW M3 (coupe, sedan & convertible)