Your BMW's handling is determined by the capabilities and age of your suspension components. Our selected aftermarket performance suspension like coilovers, lowering springs, cup kits, and dampers can improve the handling of your BMW dramatically. With those upgrades comes the needs for proper adjustment; our recommended supporting modifications comes stiffer sway bars, bushings, and adjustable camber/caster plates, to name a few found on this page. Completely build your suspension for the most competitive BMW driving experience, achieve your perfect look, or simply replace your worn suspension with our recommended parts.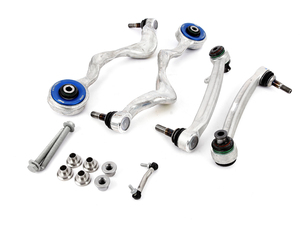 On Order, ETA May 29, 2019
M3 upper and lower control arms are a known upgrade for non-M E82 and E9X chassis. But our Monoball Thurst Arms are even more of an upgrade over the stock M3 arms. This package bundles the Turner Monoball upper thrust arms with the stock M3 lower control arms. If there's one big fail point in the E82/E9X front suspension it's the thrust arms. The front inner thrust arm bushing is filled with dampening fluid that leaks over time. Once it's gone the bushing has the strength of a rubber band. Even though we sell two types of upgraded rubber bushings there was still room for improvement. For someone looking for superior performance and longevity these sealed monoball bushings are the best out there.
The advantage of a monoball bearing is that it will not deflect under load. All of the rubber bushings, including the M3, move in all sorts of directions and that changes your alignment, especially when used with big brake kits or when driven hard. And when worn out, performance suffers. Our monoball sits in a CNC machined aluminum housing which has zero deflection. The monoball allows complete freedom of movement but only at the desired angles. What you get is superior steering precision, better handling from more consistent alignment, and almost infinite bushing life. And thanks to the inner liner and sealed rubber boots there's none of the extra noise or reduced service life of fully solid race bushings.
The