Keeping up with the maintenance on your car is the smart thing to do. For one thing, it prevents costly repairs in the future. For another, your car performs better, making aftermarket upgrades more worthwhile. And a well-maintained car with complete service records can add substantially to a car's resale value. In the last few years BMW has offered free scheduled maintenance on new cars. But this practice has led to deferred maintenance if you stick with their schedule. We don't want to see you left on a ledge after the warranty runs out so our service packages will ensure you get many more miles from your treasured BMW.

These tune-up packages can be configured any number of ways to ensure you get what you need for a full Inspection I, Inspection II, scheduled service, or any other major preventative maintenance service on a US-spec BMW. Our parts are OE, OEM, or performance alternatives that we have been using since our beginnings in 1993. We're dedicated to BMWs only! So you know that the people you're buying from are not just selling products out of a catalog for multiple makes of car. We know your car! You get top quality parts, first-rate service, and unbeatable expertise to keep your BMW in peak condition.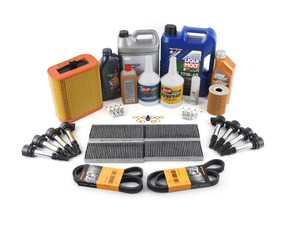 Don't buy into the hype that your car is maintenace-free! It was only free during the BMW warranty period, which simply deferred maintenance. Take charge of the care and servicing of your investment and it will reward you in driving pleasure and in your bank account. Using a preventative service schedule will not only keep your BMW running like new, but will also prevent a more costly repair and inconvenience in the future. Not to mention, complete and thorough maintenance records can add hundreds or thousands to a selling price of a used car and give a buyer unmatched piece-of-mind.

Our approach to servicing and caring for newer BMW models is not radically different than when we opened nearly twenty years ago. The design and materials of some components have changed but that only affects WHEN you should replace something, not IF. Through our own Service Department, and thousands of sales annually, we have put together packages for your newer BMW model that will reinject some life into your car and keep it performing at its peak. We use Original Equipment (OE) or Original Equipment Manufacturer (OEM) parts that we have trusted since we opened in 1993. In some cases, we recommend a performance alternative part that we have found works better, or resolves a design flaw, with the original. So you get top quality parts, first-rate service , and unbeatable expertise .



5,000 Mile Oil Service

(click to expand)
engine oil change with filter, using OE BMW-Castrol 10W60 oil
replace drain bolt crush washer
reset oil service/maintenance light
inspect and top off any other fluids
Annual Service
(click to expand)
air filter cleaning or replacement
A/C cabin microfilter replacement
brake fluid flush/bleeding
top off power steering fluid
engine oil analysis (to check for internal engine wear)
DCT transmission filter replacement (BMW recommends every 3rd oil change)
wiper blade replacement
lubricate door hinges and treat rubber door seals
inspect or replace emergency tire repair kit
inspect belts for cracking or stretching
inspect intake boots and vacuum lines for cracks
inspect brake system for pad wear, rotor wear, parking brake operation, and brake pedal pressure
inspect bushing and ball joints for excess play/movement
ensure the cooling systems are functioning correctly (hoses and thermostat, thermostat housing, auxiliary fan, A/C system, etc)
40,000 Mile Major Service
(click to expand)
engine oil change with filter, using OE BMW-Castrol 10W60 oil
reset oil service/maintenance light
air filter replacement or cleaning for aFe/K&N type
fill and bleed cooling system
transmission fluid and filter change
differential fluid change, using Red Line 75/140 or Motul GearComp 75/140
brake fluid flush/bleeding
spark plug replacement
valve cover gasket replacement
engine and A/C serpentine belt replacement
inspect belt roller pulleys (drag and rotation), main accessory pulleys (cracking), and belt tensioners
complete chassis inspection, including: front control arms, tie rods, ball joints, wheel bearings, rear trailing arm bushings, rear upper shock mounts, rear subframe mounts, rear sway bar mounting tabs, axle shaft boots
complete brake system test and inspection
engine and transmission leak detection and diagnosis
shifter linkage, driveshaft guibo, CV, and center support bearing inspection
exhast system inspection, including hanger replacement

This package fits the following BMWs:
2008-2011 E90 BMW M3 - Sedan
2008-2013 E92 BMW M3 - Coupe
2008-2013 E93 BMW M3 - Convertible



Put a check in the boxes next to the items you wish to order.
Ground ship only in the contiguous U.S.

Special active solvent for cleaning typical contamination and deposits found in the intake and throttle valve areas. Dissolves and removes all smeary deposits and contaminants such as oil, resins, adhesive residues, etc. Also reliably cleans nozzles and internal components. Ensures the operability of all moving parts and reduces fuel consumption. Rapid and effective cleaning and degreasing Cleaning without dismantling Simple to use and economical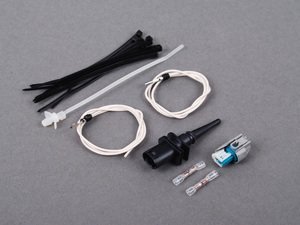 Expected Ship Date: Aug 6, 2021
Onboard computer not reading accurate ambient temperatures anymore? This kit includes everything you need to restore external temp monitoring to your BMW.
---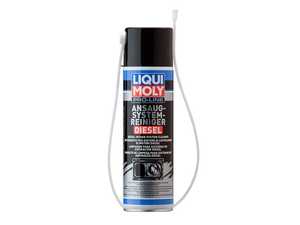 Ground ship only in the contiguous U.S.

Inventory On Order, ETA Oct 13, 2021
Special active solvent with a high-tech additive combination for removing typical dirt and deposits in the intake and throttle valve area. Loosens and removes greasy deposits and dirt such as oil, soot, etc. It guarantees the functional performance of the moving parts and reduces fuel consumption. Increases the reliability of diesel-powered engines. Recommended for preventative use during an inspection. Suitable for vehicles with EGR valve and DPF.
---