Performing certain maintenance and adjustments on your BMW is often a hassle or impossible without the proper tools. The difference between an enthusiast and an owner is the determination to get the job done on our own cars for pure satisfaction and to strengthen the bonds we share. All the specific tools you need to get the job done right, from fan clutch tools, cam alignment tools, and steering rack alignment tools, to coilover adjustment spanners, diagnostic equipment, and more have all been selected by our experts to help maintain your BMW.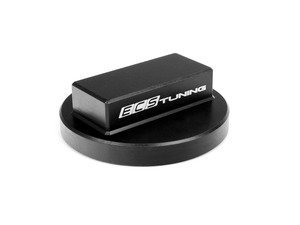 Your floor jack is universal but it doesn't have to be with this adapter! Most newer BMW jack pads have an open recess inside that this adapter fits into. It's a rectangular peg for a rectangular hole. This gives the jack a much more rigid connection and almost impossible for the jack or pad to slip. You will never have to worry about scratching your rocker panels or jacking from the wrong spot - the positive connection ensures you are always lifting from the correct location. This adapter is one of those small hidden gems that you can't live without!
Made of black anodized aluminum for added strength and corrosion resistance, the adapter fits the head of most hydraulic floor jacks, including the Schwaben Low Boy.
Compatible with most BMW jack pads for chassis E39 and up. Retrofitting jack pads is common, especially on E36/Z3 models.